Banksy has managed to criticizes and showcase some of society's biggest issues. And, his new artwork is no different. The latest piece includes a homeless man sleeping on a Birmingham bench during the Holidays.
---
The latest mural from the secretive street artist features two reindeer painted onto a brick wall appearing to pull along a bench on Vyse Street in the city's Jewellery Quarter like Santa's sleigh.
A video posted by Banksy on his Instagram page shows a man with a white beard, apparently homeless, drinking from a bottle before climbing on to the bench to lie down as some passers-by walk past.
"God bless Birmingham," Banksy wrote. "In the 20 minutes we filmed Ryan on this bench passers-by gave him a hot drink, two chocolate bars and a lighter – without him ever asking for anything."
The artist's publicist did not immediately respond to a question as to whether the man in the video was a rough sleeper or an actor.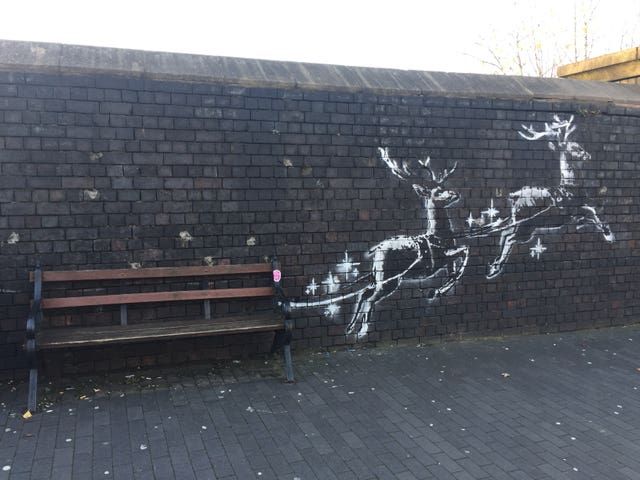 (Richard Vernalls/PA)
However, the piece did showcase the disparities that Holidays make apparent. While thousands of people spend thousands of dollars many are still struggling just to get by.
And, the growing number of people living in the streets in the UK is a problem that should be getting everyone's attention.
Many praised how such a simple idea could have such an effect.
Others took the opportunity to show how prevalent homelessness is.
Many were inspired by the people passing by.
However, we can do so much more than just raising awareness.
And remember that this is a year-round issue.
The piece is right in the Jewellery Quarter.

"About five o'clock in the morning there was a small tent with a couple of lads in high vis," Local jewelry wax carver Martin Clarke said. "(I) just thought it was to do with the upkeep of the Jewellery Quarter, and it turned out to be a lot more."