Banjo-playing TikToker Clover-Lynn (@hillbillygothic), hilariously drowned out a "moderate" pro-life TikToker as he was shaming a pro-choice woman for joking about terminating her pregnancy.
The original video was of a woman "pranking" conservatives. She held up a positive at-home pregnancy test and pretended to cry, asking, "What am I going to do?"
Then she pulled out a glass of wine and starting pouring it, calling herself "what conservatives fear," while laughing hysterically. She had already booked the abortion appointment.
@kai.clips

#greenscreenvideo it's no wonder people are getting more right leaning #abortion #conservative
The conservative TikToker, @Kai.Clips, called the woman "evil" for "taking joy" in "killing" the fetus.
In response, Clover-Lynn duetted the video and played banjo over the man speaking to cover up his unsolicited opinion.
@hillbillygothic

#duet with @kai.clips sorry i had to get some practice in #lgbtq #feminism #banjo #fypシ #queer
The video now has 1.1 million views, over 370K likes, and several thousand comments.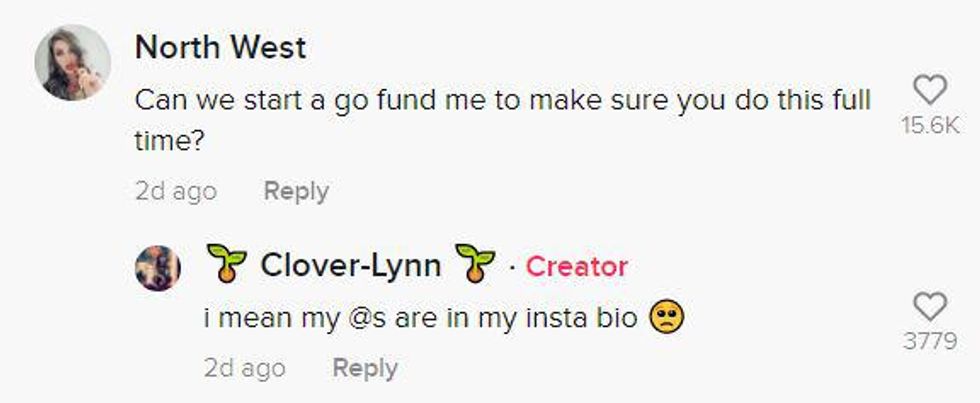 @burb.official/TikTOk; @hillbillygothic/TikTok

@acidonawednesday/TikTok

@sailorvanity/TikTok

@tkershaw/TikTok

@koreanbeef27/TikTok

@coltenclark6/TikTok
One person who knows @Kai.Clips personally even reached out to thank Clover-Lynn.

@babypunting/TikTok
The beauty of @hillbillygothic's video seemed to bring commenters to the @Kai.Clips video as well.

@itscaitlinhello/TikTok

@luiza_carvalho_o/TikTok

@biancananichi/TikTok

@austinsviews/TikTok

@partlysunnyprojects/TikTok

@jessmeow/TikTok

@mr.brun0/TikTok
Clover-Lynn gave a statement to The Daily Dot:
"I just play banjo and some people like it."
"I'm not the first person to [drown out his voice] and his video is still more popular than mine; I doubt he really cares."
Let's hope she keeps playing. A lot.