New cell phone footage shows how a drunk, aggressive passenger on a Frontier Airlines flight behaved so chaotically that flight attendants decided to duct-tape him to a seat.
The belligerent passenger, 22-year-old Maxwell Berry, was arrested and charged with three counts of battery, the New York Post reported.
According to an arrest report obtained by the Post, the problems began after Berry downed two drinks and desired a third, a message he conveyed by brushing his empty cup on a female flight attendant's backside.
Berry did get his drink. Then he spilled it all over his shirt.
After that, he went to the bathroom and came out shirtless, according to the arrest report. He then milled around the plane for 15 minutes, groping the chests of two female flight attendants during that time.
Eventually, a male flight attendant was asked to watch over him in his seat for the remainder of the flight.
Berry apparently didn't like that, so he screamed multiple profanities, claimed his parents were worth $2 million, and then punched the attendant.
After he was restrained, Berry was duct-taped to his seat and stayed there until the plane landed in Miami, where police were waiting to arrest him.
According to Local 10 News, Frontier Airlines issued the following statement regarding the incident:

"During a flight from Philadelphia to Miami on July 31, a passenger made inappropriate physical contact with a flight attendant and subsequently physically assaulted another flight attendant."
"As a result, the passenger needed to be restrained until the flight landed in Miami and law enforcement arrived."
"The flight attendants will be, as required in such circumstances, relieved of flying pending completion of investigation of the events."
Sam Sweeney, an ABC journalist who covers transportation news, told Twitter that Frontier originally published a statement condemning the duct tape maneuver.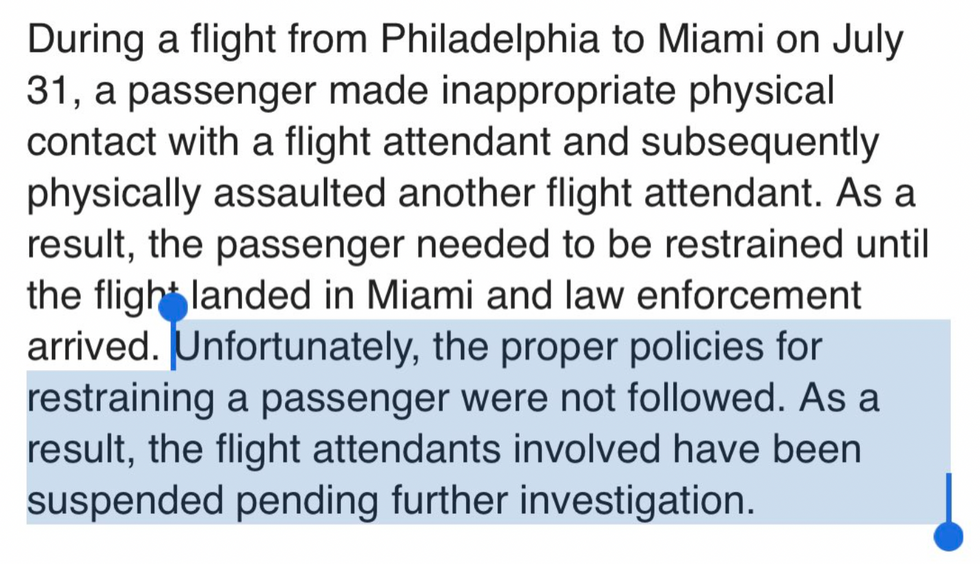 @SweeneyABC/Twitter
But Sweeney shared how the largest flight attendant union came to the defense of the flight attendants, prompting Frontier to apologize for its first statement and issue a revised version.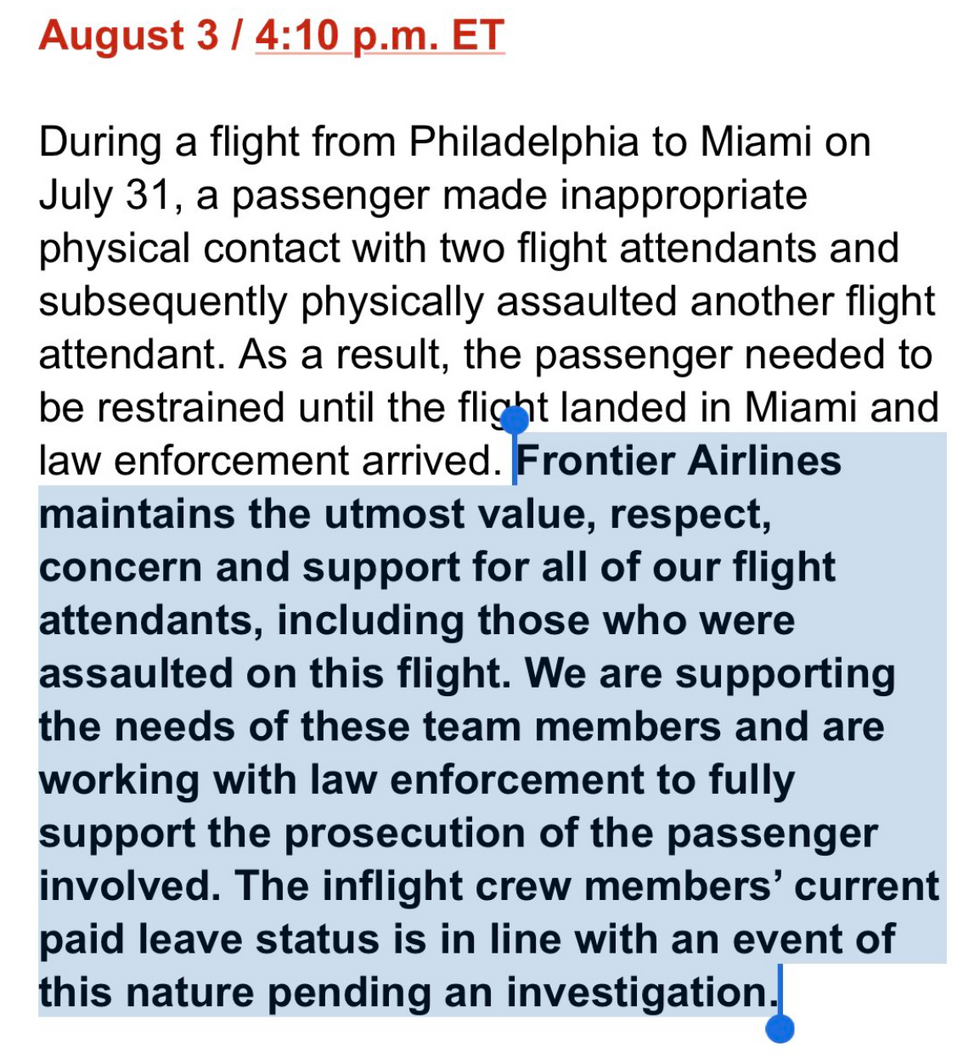 @SweeneyABC/Twitter
People who saw the clip couldn't believe they were watching yet another midair freakout on a plane.
Berry himself responded to the viral Twitter post, lamenting the consequences of his drunken actions.
People were not having it for a second.