Millions of Americans tuned in to ABC on Thursday night to watch the third Democratic debate for the 2020 presidential nomination.
This means that millions of Americans saw an ad featuring a picture of freshman Congresswoman Alexandria Ocasio-Cortez (D-NY) being set on fire.
That should concern you.
---
Ocasio-Cortez, one-fourth of the Congresswomen known colloquially as "the squad," is routinely the subject of attacks from the Republican party and its supporters, from Fox News hosts to the President himself.
The ad features Elizabeth Heng, founder of Republican group New Faces GOP, who describes her father's experience with so-called socialism in Cambodia.
Watch below.
This is the very strange PAC ad featuring a burning pic of @AOC that aired during the #DemDebate: https://t.co/YZcHp0FMTi

— jordan (@jordan)1568338976.0
Ocasio-Cortez took to Twitter to decry the ad.
Know that this wasn't an ad for young conservatives of color - that was the pretense. What you just watched was a… https://t.co/zLo5oe3QsU

— Alexandria Ocasio-Cortez (@Alexandria Ocasio-Cortez)1568338635.0
Because the image of a burning Ocasio-Cortez could conjure violence, ABC was criticized roundly for airing the ad in the first place.
If you're a surgeon, you're captain of the ship and you take responsibility for everything that happens in your ope… https://t.co/QZKQvAnDsU

— Eugene Gu, MD (@Eugene Gu, MD)1568383942.0
Really disappointed in ABC for running this ad. And as someone who has been teaching comparative politics for 30 y… https://t.co/v6V0uQKzBP

— Michael McFaul (@Michael McFaul)1568392214.0
How the hell did this Elizabeth Heng ad where @AOC's face is burned up clear ABC network standards and practices?

— Yashar Ali 🐘 (@Yashar Ali 🐘)1568343277.0
The Democratic Party needs to stand with @AOC and make sure to condemn this and ABC for running it. https://t.co/Hq20ZvkT4C

— Molly Jong-Fast (@Molly Jong-Fast)1568344734.0
Heng has since defended the ad, saying:

"This ad is about fighting the socialist agenda that has taken over the Democratic Party...I am not afraid to engage in a debate of ideas, and it is the AOC extremists that have to resort in name calling because they don't have real solutions for our country."
#BoycottABC began trending on Twitter in the hours after the ad aired.
The network has yet to respond to the criticism.
Don't understand democratic socialism? This shirt is available here.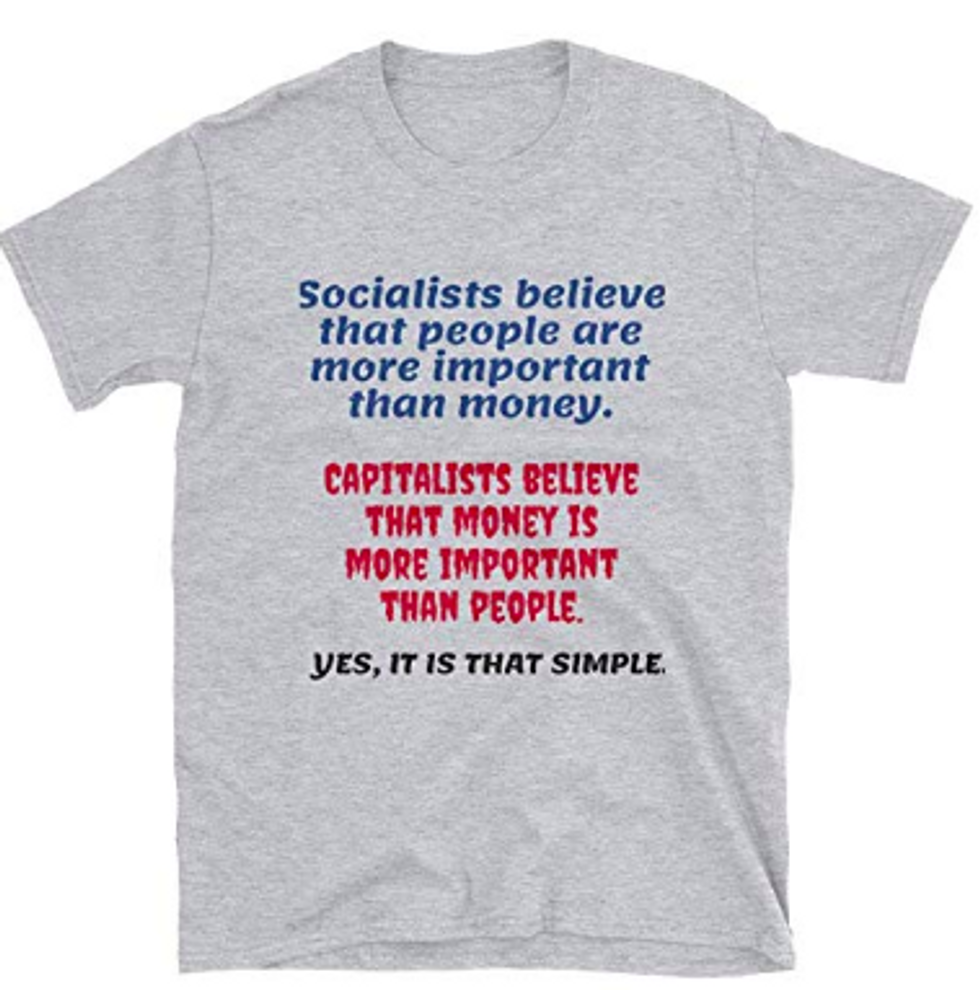 Amazon
-----