Rapper-turned-TV drama star 50 Cent was banished to the internet dog house after attempting to lighten everyone's day up with a little sexual assault humor directed at a child.
Who doesn't get a good chuckle from sexual assault?
---
An extremely small number of followers were fans of the Instagram meme. Most came together and took him down a few pegs for his ignorance.
Curtis "50 Cent" Fox, of early 2000s fame, became the latest entrant into the pit of shunned distasteful meme sharers. Yet another celebrity troll misjudged the public's tolerance for online bullying, misogyny and bigotry.
As with all those ousted before him, the banishment was quick, seamless and illustrated that there is ALWAYS room for one more in the internet time-out room.
The meme in question involves a slew of loaded elements, priming it for the future onslaught it would receive: R. Kelly, Dwyane Wade's 12-year-old transgender daughter and a direct reference to Kelly's predatory sexual history with several young women.
50 Cent/Instagram
In the original post, which has since been taken down, 50 Cent showed zero hesitancy about how the meme should come across to others.
His caption made that clear:

"LOL, now some funny sh*t."
The provocative meme makes light of very serious allegations and criminal proceedings surrounding R&B singer R. Kelly's long history of sexually abusing minors since the 1990s, when he secretly married a 15-year-old and lied about her age on the marriage certificate, BBC News reported.
The following multiple decades brought an array of accusations against Kelly including a forced abortion, hush money settlements, child pornography charges and Buzzfeed News' lengthy piece detailing a systematic, cult-like scheme of sexual control over underage women.
Kelly now faces two separate federal indictments for sex trafficking.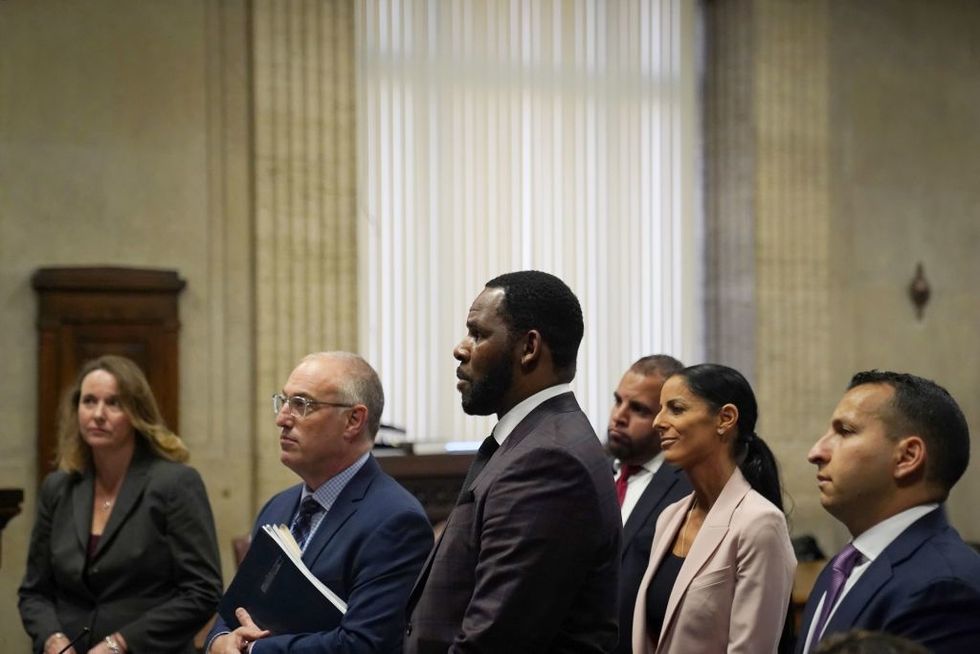 E. JASON WAMBSGANS/AFP via Getty Images
Beyond that, 50 Cent's meme pokes fun at Wade's transgender daughter, Zaya, whose decision to come out and embrace her identity has been all-too public and plenty difficult for her and Wade on account of repeated transphobic comments from notable celebrities.

Trap rapper Young Thug, for example, hit the internet with some loud intolerance via a Tweet which, of course, has since been removed.
"All I wanna say to [D.Wade] son is 'GOD DON'T MAKE MISTAKES' but hey live your true self."
Wade, despite the haters, has come out on top as a pretty stand-up and supportive father.
And plenty of 50 Cent's Instagram followers apparently are on team Dwyane and Zaya. The comments show that most folks weren't laughing even a little bit.

According to Pink News, others got quite serious about their criticisms.
"The fact that so many people find this funny is actually sickening."
"S**t like this is what drives KIDS int depression or even [dying by] suicide."
The detractors also had one other influential voice in their camp, as Cardi B showered support for Zaya's courage via Twitter.
In a contemporary era of growing pains, trans-identifying people are gaining a larger and larger empowering base despite the existence of plenty of less tolerant and critical voices still kicking around.

Internet controversies like 50 Cent's will characterize the transition period that 2020 finds itself firmly in the middle of.