Australian scientist David Goodall doesn't have a terminal illness, but at 104-years of age he decided it was time to end his life.
But because voluntary euthanasia is not a legal option in Australia, Goodall is flying to Switzerland to meet with an assisted dying agency in Basel.
---
Professor Goodall made headlines two years ago when he convinced his university to allow him to continue working at 102-years-old. And although Goodall said he's lived a good life, the ecologist is choosing to go out on his own terms due to this deteriorating quality of life.
Dr David Goodall has arrived at Perth airport before flying to Switzerland to end his own life. The 104yo has had h… https://t.co/ZshfFEFBkW

— Hannah Sinclair (@Hannah Sinclair) 1525239717.0
He explained his reasoning for making the one-way flight for his final journey in an ABC interview last week:

I greatly regret having reached that age. I'm not happy. I want to die. It's not sad particularly. What is sad is if one is prevented. My feeling is that an old person like myself should have full citizenship rights including the right of assisted suicide.
104 years old and still sharp as a tack! Professor David Goodall today leaves Australia for the final time, flying… https://t.co/6po7oho2Nj

— Luke Cooper (@Luke Cooper) 1525246487.0
Assisted suicide is illegal in Australia and most other countries, but it will become a legal practice in the state of Victoria in 2019 and will be limited to those suffering from a terminal illness with a life expectancy of six months or less.
He was escorted to the airport in a wheelchair on Monday with his wit and sense of humor still intact, as indicated on his sweatshirt that read: "Ageing Disgracefully."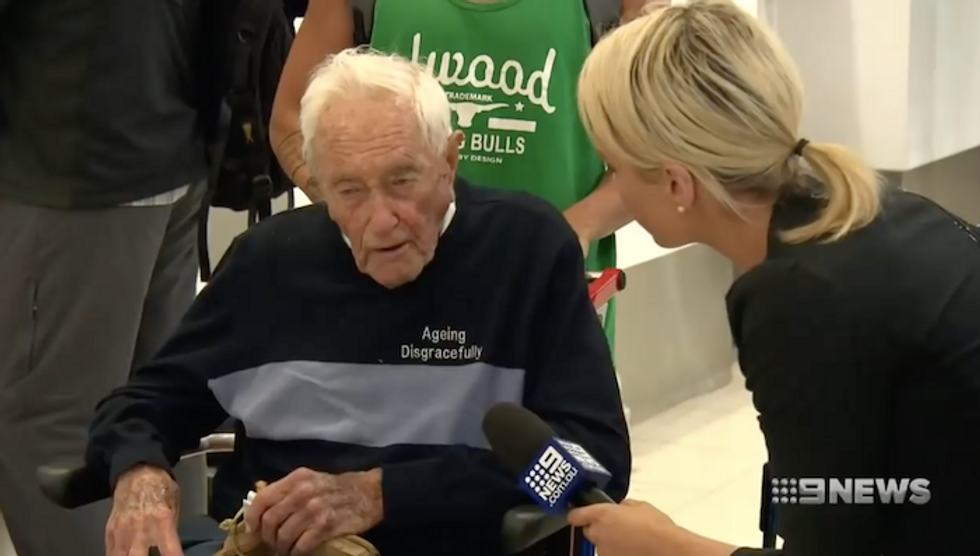 En route to Switzerland with his "Ageing Disgracefully" shirt.(9 News Perth/YouTube)
Exit International helped the professor make the journey by upgrading him to business class, courtesy of a GoFundMe campaign. On their website, the group expressed that it was "unjust" for a prominent and respected person being forced to fly to another country to end his life.
A peaceful, dignified death is the entitlement of all who want it. And a person should not be forced to leave home to achieve it.
@hansinclair9 @9NewsPerth Very sad news. No one should have to make a flight like he is about to.

— The Master Mind (@The Master Mind) 1525251097.0
@hansinclair9 @9NewsPerth It is BS he has to fly so far to do this.

— voize_of_reazon (@voize_of_reazon) 1525278624.0
The news of Goodall's decision revisits the controversial debate about assisted suicide.
@luke__cooper To me, this is a dilemma. I really don't know what to think about this.

— Russell Pennwright (@Russell Pennwright) 1525286454.0
@bansar_bansaria I think it's terrible. I don't know what his spiritual beliefs are, he probably has none. God has… https://t.co/keYItWYQCD

— Sandy (@Sandy) 1525277993.0
@GOExpressTruck @bansar_bansaria I don't do religion, I do relationship but that is not the subject, we're talking… https://t.co/AUQ8jv66Xp

— Sandy (@Sandy) 1525282926.0
@votron300 @bansar_bansaria Quality of life. When you can't remember simple things, can't control your bodily funct… https://t.co/NTsvgXzK4Z

— Tyler (@Tyler) 1525279842.0