Since the news of Coolio's death yesterday, many have been paying their respects to the late rapper.
One such tribute reignited talk of a 1996 mostly one-sided feud between the rap artist and parody singer and songwriter Weird Al Yankovic.
On Wednesday, Yankovic tweeted a photo of the two sharing an embrace captioned:
"RIP Coolio"
The tweet reminded fans of a time when the two weren't so friendly.
In 1996, Yankovic released his song "Amish Paradise" which was a parody of Coolio's "Gangsta's Paradise." Coolio's song—which sampled Stevie Wonder's 1976 song "Pastime Paradise—was featured in the movie Dangerous Minds and won Coolio a Grammy for Best Rap Solo Performance.
At the time, the rapper did not find the song amusing and was unhappy about its release. He attacked Yankovic in interviews for parodying his song without permission.
Yankovic responded he always requested permission—a personal choice and not a legal requirement—from artists. While Coolio's label management verified they had given permission, Yankovic apologized for not reaching out to make certain Coolio himself also approved.
The two made amends years ago and actually co-presented an award at the 1996 MTV Video Music Awards, seen below.
Weird Al and Coolioyoutu.be
Music journalist Dan Ozzi shared Coolio's recollection of the reconciliation on Twitter on Wednesday after news of his death.
Ozzi tweeted:
"i got to interview coolio one time and you bet i adked him if he was over his beef with weird al."
He added a screenshot of the rap artist's mature, gracious response.
Coolio assured Ozzi he had apologized to Yankovic "a long time ago" and added:
"...I was wrong. Y'all remember that, everybody out therewho reads this sh*t."
"Real men and real people should be able to admit when they'rewrong and I was wrong, bro."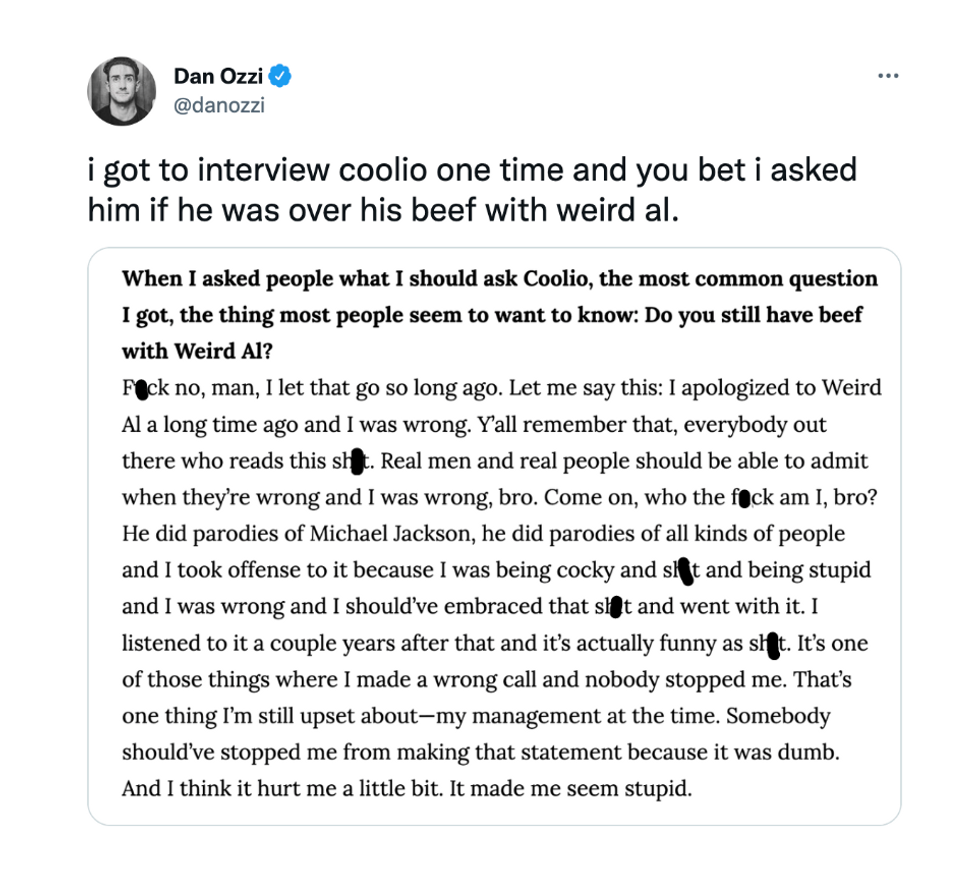 @danozzi/Twitter
Coolio realized he overreacted and even came to appreciate the song.
In response to Ozzi's post, Zach Schonfeld tweeted about an interview he did with Yankovic in which Yankovic revealed Coolio's apology was "very nice" and "sweet" of him.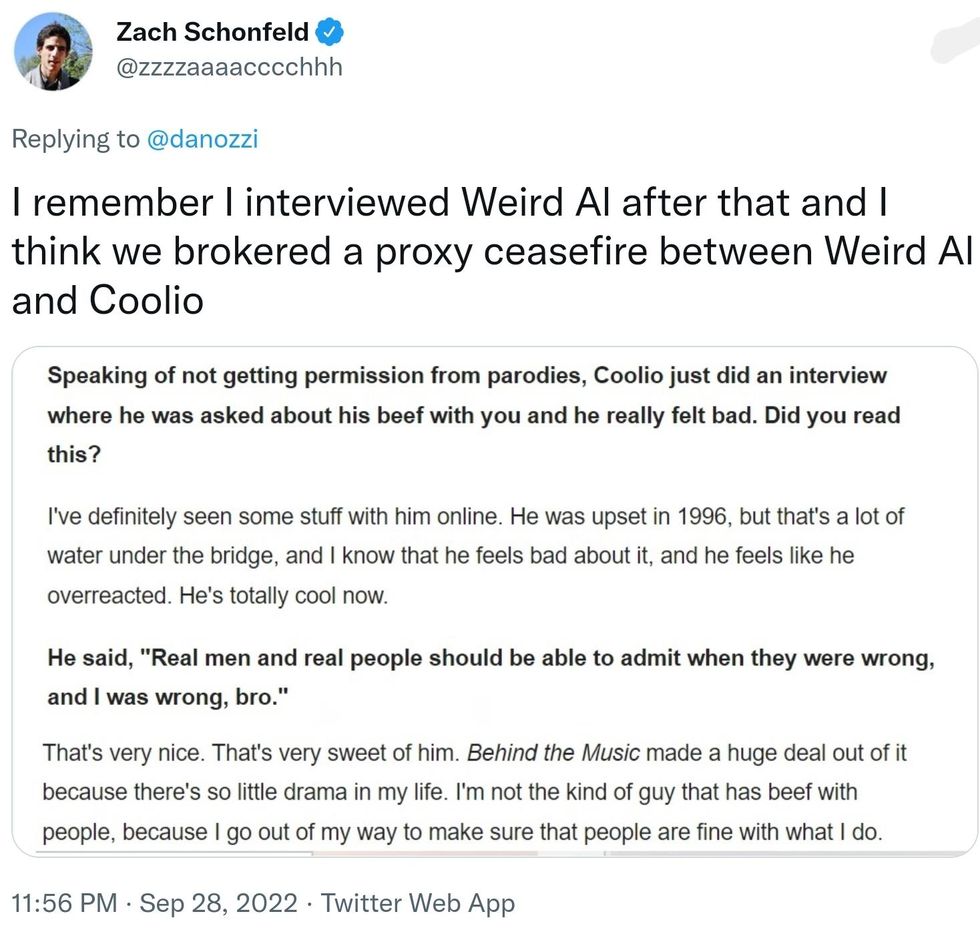 @zzzzaaaacccchhh/Twitter
Fans shared their joy over the reconciliation and applauded Coolio for being an excellent role model.
Coolio died at a friend's home in Los Angeles on Wednesday, September 28.

The Grammy winning artist was 59.