work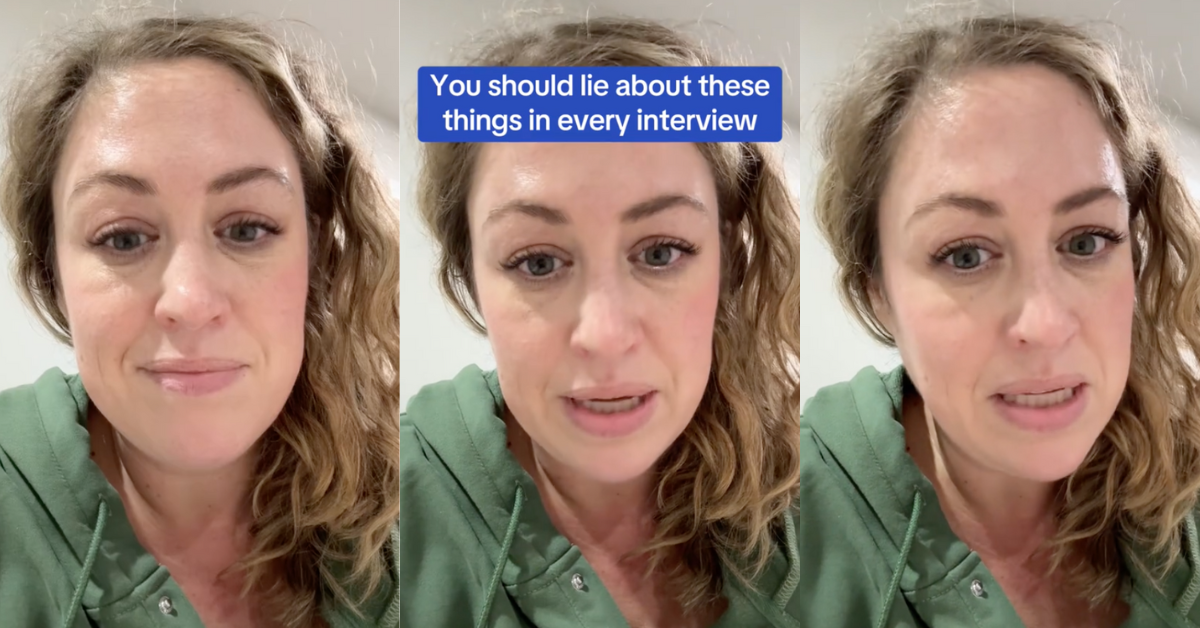 @bonniedilber/TikTok
The job market is tough out there, y'all—but thankfully we've got TikToker and job recruiter Bonnie Dilber hitting us with some tips and tricks to land that coveted role...as long as you don't mind fibbing a little.
In a now-viral TikTok, Dilber (@bonniedilber) shared three things that you should definitely conceal or stretch the truth about when trying to nail an interview for a job you really want (or need).
Dilber began her video—which has now been viewed more than 1.4 million times—by stating:
"There are three things that I need you to lie about in every interview."
Are you ready?
First, the TikToker shared you should probably lie about why you're leaving your current job.
"If you're leaving your job because you really dislike it, because you don't get along with your boss or your colleagues, you're going to lie about this."
"Please do not tell them that your boss doesn't like you. Don't tell them that everyone's really hard to work with."
"All they're going to hear is you are difficult to work with."
Her suggestion?
"You're going to say something like, 'Things are going great, but I want to take on bigger challenges.'"
Solid advice!
Secondly, Dilber revealed that you should lie about why you really want the job.
"Look, y'all. Like 100 percent of people who want the job want it for the money and benefits."
She added that it is not a "unique" response.
"It's a big red flag to them because they think that's all you care about if that's all you can come up with."
"Instead, you're going to tell them why you're passionate about the company's mission, why this job is your life's work, and why you're such a good fit for this company."
Sounds good!
And finally, don't be too honest about your future plans with the potential new employer. Companies want to feel that you're in it for the long haul.
"Your plans are to be at that company."
"Your plans are to come in and knock it out in this role and continue to grow as opportunities arise. What every company wants is top talent that is going to stay and grow with them."
You can watch below.
@bonniedilber

Companies want to hire top talent that will grow with them over time. Here are three things you're going to want to lie about to present yourself in this way. #interviewtips #jobseekers #jobsearch #interviews #recruiting #careertok
Many in the comments agreed with the creator that lying is just a natural part of the process.

@bonniedilber/TikTok

@bonniedilber/TikTok

@bonniedilber/TikTok
@bonniedilber/TikTok
Others, however, argued that honesty is still the best policy.

@bonniedilber/TikTok

@bonniedilber/TikTok
@bonniedilber/TikTok
@bonniedilber/TikTok
Everyone, though, could agree that the grind is exhausting.

@bonniedilber/TikTok
@bonniedilber/TikTok

@bonniedilber/TikTok
Thank you, Bonnie, for sharing these helpful tips, and hopefully all you jobseekers out there can put them to good use!
Keep reading...Show less