Tag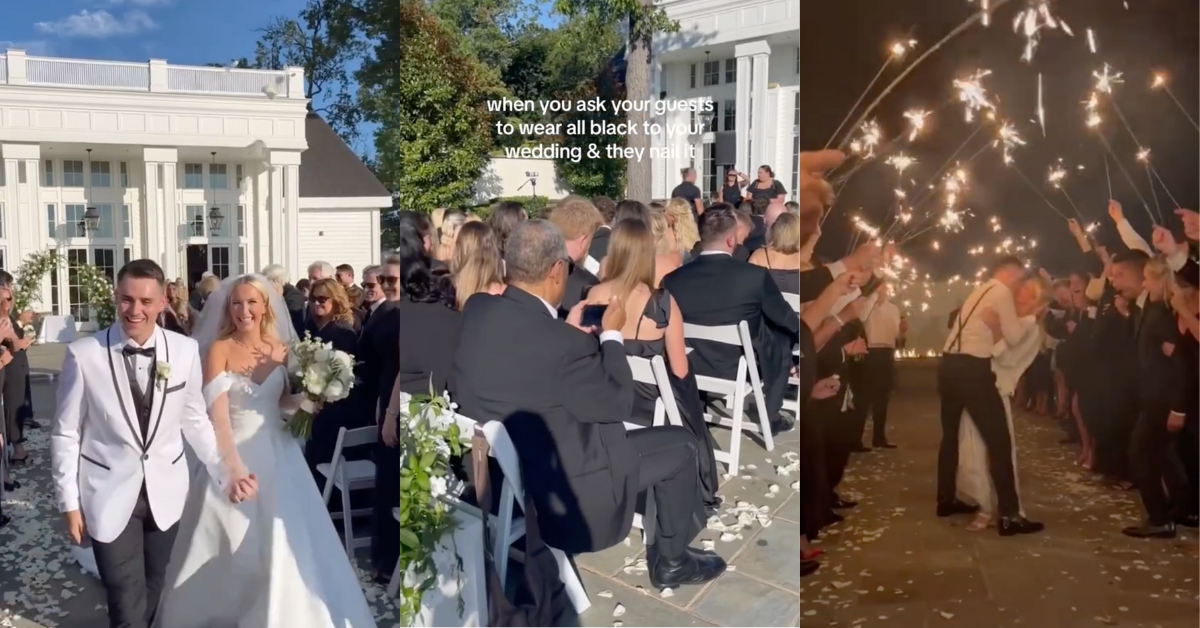 @jorrodgers/TikTok
A wedding recently went viral on TikTok after the bride pointed out the unusual dress code: guests were asked to wear all-black attire to help the couple celebrate their special day.
The bride, Jordan Bussey, shared videos of her wedding, first via general shots and then one specifically about the dress code. She almost immediately received incredulous comments, with some people questioning her choice of all-black attire for guests.
Bussey did clarify in the comments that the outside portion lasted only 20 minutes before everyone moved to an indoor venue with, presumably, air-conditioning.
First she shared sweet glimpses of their day, in which you'll notice the dress code if you're looking for it.
@jorrodgers

Little snippets of our day 🫶🏼🥹 #weddingtok #wedding #2023bride #bride #weddingdetails #groom #fyp #weddingday
And then came the video highlighting the all-black dress code—for an outdoor, daytime event.

@jorrodgers

All black attire 🤌🏻 #allblackoutfit #weddingattire #wedding #weddingdetails #weddingtok #weddingguest #weddingguestdress
Some people loved the choice and fully supported her.


@haleigh.lol1/TikTok
@jenkins360/TikTok

@elizabethjoyceros/TikTok
@xxsaiph/TikTok
Others were worried about her guests in the heat.


@marlenemartinezcas/TikTok

@robbiemcbride165/TikTok

@westaklbbyxo/TikTok
@thebendybacker/TikTok
Still others commented that her wedding might be easily confused for another event where people dress in all black.


@proghost91
@lolz056/TikTok
@averywadbrook/TikTok
Some folks liked her idea, but weren't confident their families could pull it off.


@jaxxnn2/TikTok
@wh0s.ini/TikTok
And some said that her choice was one they might copy for their own ceremony, but with their own twist.

@iliketinykidsandoldmen/TikTok
The bride said that no one objected to the heat and... well, she got her dream wedding, regardless of what anyone else thought.