text message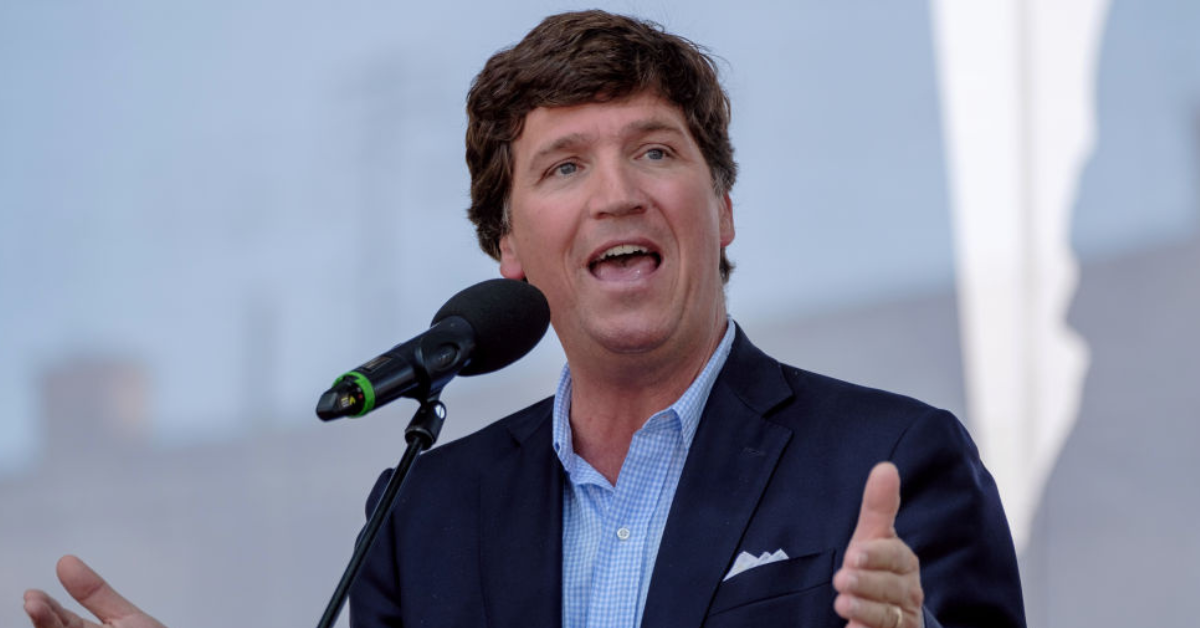 Janos Kummer/Getty Images
Former Fox News host Tucker Carlson was mocked online after a rather candid and surprisingly self-aware text exchange with journalist Mattathias Schwartz of Insider came to light.
The conversation, shared by Schwartz on Twitter, began innocuously enough with a question about a potential presidential run by Carlson. Seemingly caught off guard, Carlson responded with a playful tone, suggesting he would announce his campaign in New Hampshire on the upcoming Friday.
However, when Schwartz inquired about contacting him to confirm the story, Carlson swiftly retracted his previous statement, confessing,
"I was totally kidding."
The unexpected twist came when Carlson further admitted:
"I can never control myself. I'm fundamentally a d**k. My apologies."
This unguarded moment of self-reflection shed light on Carlson's self-awareness of his controversial reputation and his propensity for provocative behavior.
The admission left Schwartz somewhat amused, responding with understanding:
"I can appreciate a good troll. So you've ruled 2024 out completely, it sounds like."
You can see Schwartz's post below.
You can see the exchange below.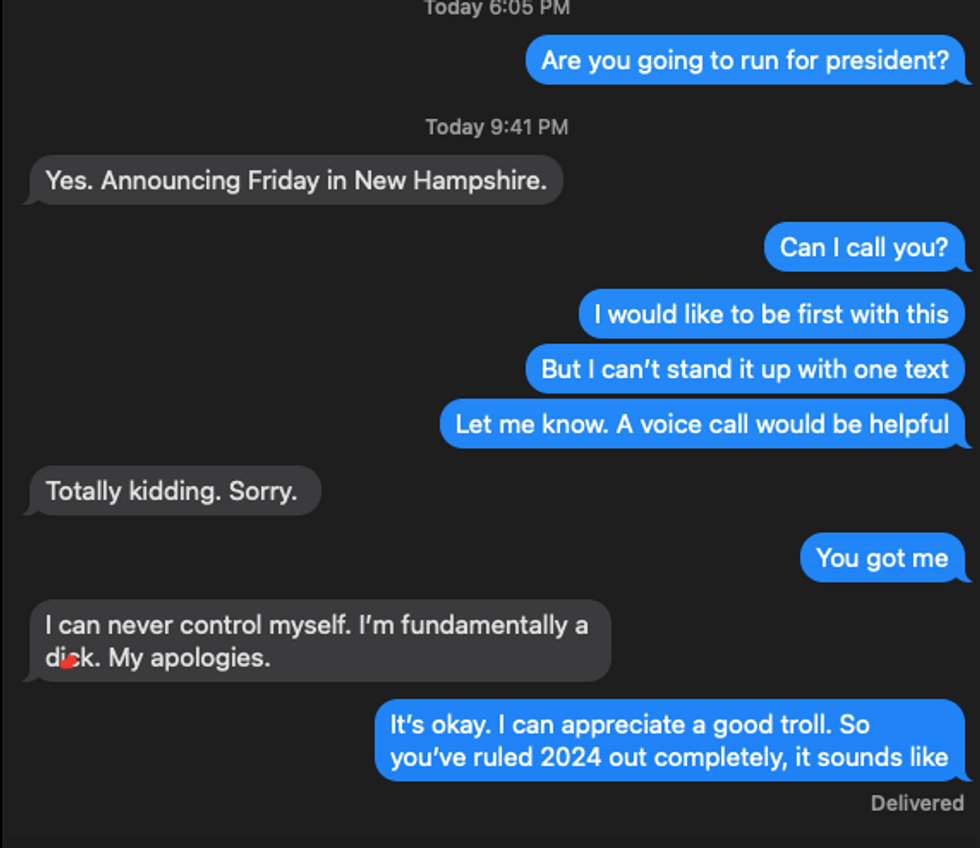 @Schwartzesque/Twitter
Curiously, Carlson did not provide a response to Schwartz's inquiry, leaving the journalist to speculate on the intention behind the initial claim.
Schwartz later speculated on Twitter that Carlson may have hoped that his fabrication would be published based solely on the single text message, suggesting a strategic maneuver to generate attention or gauge public interest.
The recent text exchange incident comes on the heels of Carlson's reported departure from Fox News last month, an event shrouded in mystery as the reasons for his departure remain undisclosed.

In light of this development, speculation about Carlson's future endeavors has been rampant, with some commentators even suggesting a potential White House bid, perhaps challenging the current Republican front-runner, former President Donald Trump. However, Carlson has yet to address these rumors or provide any clarity on his plans.
But it was Carlson's self-aware admission that really had the Twittersphere talking.
Despite the uncertainty surrounding his professional future, Carlson recently took to Twitter to announce his upcoming venture—a new show.

Earlier this week, Carlson made a surprise announcement he would be launching a new show on Twitter, signaling the breakdown of negotiations to reach a separation agreement with the network where he is still under contract.
However, Twitter CEO Elon Musk was quick to make clarifications about their relationship, stating "we have not signed a deal of any kind whatsoever," implying any agreement between the two had not yet been reached.
Keep reading...Show less