Tag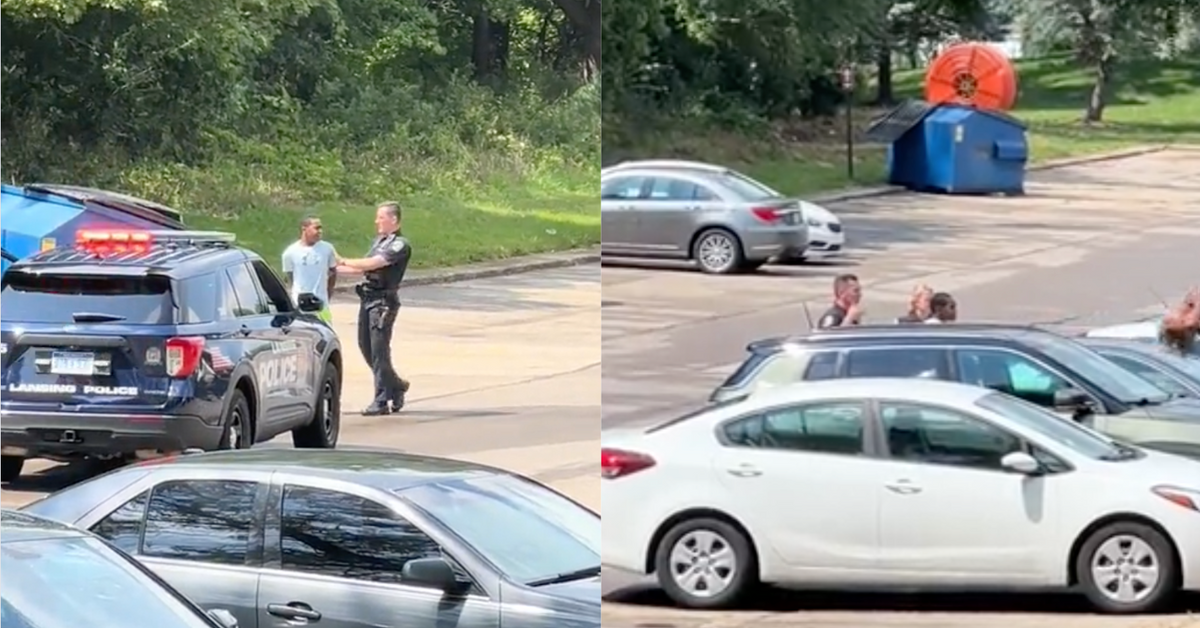 @careyann327/TikTok
A Michigan police officer's handcuffing of a Black child outside his home sparked outrage and renewed discussions about racial profiling and police actions.
The incident, described by the Lansing Police Department as an "unfortunate case of 'wrong place, wrong time'," took place when the officer was searching for a suspect in a series of car thefts and misidentified the 12-year-old child as a potential suspect.
The Lansing Police Department took to Facebook to provide an explanation after cellphone video footage circulated on social media showing a White police officer leading the 12-year-old Black boy—later identified as Tashawn Bernard—through an apartment complex parking lot with his hands cuffed behind his back.
You can see the footage below.

The video prompted immediate backlash.
The family's lawyers, Ayanna and Rico Neal, spoke during a news conference and noted the incident left Tashawn "traumatized" to the extent he is now fearful of going outside.
The lawyers emphasized the boy was innocent and had merely been taking out the trash when he encountered the police officer, whose gun was unholstered and held in front of him.

The video captured a moment when the officer removes the handcuffs from Tashawn and engaged in a brief conversation before allowing the child to join his father on the sidewalk.
Tashawn's father, Michael Bernard, expressed his distress at the situation, recounting how he discovered his son with handcuffs on and police officers surrounding him when he went outside.
Concerns were raised about the trauma inflicted on the young boy and the broader issue of racial bias and racism in law enforcement.
Police officials explained that the incident occurred due to a "misunderstanding" caused by a witness description of a suspect's outfit, which led an officer to approach the child who was dressed similarly. The officer realized his mistake and released Tashawn after a brief encounter.

The incident has intensified discussions about the experiences of Black individuals when interacting with law enforcement and the need to address issues related to racial bias and profiling.
Lawyers for the Bernard family have indicated that they are exploring legal options, including the possibility of filing a lawsuit against the police department.