peter navarro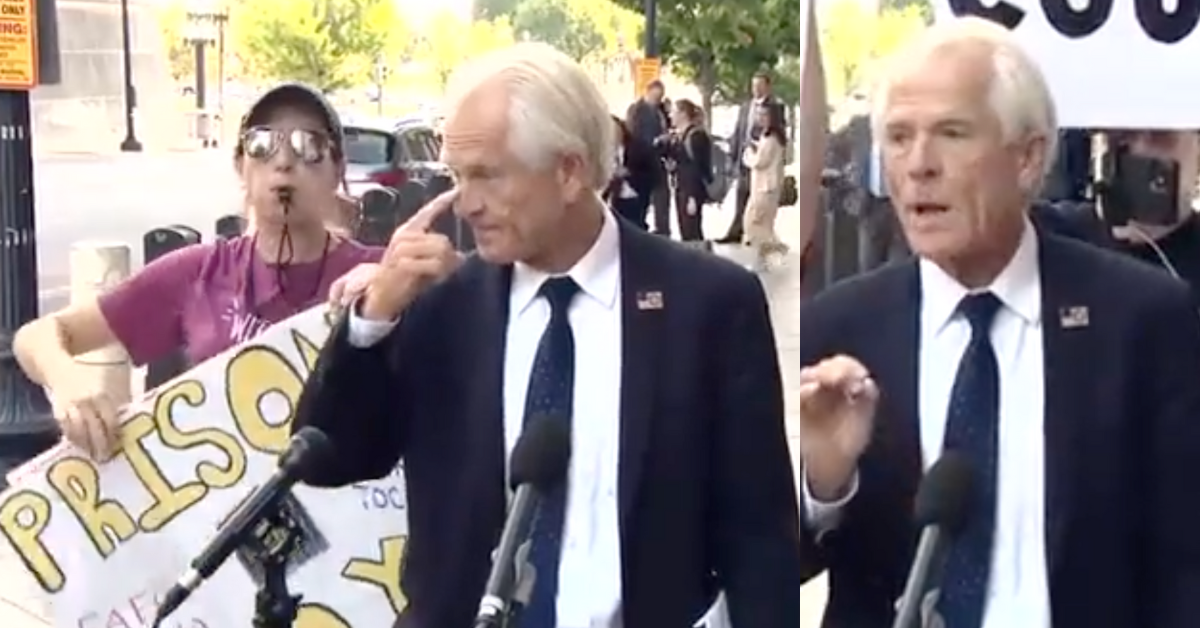 @RpsAgainstTrump/Twitter
Former Trump advisor Peter Navarro was trolled by the same sign-holdidng protester who stood behind him during a press conference last week—and this time she brought a whistle.
A jury was seated on Tuesday in Navarro's criminal contempt of Congress trial. The trial, presided over by District Judge Amit Mehta, is expected to proceed swiftly. Navarro faces charges of criminal contempt for failing to comply with congressional subpoenas, similar to former Trump ally Steve Bannon, who was convicted in a similar case and is appealing.
Convictions in these cases could set a precedent for future congressional investigations dealing with uncooperative witnesses and former Presidents' claims of privilege over aides' testimony and documents.
Navarro claimed that the trials against him are "very expensive" and said they are an example of Democrats using "lawfare" to crush their political opponents. The woman—who blew a whistle to interrupt him several times—continued to yell out the word "Traitor."
You can see footage of the moment below.

As Navarro responded to these developments, the woman flashed a sign that read "Prison Boys," a play on "Proud Boys," the neo-fascist paramilitary organization whose members spearheaded the attack on the United States Capitol on January 6, 2021. Their leader, Enrique Tarrio, whose name featured prominently on the sign, was just sentenced to 22 years in prison.
Navarro called for supporters to contribute to his legal fund to fight the charges against him—each of which carries a year in prison and a $100,000 fine—but was interrupted multiple times as he tried to share the URL.
The main heckler, identified as X user @SatireAP who also disrupted Navarro's statements last week—became the target of Navarro's frustrations once again as he called on reporters to "please" broadcast the interruptions on their channels.
Gesturing to the demonstrators, he said:

"I'm trying to speak about serious constitutional issues with you. Clown with a whistle, witch with a broom. Go figure."
Meanwhile, @SatireAP continued to brand him a "traitor," prompting a pro-Navarro demonstrator—this one holding a sign that read "Stop hating each other because you disagree"—to request that she "let the man talk, he has every right to talk."
She declined however, replying:
"No, he's a traitor! Traitor!"
Many could not believe the same woman had shown up to troll Navarro not once but twice—and praised her for it.
Navarro's trials have garnered significant attention due to the broader implications regarding congressional oversight and executive privilege.
Judge Mehta ruled against Navarro's assertion that his conversations with then-President Trump were protected under executive privilege, calling it "pretty weak sauce." Mehta stated that Navarro had not provided specific evidence to support his executive privilege claim, leading to the rejection of this defense.
In addition to the criminal trial, Navarro is facing a civil lawsuit from the Justice Department, alleging violations of the Presidential Records Act for not turning over government records, specifically emails, from his personal account to the National Archives. Navarro has appealed the ruling in that case.
Keep reading...Show less