Tag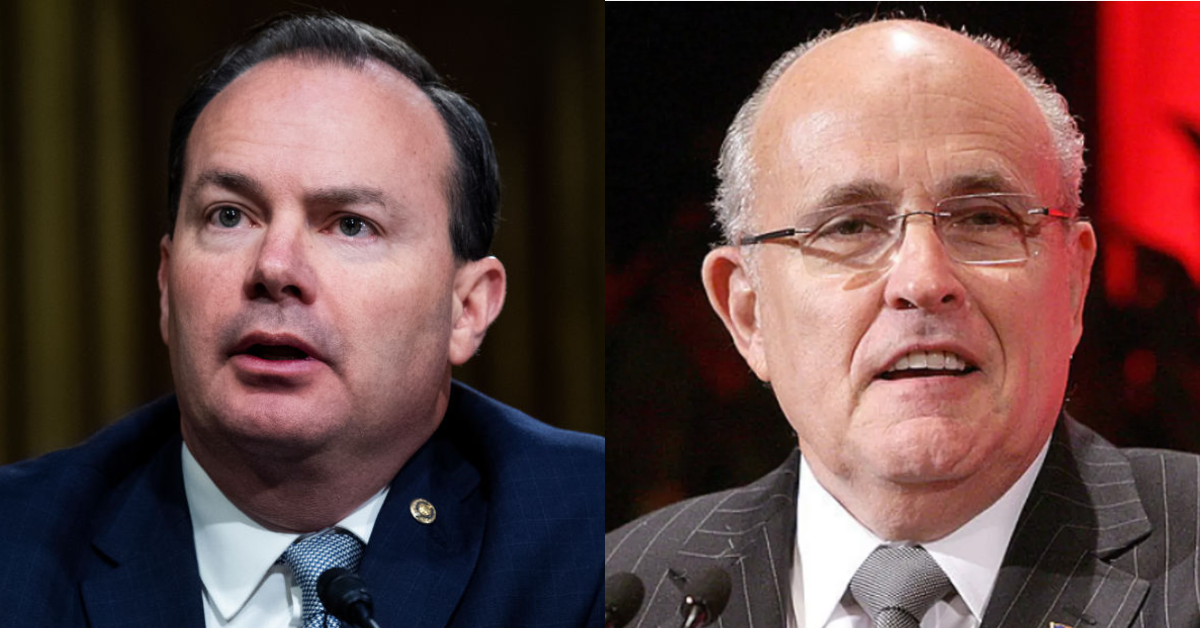 Tom Williams/Pool/Getty Images; Jim Spellman/WireImage/Getty Images
Utah Republican Senator Mike Lee nicknamed former New York City Mayor Rudy Giuliani as an example of "walking malpractice" after Giuliani left a voicemail on Lee's phone that was meant for Alabama Republican Senator Tommy Tuberville about blocking the certification of Electoral College votes in the aftermath of the 2020 general election.
Lee made the remark about Giuliani in a text message to former national security adviser Robert O'Brien on the evening of January 6, 2021, the day a mob of former Republican President Donald Trump's supporters attacked the nation's seat of government on the false premise the 2020 election had been stolen.
The contents of that text message were included in the final report by the House Select Committee tasked with investigating the events of January 6, which held Trump responsible for the attack to subvert the 2020 election results and backed criminal charges against him.
Lee received the voicemail from Giuliani just before 11 p.m. on January 6 and after realizing it had been meant for Tuberville, wrote the following message to O'Brien:
"You can't make this up. I just got this voice message [from] Rudy Giuliani, who apparently thought he was calling Senator Tuberville."
"You've got to listen to that message. Rudy is walking malpractice."
Giuliani had left the following message on Lee's voicemail:
"I'm calling you because I want to discuss with you how they're trying to rush this hearing and how we need you, our Republican friends, to try to just slow it down so we can get these legislatures to get more information to you."
The news of Giuliani's blunder—and Lee's brutal nickname for him—exposed both of them to significant online mockery.

The contents of the voicemail Lee received—and the text message he sent—are notable in part because Lee coordinated with and supported the Trump administration in its efforts to overturn the 2020 presidential election. However, unlike Tuberville, Lee ultimately voted to certify the election.

Despite breaking with Republicans who voted not to certify Democratic President Joe Biden's electoral victory, Lee has continued to back Trump's "Big Lie" that the election was stolen, voting against creating an independent commission to investigate the insurrection.
By April 2022, investigators had discovered and released over 100 emails between Lee and other Republicans—including Trump's former Chief of Staff Mark Meadows—discussing their plans to overturn the election results.
Giuliani himself has attracted notoriety and scorn for litigating Trump's efforts to overturn the results of the 2020 election and for sharing debunked conspiracy theories about voting irregularities.
His participation in the scheme has not been without consequences.
In July 2021, Giuliani claimed he is the victim of "political persecution" after his law license was suspended in Washington, D.C. The suspension was triggered automatically by Giuliani's suspension the previous month from practicing law in the state of New York.
A New York appellate court officially suspended Giuliani's law license, writing in a 33-page decision that he made "demonstrably false and misleading" statements about the 2020 election while working as Trump's personal attorney.