Tag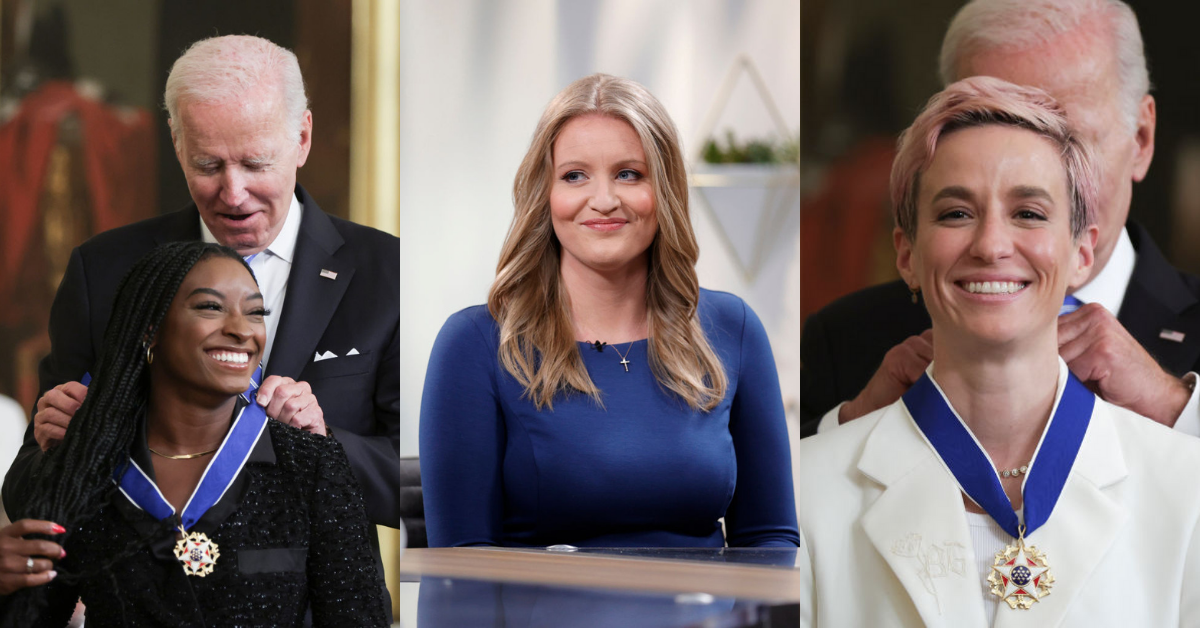 Alex Wong/Getty Images (L and R); Jason Kempin/Getty Images (center)
Attorney Jenna Ellis, best known for her work as a member of former President Donald Trump's legal team, was criticized after she referred to Olympic gymnast Simone Biles and USA team soccer player Megan Rapinoe as "losers" after the Biden administration presented them with the Presidential Medals of Freedom, the nation's highest civilian honor.
Writing on Twitter, Ellis said that Democratic President Joe Biden "fittingly" awarded the Presidential Medal of Freedom "to fellow losers, Biles and Rapinoe."
You can see her tweet below.

While there are no specific criteria for receiving the award with distinction, both Biles and Rapinoe have distinguished themselves as athletes of the highest caliber, winning dozens of medals and trophies between them for their achievements in the arena of elite athletics.

Additionally, both women have distinguished themselves within and outside their respective professions for their advocacy work.
Biles was instrumental to the case against former USA Gymnastics physician Larry Nassar, whose sexual abuse of young girls and women and the subsequent cover-up led to the USA Gymnastics sex abuse scandal that began in 2015 and culminated in his guilty pleas on child pornography and tampering with evidence charges as well as charges he sexually assaulted hundreds of minors.
Biles has also been a vocal advocate for mental healthcare and better protection for athletes physical and mental well-being.
Rapinoe is an advocate for multiple LGBTQ+ organizations and has regularly made headlines for her stark condemnations of anti-LGBTQ+ legislative efforts around the country. Most recently, she did not mince words as she criticized the "monstrous" anti-trans sports bills sponsored by Republican lawmakers that have gained traction in multiple states and has weighed in on the necessity of trans inclusion in sports.
Rapinoe was also a leading voice in USA Women's Soccer's equal pay case.
Ellis was swiftly criticized for her unsolicited hot take.

Ellis has been a high profile member of Trump's legal team and has faced heavy criticism over her participation in efforts to overturn the results of the 2020 general election, which Biden won decisively.
She has been subpoenaed to testify before the House Select Committee tasked with investigating the January 6 insurrection, which took place when a mob of Trump's supporters attacked the United States Capitol on the false premise the election was stolen.

She has also been subpoenaed by a Fulton County Georgia Grand Jury over her involvement in trying to interfere in the 2020 election on behalf of the loser, Donald Trump.
Having courted controversy for suggesting the Constitution of the United States can only be interpreted in accordance with the Bible, Ellis has been scrutinized for presenting herself as a "constitutional law attorney" during cable news appearances despite a background that does not reflect that expertise.