Tag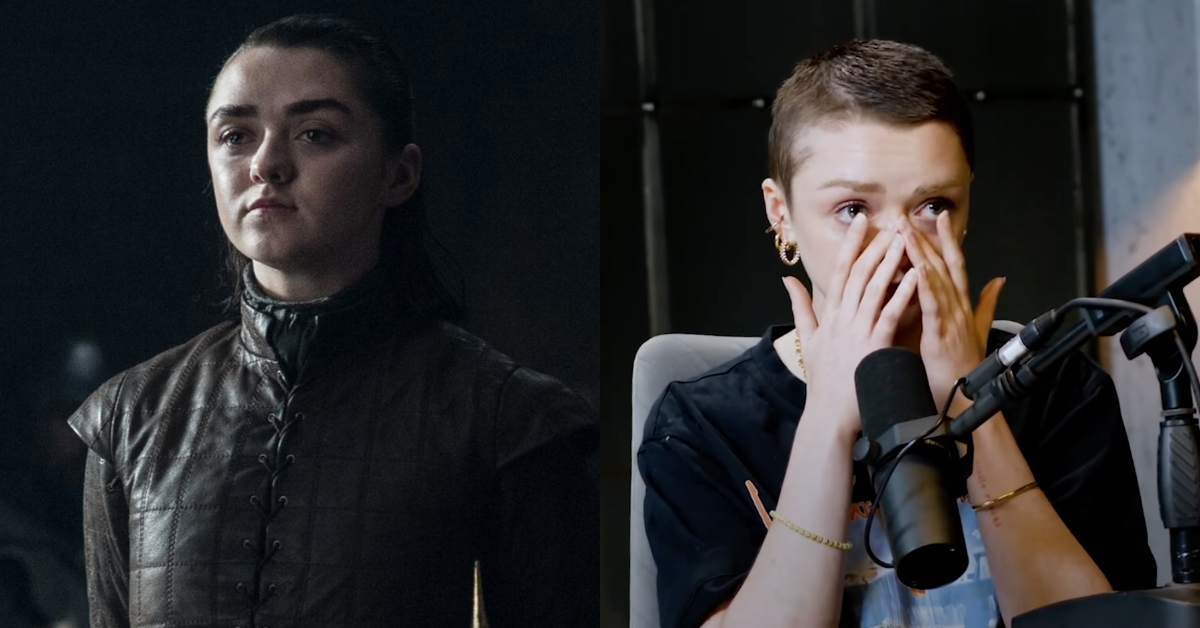 HBO; The Diary of a CEO/YouTube
English actor Maisie Williams is best known for her breakout role as Arya Stark in Game of Thrones.
In the series, Williams portrayed Stark as a determined and independent warrior who sets out to avenge her family. Her bravery and skills lead her to bring those who have wronged her family to justice.
In a recent interview with Steven Bartlett on his podcast Diary of a CEO Podcast, we see Williams display bravery yet again as she emotionally opens up about her traumatic childhood.
Williams recalled:
"Well, I, as a young child before the age of, like, 8, had a traumatic relationship with my dad."
Williams did not want to share too many details as she said it could affect her siblings and other family members.
She continued:
"But, like, that really consumed a lot of my childhood."
"Ever since I can remember, I've really struggled sleeping. And I think a lot of the traumatic things that were happening, I didn't realize that they were wrong."
When Williams was 8 years old the situation with her father escalated to its 'peak.'
A teacher at school had been observing Williams' behavior and took her to the staff room at school to inquire.
Williams recounted the teacher's concern.
"And she was saying, like, 'What's wrong... what's happened? Are you hungry? Did you eat breakfast?'"
"I said, 'No.' And she said, 'Oh, why not?' And I said, 'We just don't have any breakfast.' And then she says, you know, 'Do you normally have breakfast?'"
Williams continued tearfully:

"They were asking the right questions."
She then shared things began to change, but she still didn't fully understand the severity of the situation.
"My mum came to school and picked me up. It was the first time that all of the doors were open, and it was the first time things were on the table."
"I still wanted to fight and say these things aren't wrong, that you're just trying to take me away from my dad."
The nearly two-hour interview can be viewed here:
Maisie Williams: The Painful Past Of A Game Of Thrones Star | E181www.youtube.com
Bartlett also shared a short clip of the podcast to Twitter.

Fans weighed in, applauding Williams for her bravery and openness.
Later during the interview, Bartlett asked Williams how she feels about her father now, to which Williams responded:
"To be honest, I have been thinking about this a lot."
"I've been trying to do this thing where I stop taking things personally."
Williams went on to explain she now realized what she experienced was not her fault.
"It wasn't because there was something wrong with me that these bad things happened when I was a child."
As a child, Williams believed she was mistreated because of her own 'wrongdoings.'
Williams later stated taking herself out of the situation and thinking objectively about it makes her wonder what her father went through as a child or if something in his past caused him to treat his children the way he did.
Regardless, Williams seems to have found some peace.
"It's nice to not feel the personal pain anymore."