Tag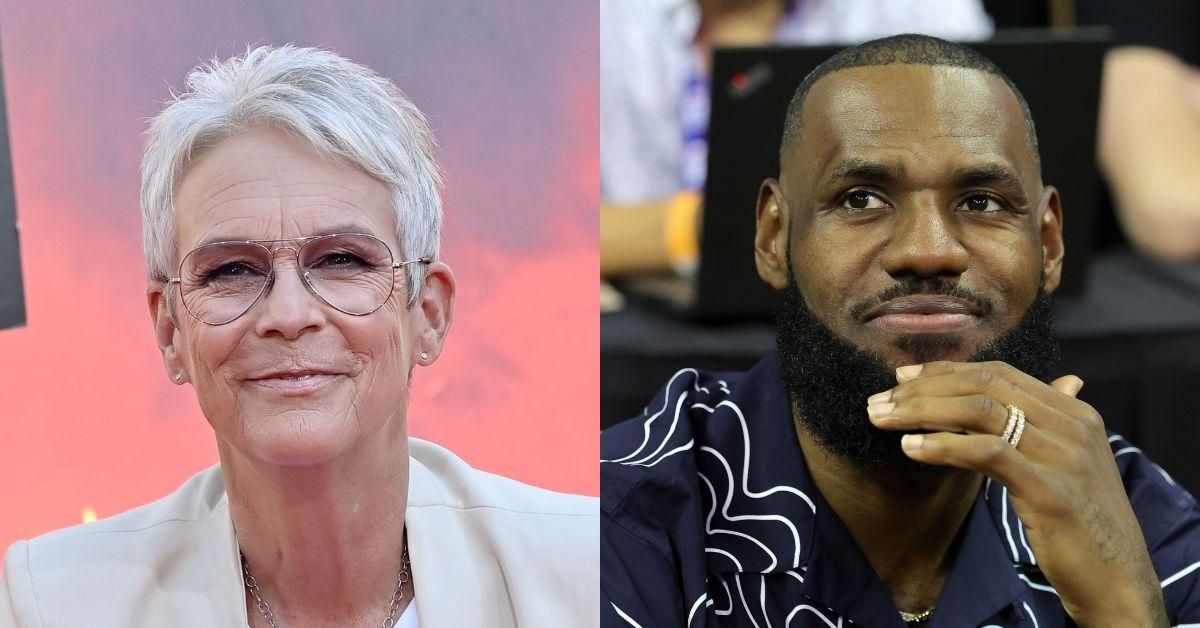 Axelle/Bauer-Griffin/FilmMagic/Getty Images; Ethan Miller/Getty Images
Actor Jamie Lee Curtis has gotten lots of praise for the latest installment in the beloved Halloween film series, Halloween Ends, but one person's kudos have stood above all the rest: LA Lakers player LeBron James.
Halloween Ends, the final chapter in the long-running horror series, came out last weekend, and among those who raced to the cineplex to see it was apparently James.
He tweeted his praise of the movie as well as a shout-out to Curtis.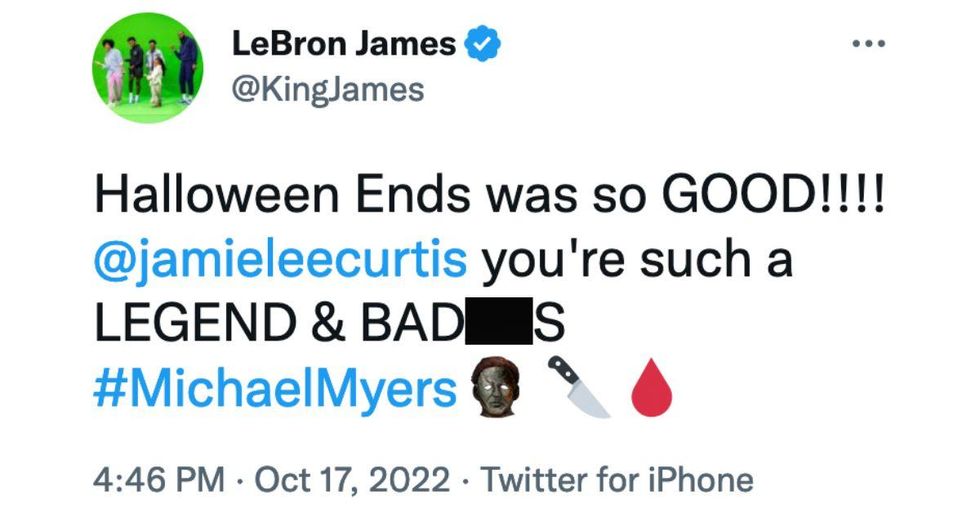 @KingJames/Twitter
James tweeted:
"Halloween Ends was so GOOD!!!! @jamieleecurtis you're such a LEGEND & BADA**"

The tweet quickly went viral, racking up more than 23,000 likes and well over 3,000 retweets--enough to land it in Curtis' feed, who posted a screenshot to her Instagram account along with her own effusive praise of James.

@jamieleecurtis/Instagram
Curtis captioned her post:
"My King! @kingjames You flatter me but the Queen LIKES IT!"

Curtis was similarly effusive on Twitter.

@jamieleecurtis/Twitter
Curtis has good reason to be flattered--James is apparently such a huge fan of the film franchise that he dressed up as the series' sadistic villain Michael Meyers for Halloween back in 2013.
Curtis has been playing the lead role of Laurie Strode since the first Halloween in 1978, in which Strode is terrorized by Myers while babysitting neighbor girl Lindsey Wallace, played by a young Kyle Richards of Real Housewives of Beverly Hills, who was just nine at the time.
The film quickly went from a low-budget slasher flick to a cult classic considered one of the most iconic horror films of all time and beloved by fans of the genre.

Curtis reprised the role in 1981's Halloween II, 1998's Halloween H20: 20 Years Later, and 2002's Halloween: Resurrection and last year's Halloween Kills. She also lent her voice to 1982's Halloween III: Season of the Witch.

As its title suggests, Halloween Ends marks the end of the series and like Halloween Kills reunites Curtis and Richards for one final bout against Myers.
On Twitter, people loved how excited Curtis was about James' kudos, and many fans shared James' enthusiasm for the film.

I love Halloween ends one of the best Halloween movie franchises and finally come to an end with a great ending great job to all the actors and actresses
— Jim Bonica (@jim38712) October 18, 2022
I saw the movie last night with my husband who loves horror movie, me i was closing my eyes at some point😨😬but you are such a great actress, i love everything you do, and what you stand for, thank you.💜🥰
— Chantal Deslauriers (@boutchou40) October 22, 2022
Every time I see someone else who loved this movie, it makes me incredibly happy. This is probably my favorite Halloween sequel. Strong story, strong characters, incredible theming. IMO this trilogy ended on it's highest note.
— Nathan (@FavoringWind) October 17, 2022
laurie strode is the valiant character that was against one of the strongest forces of evil, and she was always sharp and triumphed in ends! your portrayal of her has that excellent essence that cannot be replicated. thank you for delivering the legendary laurie strode to us! <3
— 🌸 (@skinniestroses) October 18, 2022
I agree! I ❤️it! Thank you for being a part of the reason I fell in love with the entire #horror genre! 😊
— Casanova Black (@JHollins) October 18, 2022
Thank you for everything over the years Jamie. I've always loved your work in every Halloween 🙏🏽❤️
— THE PHILLIES ARE GOING TO THE WORLD SERIES (@KDTrey__SZN) October 17, 2022
As a fan of the Halloween franchise thank you for giving us this amazing character as Laurie strode for years I have seen every single movie and own the as well a a Halloween memorabilia collector you were brilliant you have no Idea what your character and the shape meant thanks
— Antonio Jackson (@Antonio06977261) October 22, 2022
Halloween Ends had a $41 million opening weekend despite also premiering on Peacock at the same time. James is definitely not alone in his Halloween and Jamie Lee Curtis love!