Tag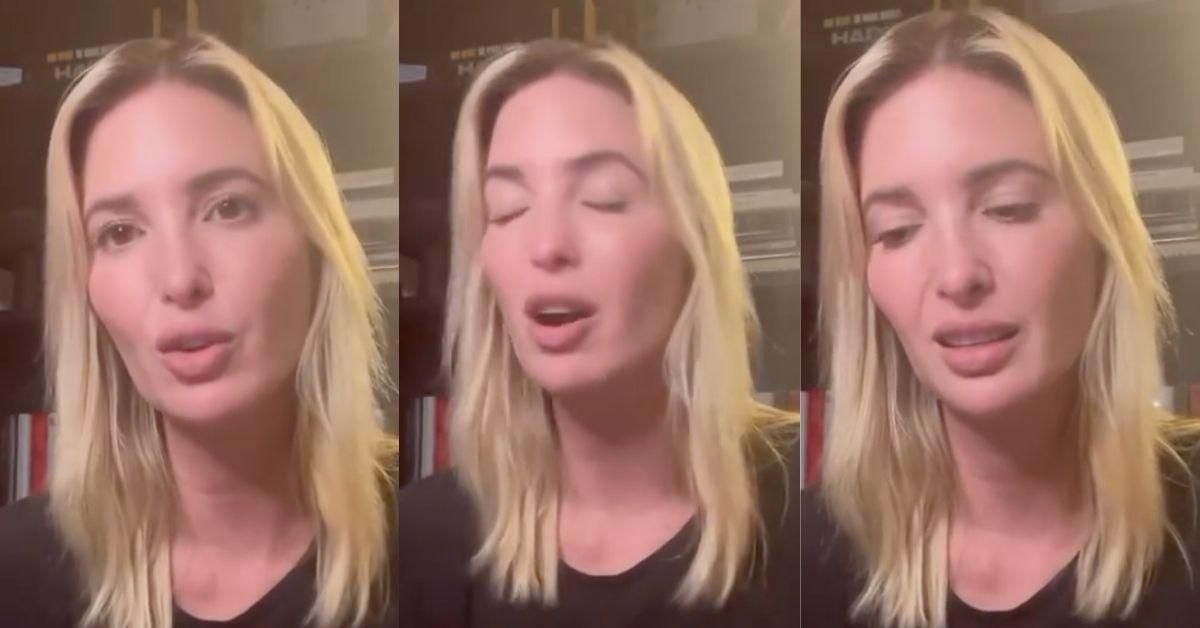 @ivankatrump/Instagram
The apple truly does not fall far from the tree.
As the daughter of former Republican President Donald Trump, it should probably surprise no one that Ivanka Trump turned Ukraine-focused charity work into an opportunity to self-aggrandize and hone her personal brand.
After donating food to wartorn Ukraine, Ivanka posted a series of videos to Instagram detailing all she had done, all in a tone so performatively dramatic and obviously rehearsed that it almost seems like a troll.
And the internet is definitely not impressed.
See her videos below.
Ivanka is said to have paid for the million meals she sent to Ukraine with hundreds of thousands of dollars of her own money--which reportedly amounts to $640 million just from the four years she worked in the White House alone.
Rather than simply do a good thing (in this case, the bare minimum) for the sake of doing so and then letting that be that, Ivanka instead posted two videos to Instagram about the endeavor--one detailing all she'd done, and one delivering a message to the people of Ukraine directly.
"You are in our thoughts and our prayers, and our heart breaks for what you are experiencing in this dire time. You have inspired the world with your courage and bravery as you fight for your country and your freedoms."
This was followed by photographs of Ukrainians, who are dodging bombs and living in bunkers right now, eating Ivanka's donated food.
At no point does Ivanka ask others to join her in helping Ukraine by, say, donating to send more meals to Ukraine. The content seems purely for self-aggrandizement.

The distastefulness of the whole thing is manifest, and that's before taking into account the fact that Ivanka's father, former President Trump, has routinely praised Russian President Vladimir Putin, including just days before he invaded Ukraine, calling his plan to illegally seize the sovereign country "genius" and "savvy."
Ivanka also neglected to mention that her father was impeached for withholding military aid to Ukraine unless President Volodomyr Zelenskyy agreed to cook up some dirt on Democratic President Joe Biden and his son Hunter--military aid that could probably be coming in handy right now while Ukrainians sit in bunkers eating Trump's near-billionaire daughter's oatmeal.
As you might imagine, people who are not bewitched by Ivanka and her father's various grifts were not at all impressed with her publicity stunt--er, sorry, charity work.

My takeaway from Ivanka Trump\u2019s video on donating meals to Ukraine. \n\n\u201cLook at me guys! I\u2019m a real humanitarian that cares for other humans! This video will help the public\u2018s perception of me!\u201d \n\nPeople that are truly charitable don\u2019t need to advertise it in a video.

— Friday On My Mind \ud83c\udf0a\ud83c\udf0a\ud83c\udf0a (@Friday On My Mind \ud83c\udf0a\ud83c\udf0a\ud83c\udf0a) 1648495577
Shout out to Ivanka Trump for donating a sliver of her fraudulently gained American funds, to the children of Ukraine. What a gal, great PR job, well done #Ivankaslapher #TrumpCrimeFamilypic.twitter.com/Bf96gGPf10

— KIWIChar (@KIWIChar) 1648466667
No, Ivanka did not send a million meals to Ukrainian refugees. Trumps don\u2019t do anything that doesn\u2019t benefit them. Next

— Kelly D (@Kelly D) 1648125226
Ukraine, I have 1 million meals but I need you to do us a favour though!

— Miss N Fully Vaxxed (@Miss N Fully Vaxxed) 1648466898
Is Ivanka trying to start a reputation rehabilitation tour?\n\nIs she expecting praise for what she claims she's done for the Ukrainian people?\n\nThese Trumps just think they're so special.\n\nThis crime family should be in prison.

— ogrollermike (@ogrollermike) 1648529423
Did you ask the Ukrainians to do you a favor though before delivering the meals?

— Paul \ud83d\udc7b (@Paul \ud83d\udc7b) 1648232627
What\u2019s the game here this time?

— MissT \ud83d\udc99\ud83d\ude37\u270c\ud83c\udffc\ud83c\uddfa\ud83c\uddf8 (@MissT \ud83d\udc99\ud83d\ude37\u270c\ud83c\udffc\ud83c\uddfa\ud83c\uddf8) 1648478263
I wonder if Trump hadn\u2019t tried extort money from Ukraine and handed them to Russia, if this war would even be going on.

— CoCo Bonita (@CoCo Bonita) 1648232469
Ivanka Trump reappeared on social media to make a softcore porn video thanking herself for sending one million meals to Ukraine.pic.twitter.com/ilolPMvTi2

— Mystery Solvent (@Mystery Solvent) 1648499026
\u2018My daddy extorted #Ukraine. I\u2019m feeding it!\u2019 #Ivanka #Trumppic.twitter.com/s0Z5R3mYpI

— Andy Ostroy (@Andy Ostroy) 1648433589
Hi it\u2019s Me! @IvankaTrump Here I am dressed like war in my bunker sending food to Ukraine. I know my Dad tried to fuck your nation. But I\u2019m not nuts. Really! Oh my picture with Putin\u2019s Girlfriend, we are besties.pic.twitter.com/djGG5N8r3M

— Kim Amadril @undertherug insta (@Kim Amadril @undertherug insta) 1648572309
If she says it do we believe it to be true? How would we know?\nMillion meals? Seems unlikely.\n\nCan just about that there\u2019s a trick, or a catch, or some other Sneaky crap where they\u2019re taking Credit for someone else\u2019s actual work.\nBut my bet is it\u2019s not real.

— Michael Beaton (@Michael Beaton) 1648433048
Anyway, your reminder that Ivanka's last food-aid endeavor ended up being a massive taxpayer-funded grift.