Tag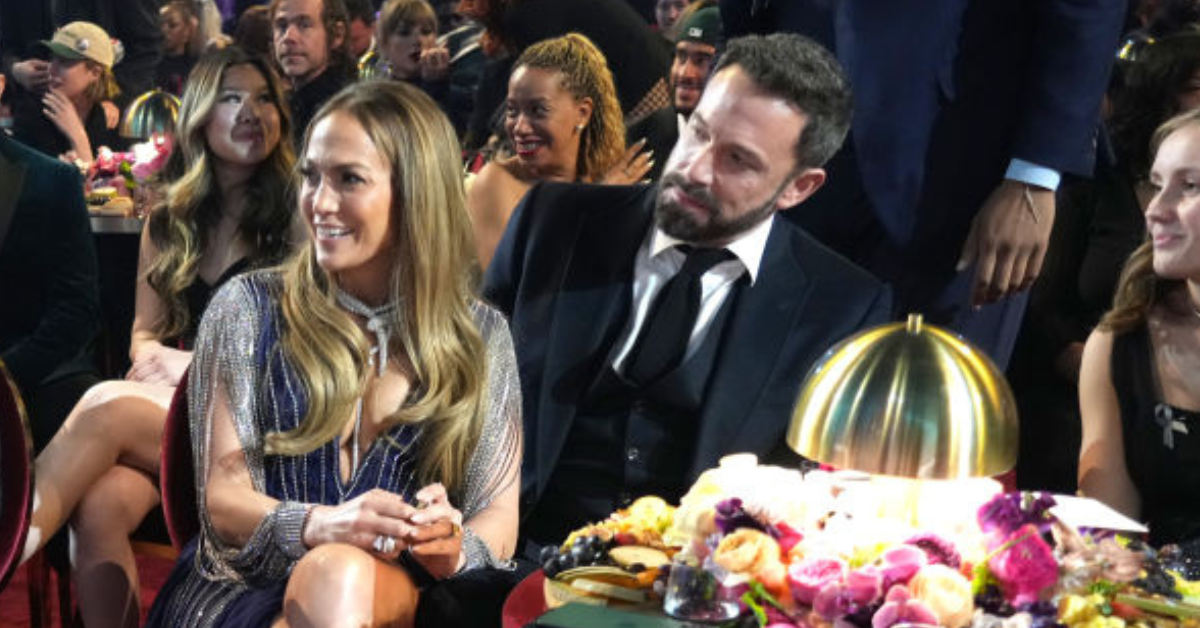 Kevin Mazur/Getty Images for The Recording Academy
The internet's perpetual meme Ben Affleck is finally giving the people what they want. No, not a Good Will Hunting sequel... the other thing.
The actor has gone viral many times over as a meme—you know like Sad Affleck...
... Smoking Affleck...
... and Dunkin' Affleck.
But most recently, Affleck's mug took the internet by storm as the Grumpy Grammys Affleck meme went viral.
People were so obsessed, in fact, The Daily Mailcommissioned a lip reader to uncover the mystery that was the alleged whisper spat between Affleck and wifey Jennifer Lopez...which was all caught on camera and broadcast for the world to see.
According to the professional, the tense exchange went something like this:
"J.Lo: 'Stop. Look more friendly. Look motivated.'"
"Ben: 'I might.'"

But now, we know exactly what went down that night, thanks to the star of the meme himself.
The Hollywood Reporter recently asked Affleck:

"Did you mind the 'Ben Affleck having a bad time at the Grammys' meme?"
The actor and filmmaker responded:
"I had a good time at the Grammys. My wife was going, and I thought, 'Well, there'll be good music. It might be fun."
Affleck then recounted the on-air "spat," and guys, it didn't transpire like we all thought.
"I saw [Grammy host Trevor Noah approach] and I was like, 'Oh, God.' They were framing us in this shot, but I didn't know they were rolling."
"I leaned into her and I was like, 'As soon as they start rolling, I'm going to slide away from you and leave you sitting next to Trevor'."
As for JLo's response, Affleck shared:
"She goes, 'You better f**king not leave'."
See what you think.
People on social media reacted to Affleck's explanation.
Unfortunately for him, many still weren't buying he was having a "good time."
But others were highly entertained by the actual exchange.
Affleck also told The Hollywood Reporter those kinds of exchanges are typical of the couple:
"That's a husband-and-wife thing. I mean, some of it is, I'm like 'All right, who is this act?'"
"Like, I don't keep up. My wife does, obviously. And yeah, it is your wife's work event."
As for other speculations about his demeanor at the event, Affleck shared:
"... I've gone to events and been pissed off. I've gone and been bored."
He also addressed the stigma associated with addiction and recovery.
"I've gone to award shows and been drunk, a bunch. Nobody ever once said I'm drunk."
"[But at the Grammys] they were like, 'He's drunk.' And I thought, that's interesting."
"That raises a whole other thing about whether or not it's wise to acknowledge addiction because there's a lot of compassion, but there is still a tremendous stigma, which is often quite inhibiting."
"I do think it disincentivizes people from making their lives better."
Next month, we will be able to see Affleck in Air —which he directed—a film about Nike's pursuit of rookie Michael Jordan.
But for now, we can sleep well finally knowing what happened that February night at the Grammys.