Tag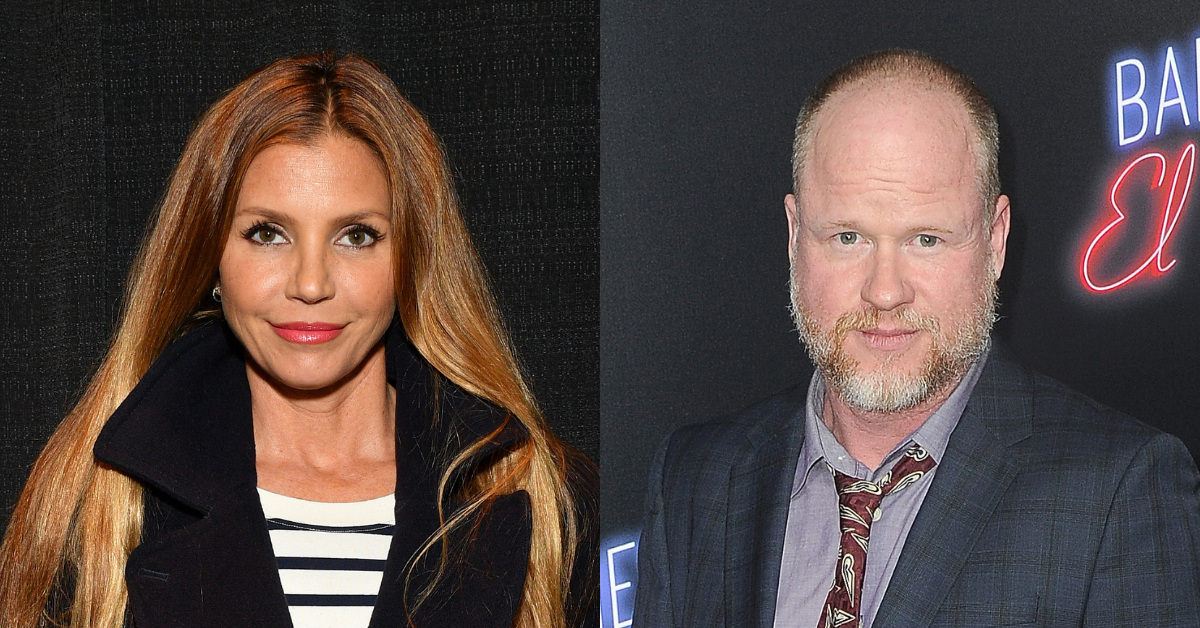 Dia Dipasupil/Getty Images for ReedPOP; Albert L. Ortega/Getty Images
Almost a full year ago, Charisma Carpenter—from popular shows Buffy the Vampire Slayer and the spin-off Angel—came forward with allegations about director Joss Whedon being abusive on set.
Her comments were in support of allegations brought by actor Ray Fisher about Whedon's behavior on the set of the film Justice League.
Here's Carpenter's 2021 post.
Whedon finally broke his silence after others also spoke out about his behavior on TV and film sets.
The interview has people cringing.
He spoke with Lila Shapiro from Vulture about the comments from not only Carpenter but also Buffy costume designer Cynthia Bergstrom; Buffy writer Rebecca X; an unnamed high-level production team member from Buffy;cast members Michelle Trachtenberg, Sarah Michelle Gellar and Amber Benson; an anonymous Firefly writer and Justice League actors Gal Gadot and Ray Fisher.
Whedon, now 57, claimed he was "young" and not as "civilized" back during the Buffy days.
"I yelled, and sometimes you had to yell."
"This was a very young cast, and it was easy for everything to turn into a cocktail party."
"He said he would never intentionally humiliate anyone."
"If I am upsetting somebody, it will be a problem for me."
Costume designer Cynthia Bergstrom shared a moment the two argued about a costume choice. Whedon decided on the day of filming he wanted the character to be dressed sexier than originally designed, but Bergstrom said she was just hoping to get the actress dressed and on set.
According to Bergstrom the argument turned physical:
"He grabbed my arm and dug in his fingers until his fingernails imprinted the skin and I said, 'You're hurting me'."

A Buffy production team member claimed Whedon did nothing to conceal his multiple affairs with subordinates.
At one point, a young actress came into the production team member's office and they began making out on the floor while the staffer was working.
They said:
"They would bang into my chair. How can you concentrate? It was gross."
"This happened more than once. These actions proved he had no respect for me and my work."
The quit the show even though they had no other job lined up.
Whedon denied both accusations, saying of Bergstrom:
"I don't believe that."
"I know I would get angry, but I was never physical with people."
Regarding making out on the floor of a staffers office:

"That seems false. I don't understand that story even a little bit."

Carpenter also shared her experience of being called fat while she was pregnant.
Though Whedon denied this claim, Rebecca X, formerly known as Rebecca Rand Kirshner, had a similar experience of fatphobic comments from Whedon. X didn't call the behavior abusive but didn't think it was very nice either.
Whedon admitted to several affairs with actresses in their early twenties while working on Buffy and Angel. Eventually, this lead to a divorce.
Whedon's ex-wife said she has developed PTSD after the 15 years of deception.

In 2017, Whedon took over the directing role on Justice League after Zack Snyder had a family emergency. Whedon had a very different approach than Snyder which lead to conflict with several members of the cast. Actor Ray Fisher shared his frustrations publicly.
In the Shapiro interview, Whedon called Fisher "a malevolent force" and "a bad actor in both senses"—a quote published by Vulture in New York Magazine on Martin Luther King Jr. Day.
Fisher responded on Twitter.
Carpenter shared an Instagram post in solidarity with Fisher.
Whedon also had conflict with Gal Gadot who said he threatened her on the Justice League set.
He called it "misunderstandings" due to a language barrier during the Vulture interview.
"English is not her first language, and I tend to be annoyingly flowery in my speech."
Gadot responded to Whedon's interview as well.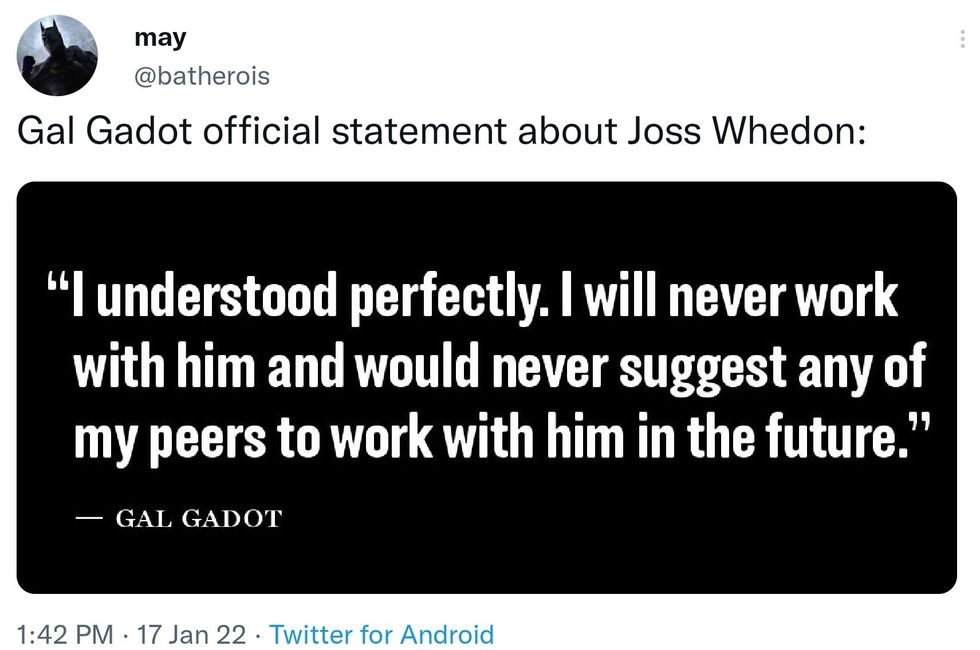 @batherois/Twitter
Carpenter shared a guide about survivorhood from abuse inThe Hollywood Reporter.
"I shared my experiences about my former boss, Joss Whedon, so that we may identify a very real problem that is still happening 20 years later."
"My open letter is not just trauma unpacking or dumping. It's a wake-up call. And a call to action."
"It was written in a concerted effort to foster change."
Many people found Whedon's interview to be avoidant of accountability.
If Whedon's interview with Shapiro was meant to rehabilitate his reputation, it doesn't seem to have done the trick.