Tag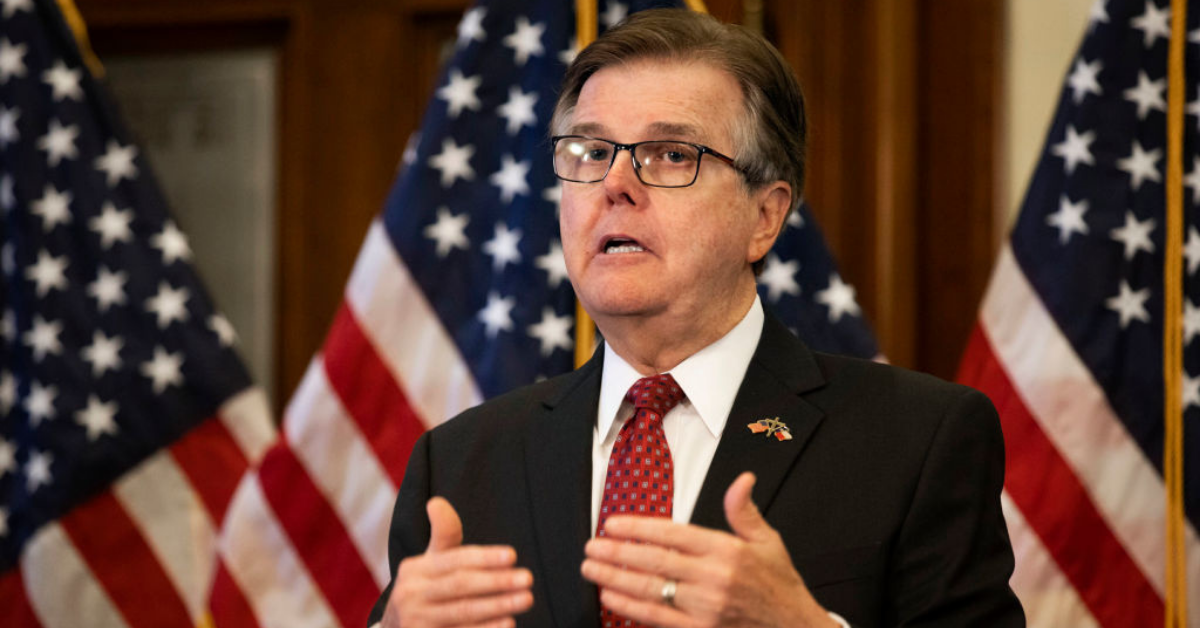 Lynda M. Gonzalez-Pool/Getty Images
Texas Lieutenant Governor Dan Patrick, a Republican, is facing heavy backlash after he suggested that unvaccinated Black people are to blame for the spread of Covid-19 in the state.
Patrick made the remarks during an appearance on Fox News, which you can watch below.
Speaking to Fox News personality Laura Ingraham, Patrick said:

"Well Laura, the COVID is spreading, particularly — most of the numbers are with the unvaccinated."
"And the Democrats like to blame Republicans on that, well, the biggest group in most states are African Americans who have not been vaccinated."
"Last time I checked, more than 90% of them vote for Democrats in their major cities and major counties."

Patrick went on to say that it's "up to the Democrats" to remedy the issue with the Black community, even though Texas is entirely Republican control:
"It's up to Democrats, just as it's up to Republicans to try to get as many people vaccinated, but we respect the fact that if people don't want the vaccination, we're not going to force it on them."
"That's their individual right. But in terms of criticizing the Republicans for this, we're encouraging people who want to take it to take it."
"But they're [Democrats] doing nothing for the African American community that has a significant, high number of unvaccinated people, so they need to address that."
Patrick's statements are both false and misleading.
A Washington Postanalysis of the latest data from the Texas Department of State Health Services "shows that the African American population there is not driving the increase in cases."
The data suggests that unvaccinated White Texans outnumber unvaccinated Black Texans by a margin of three-to-one. Whites and Hispanics also make up the bulk of Texas's population, accounting for the rise in cases there.
Additionally, Patrick has largely marched in lockstep behind Texas Republican Governor Greg Abbott, who has blocked efforts to impose mask mandates in the state.
The Texas Education Agency (TEA) announced yesterday that Abbott's ban on mask mandates has been dropped for now amid ongoing court challenges.
The about-face came the same week that Abbott tested positive for Covid-19 himself after spending much of the last year downplaying the pandemic's severity.
Abbott––and Patrick––have also pushed to keep the state's economy open despite a rising tide of cases.
These facts were not lost on Patrick's critics, who lambasted him for eschewing his responsibility.
They accused him of further policizing the pandemic and employing racist dog whistles.
Patrick was widely condemned last year when he suggested that the elderly and infirm should be willing to die to keep than economy open rather than adopt common-sense public health measures to stem Covid-19.
Patrick made his remarks during a March 2020 interview with Fox News personality Tucker Carlson, with whom he'd discussed then-President Donald Trump's efforts not to shut down the economy entirely.
Patrick said:

"Tucker, no one reached out to me and said as a senior citizen, are you willing to take a chance on your survival in exchange for keeping the America that all America loves for your children and grandchildren, and if that's the exchange, I'm all in, and that doesn't make me noble or brave or anything like that." ...
"My heart is lifted by what I heard the President say, because we can do more than one thing at a time."
"We can do two things, so my message is let's get back to work, let's get back to living, let's be smart about it, and those of us who are seventy plus, we'll take care of ourselves, but don't sacrifice the country."
"Don't do that. Don't ruin this great American dream."
Will Patrick ever take responsibility for a crisis that has left more than 55,000 Texans dead? The jury's still out on that one.