Tag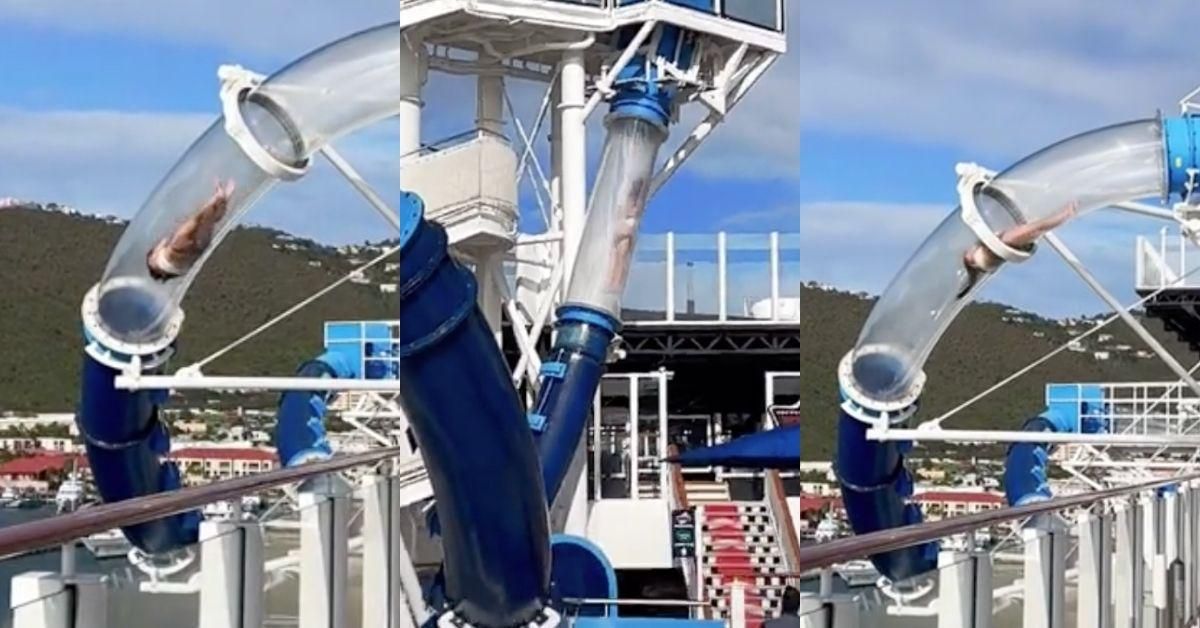 @ymg_travels/TikTok
A passenger on a cruise ship got more than she bargained for when she went on a looping waterslide and got stuck from losing momentum.
A travel agent and certified cruise counselor who goes by @ymg_travels on TikTok filmed and shared the clip online where it has been viewed over 15 million times.

@ymg_travels

#loopingslide #norwegianencore #norwegiancruise #waterslides #cruceros #CorollaCrossStep #MaiselChallenge #fyp #paratupagina
As seen in the video, the passenger's journey through Norwegian's Cruise Lines' Ocean Loops slide came to an unexpected halt when the momentum of the upwards propulsion from her initial plunge from the top deck wasn't enough for her to continue on her path.
When she missed making it over the upward curve, she slid backward to a portion of the tube that extended out over the ocean where she inevitably stopped.
As if that wasn't distressing enough, the tubular overhang where she sat motionlessly was completely transparent with a clear-shot view of the waters below.
The clip ended with her trying to scoot back from whence she came.

For many TikTokers, the anxiety-inducing waterslide fail was their worst fears come to life.

@ymg_travels/TikTok

@ymg_travels/TikTok

@ymg_travels/TikTok

@ymg_travels/TikTok

@ymg_travels/TikTok

@ymg_travels/TikTok

@ymg_travels/TikTok
To those who expressed fears of claustrophobia, the TikToker assured there was an escape plan in the event of such incidents.

@ymg_travels/TikTok
In a follow-up clip, the TikToker posted a video of how the looping slide works normally.
@ymg_travels

#part2 #loopingslide #norwegianencore #fyp #OutlanderChallenge #cruisetravel #tiktokfunnyvideos #cruisevacation