censorship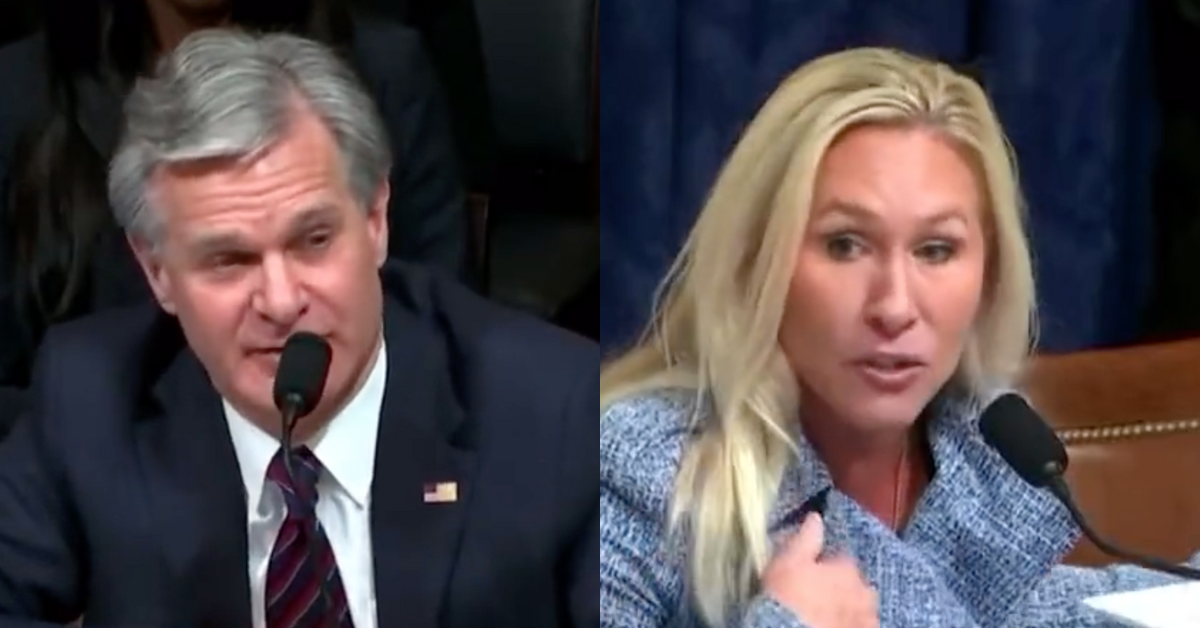 @Acyn/X
Georgia Republican Representative Marjorie Taylor Greene was criticized after she clashed with FBI Director Christopher Wray during a House Homeland Security Committee hearing where she seemingly misunderstood his role within the government.
Greene attempted to link an attorney from the Southern Poverty Law Center (SPLC) to a photo supposedly showing participants in a Capitol Hill protest related to the Israel-Hamas war. Wray, however, clarified that he hadn't seen the image.
In a conversation that followed, Greene mistakenly associated Wray with the Department of Homeland Security. Despite his quick correction, Greene continued, asserting that the photo was evidence of terrorists within their office building.
You can see their exchange in the video below.

When Greene asked Wray if he was aware of the photo in question, Wray said he hadn't seen it. Greene replied that she had "posted them on [her] Twitter account" and was preparing to suggest that Wray wasn't doing his job, to which Wray responded that he doesn't "spend a lot of time on Twitter."
Greene responded:
"Well, you know ― oh, I'm sure you do, because the Department of Homeland Security, organized with other offices, has censored many Americans, including myself."
And when the FBI Director shut her down by noting:
"I'm not part of the Department of Homeland Security..."
Greene doubled down:
"Right, Mr. Wray, you should ― you should be interested in investigating terrorism, and this right here is proof we had terrorists in our own office building."
Critics ridiculed Greene's inaccurate statements during the hearing.

This exchange highlighted a series of puzzling remarks from Greene during the committee hearing.

Among her assertions was an inaccurate reference to the January 6, 2021 Capitol attack as a "three-hour event" that occurred "nearly four years ago," a significant chronological discrepancy.
Greene also described the Capitol intruders as "innocent grandmothers and veterans" who merely walked through the building, drawing attention and criticism on social media platforms.
Despite the overwhelming evidence to the contrary, Greene and her fellow Republicans have attempted to paint the attack as a peaceful gathering of law-abiding citizens. In reality, the attack left at least five people dead and resulted in over 100 injuries to law enforcement as well as millions of dollars in damages.
Keep reading...Show less