Tag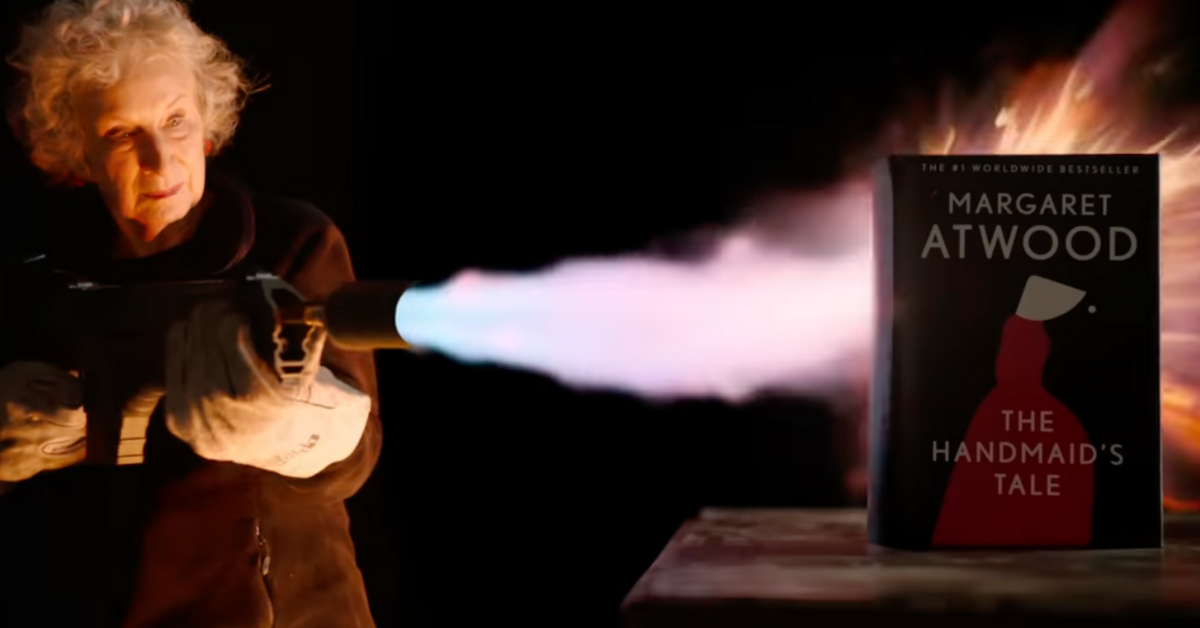 Penguin Random House/YouTube
As the world's problems continue to pile up, conservative calls for censorship still lingers on through banned book lists.
Margaret Atwood's novel, The Handmaids Tale, is often a target for censorship.
Now a fire proof version of the dystopian classic has been printed as a symbol against book burnings and other censorship measures.
As reported by Uproxx, this new edition of the book is able to withstand up to 2,600 degrees Fahrenheit.
To prove the book's durability, 87-year-old Atwood herself took a flamethrower to the novel for a YouTube video advertisement posted by publishing giant Penguin Random House.
The flameproof materials used to craft the book are:
"Black Cinefoil dust jacket, white heat shield foil pages, section sewn with nickel wire, a phenolic hard cover, stainless steel head and tail bands and a Kapton high temperature adhesive."
Published in 1985, The Handmaid's Tale paints a picture of a future United States run by a totalitarian ruling class of Evangelical Christian men, with women stripped of their agency, reproductive rights and independence.

In more recent years, the book has gained popularity due to a successful Hulu series, Donald Trump's tumultuous presidency and the Republicans repeated attempts to take away women's reproductive rights.
The epic image of the famous author wielding a flamethrower caught the attention of Twitter:
In 2018, Fahrenheit 451, George Orwell's dystopian novel centered on the idea of book burnings to limit education of the masses, received its own special reprinting as a book that could only be read by applying flame to the pages.

The special edition novel will be up for auction at Sotheby's in New York.

The proceeds will go to PEN America, a group that advocates for freedom of expression.