During Monday night's episode of Dancing with the Stars, actor Selma Blair announced that she would be exiting the competition upon receiving concerning news regarding her health.
After suffering from symptoms for years, Blair was officially diagnosed with multiple sclerosis in 2018.
She revealed:
"I had MRIs and the results came back, and it all adds up to I can't go on with the competition."
"I've pushed as far as I could."
Blair added:
"With a chronic illness, you do have special considerations, and my body has taken a hit."
"It's way too much for the safety of my bones."
"I could do extensive damage that I, of course, do not want."
You can watch Blair's final performance with partner Sasha Farber below.
Blair's BFF Sarah Michelle Gellar took to Instagram to post a heartfelt tribute to her brave friend.
The caption read:
"Long before @dancingwiththestars, I knew you were a ten, and now the world knows."
"Selma, I've never been so proud of you (and I'm often proud of you)."
"You make the rest of us believe we can do anything. That we can never give up."
She goes on to thank Blair's DWTS partner:
"And a special thank you to @sashafarber1 for making this experience what it has been for James - pure joy."
"I will miss getting to see the happiness radiate from Selma each week as she stepped on stage with you. Thank you for that gift."
Gellar finished:
"And speaking of gifts - @selmablair your love and friendship is the greatest gift."
"I love you Blair."
Blair replied to Gellar's sweet note: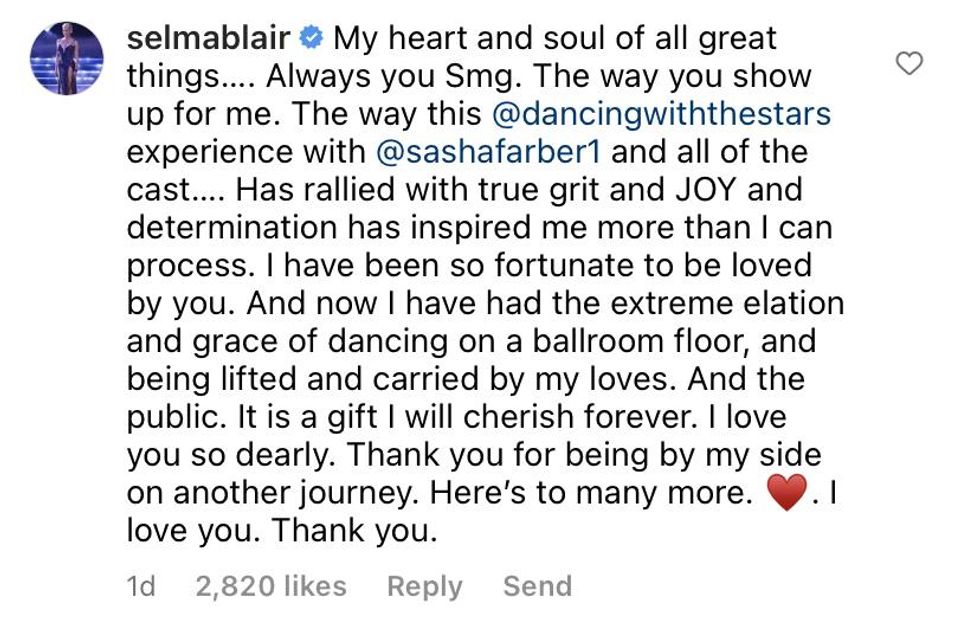 @saramgellar/Instagram
Dance partner Sasha Farber also showed his love and support of the post.

@saramgellar/Instagram
Fans of the show, of the friendship, and - most of all - of Blair's bravery responded with gratitude for both Gellar's kind words and Blair's courage and positivity.

@saramgellar/Instagram

@saramgellar/Instagram

@saramgellar/Instagram

@saramgellar/Instagram

@saramgellar/Instagram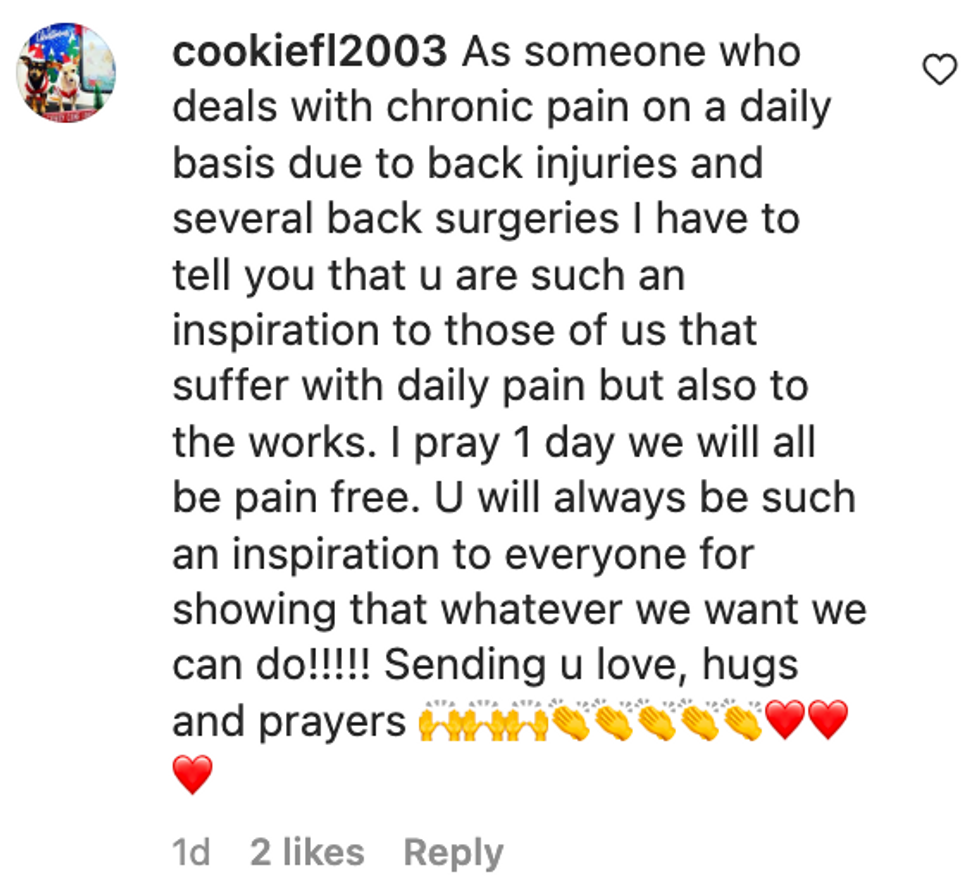 @saramgellar/Instagram

@saramgellar/Instagram

@saramgellar/Instagram

@saramgellar/Instagram
Blair also took to her Instagram to thank Farber and DWTS for the love she received each week.
"What this show has given me is beyond measure in spirit life."
"What my partner @sashafarber1 has gifted me, a sense of self in my body, will be forever felt."
"What you all have shown me is love. Precious love."
"And I will spend my days returning the swell of grace."
"Each celebrity and pro has embraced me with the love of family."
"I am so honored. So truly honored."
"I weep with genuine appreciation. And gratitude. What an evening to remember."
"I will perfect this waltz Sasha so thoughtfully gave me. And I will dance it with wisdom and ease and great serenity. When my knee and hip heal."
"And I will remember these steps under a full moon of memory. With love."
We commend Blair for prioritizing her health and wish her all the best in the future!