You would think giving money to the poor would be a positive act that only the cruelest people could fault.
However, details about the act of giving can sometimes change your perspective.
---
Rapper Blueface Bleedem has been criticized after sharing a video. In it, he is throwing money in the air for people on skid row in downtown Los Angeles.
The move has stirred controversy.
The video shows the rapper standing on his SUV as he throws bills into the air. A crowd of people surround him, diving for the money.

Blueface captioned the video as:
"The season of giving $"
The unorthodox method of giving has people debating the whether he was helping or not.
There were those who felt he did good.
There were those who want him to do better.

And those who thought this was just wrong.
Blueface's controversial act of charity comes at a time when the homelessness problem in Los Angeles is the hot topic for many. The number of homeless people in L.A. county is quickly approaching 60,000 people, with more than 36,000 in the city alone.

Skid Row saw an 11% increase in the number of homeless individuals. And the problem is just getting worse.
This is why Blueface's actions have brought such debate.

@BlondeTremaine / Twitter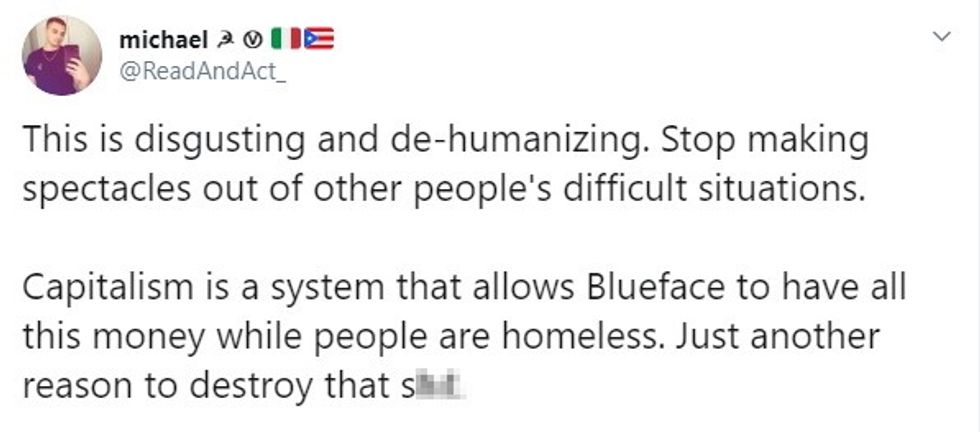 @ReadAndAct_ / Twitter

@Luw0p / Twitter
Directly giving cash to the poor can be an effective method of helping, however, usually these instances are handled through charities that promise direct cash transfers. For a more personal touch, handing off the cash directly to people works fine too.

Taking a wad of bills and throwing it in the air is unnecessary. Many of those people are going to end up with less than others there, and what is the point of forcing them to pick bills off the ground?
It's hard to say if this was purely a publicity stunt, or if Blueface genuinely wants to help. I'm inclined to believe the latter, but this isn't the right way to do it.
At the very least, you can just hand it to them, rather than throw the cash in the air.
Blueface is a 22-year-old, Los Angeles native. He rose to prominence through social media, and his single "Thotiana" which peaked at number 8 on the Billboard Hot 100.