Fox News host Jeanine Pirro used racist language in describing Will Smith's viral slap on the Motion Picture Academy Awards stage on Sunday.
Co-host Piers Morgan asked the conservative commentator her thoughts on Smith, who won the Best Actor Oscar that night for his role in King Richard.
She responded:
"I think that the Oscars are not the hood."
"I think it's not a bar. I don't think you march up on stage because a guy makes a joke of your wife ... "
While presenting the award for best documentary, comedian Chris Rock dished out a joke about Smith's wife, Jada Pinkett-Smith, saying he can't wait to see her in G.I. Jane 2—a nod to her shaved head which is known to be a result of alopecia.
In response, Smith walked up on stage, slapped Rock across the face and followed up the smack with censored profanities. Rock then sheepishly finished presenting.
Pirro apparently took personal issue.
She continued:
"You talk criminal privilege, you talk about celebrity privilege, that guy has it."
"He wasn't walked out of the Oscars. He could have been taken out in cuffs."
"That was a crime what he did ... "
"The Academy should not condone it and, honestly, he shouldn't be allowed to come to the Oscars again."
Watch the video of Pirro's comments here:
The Fox News host's statement did not fare well with viewers.
Many are calling her commentary racist.

Somone else wrote:

"You do realize 'the Oscars are not the hood' is an obviously racist thing to say."
"Jeanine Pirro thinks that the Oscars are a White neighborhood where Black people only visit."
Another person posted:
"This is how people show just how stupid they are by making such bigoted statements like that."
"Like it only happens in the hood."
"Tell that to all the abused women out there."
Pirro has a history of making racist comments and taking extremist stances on issues.
In 2019, the right-wing pundit assumed Representative Ilhan Omar was anti-American and antisemitic because she wears a hijab, calling it "antithetical to the United States Constitution" for the Representative to be doing so.
Pirro has also infamously downplayed the loss resulting from the COVID-19 pandemic, calling the objective tragedy "debatable."
Some viewers were hardly surprised at Pirro's choice of language:
"Jeanine embracing her racism!!!"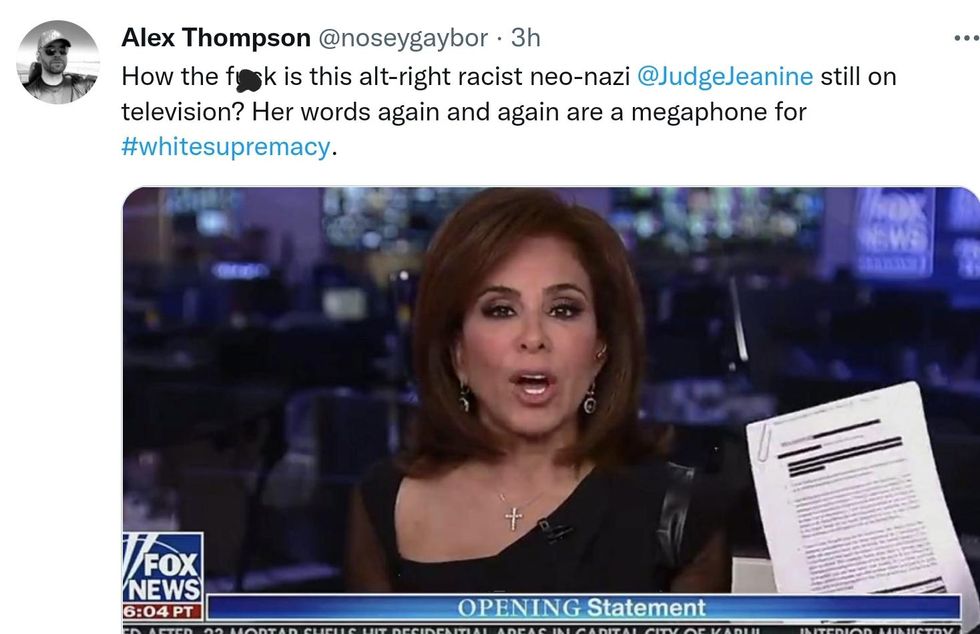 @noseygaybor/Twitter
Another person tweeted:
"Sounds a bit like a RACIST statement to me!"
In an odd pivot, Pirro turned the conversation into an "us vs. them"—the "us" being conservatives and the "them" being entertainers.

She said:
"If you're on the right and you say something they don't like, then they can respond with violence."
Viewers are calling it "ridiculous."
The Fox host is receiving considerable backlash for her latest racist commentary and considerably less support online.
Judging from the number of times her own network has suspended her, the negative feedback is unlikely to have much of an effect on Pirro.