NBC was informed by multiple sources close to the investigation that Robert Mueller now has enough evidence to charge Michael Flynn and his son as part of the Russia meddling during the 2016 election.
---
Following the indictment of Donald Trump's former campaign chairman Paul Manafort and his associate Rick Gates on Monday for 12 felony charges - including conspiracy against the United States, money laundering, and lying to the governnent - Mueller's team shifted their focus on Trump's former national security adviser.
If charges are made, Flynn would be the first former or current cabinet member to officially be indicted as part of the Russia probe.
Illinois Rep. Raja Krishnamoorthi wasn't surprised to see the Russia probe target Flynn next.
I've seen documentation, classified and not, of Michael Flynn's activities and charges from Mueller wouldn't remote… https://t.co/nDfXnazbyO

— Raja Krishnamoorthi (@Raja Krishnamoorthi) 1509897536.0
&ref_url=https%3A%2F%2Fwww.bustle.com%2Fp%2Fwhy-michael-flynn-being-charged-with-a-crime-would-be-such-a-huge-deal-for-donald-trump-3227097
Investigators are gathering witness accounts of Flynn's foreign lobbying, lying to federal agents about overseas communications, and money laundering. The investigation is also looking into Flynn's alleged attempt to help the Turkish government in extraditing Turkish cleric Fethullah Gulen, 75, from out of the United States for a multi-million dollar fee.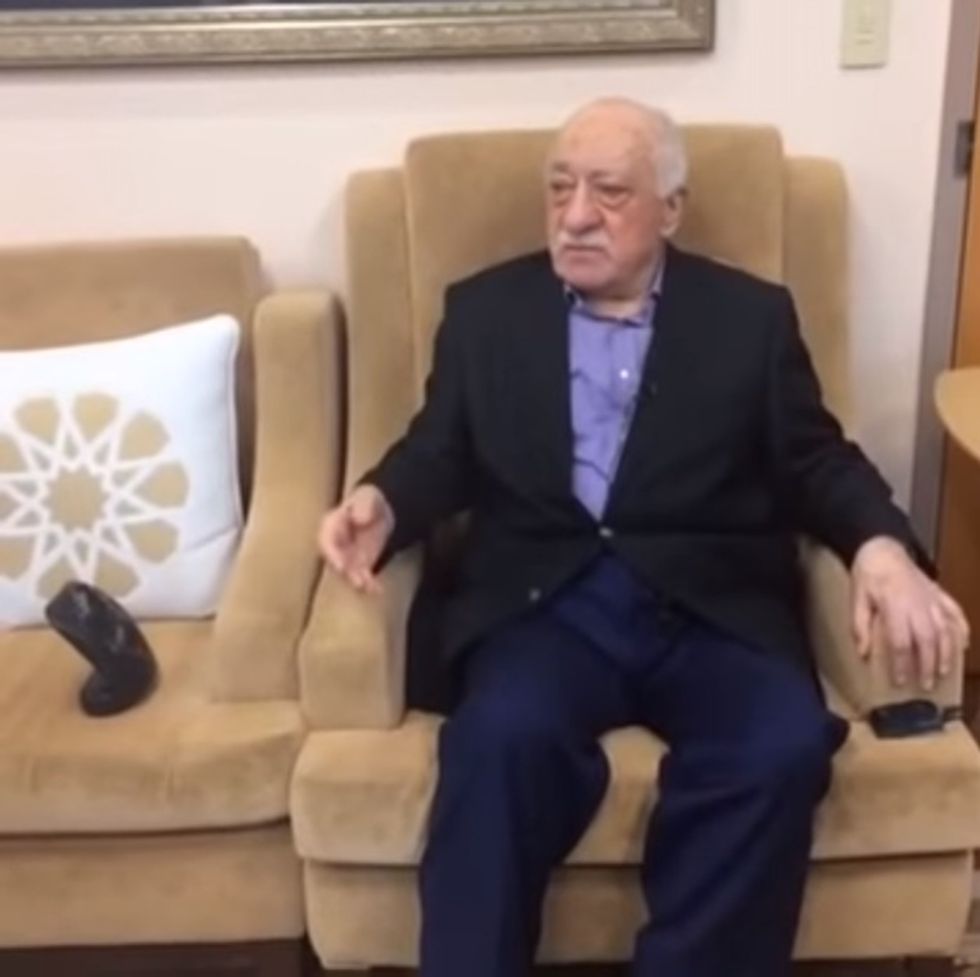 Gulen has been exiled in Pennsylvania since 1999, and is a known rival to Turkish President Recep Tayyip Erdogan.
Mueller's team is investigating into whether Flynn helped orchestrate the botched military coup to overthrow Erdogan last year. The FBI is also looking into former CIA director Jim Woolsey's confirmed account with the Wall Street Journal that Flynn had conversations with Turkish officials about forcibly removing Gulen from the U.S.
The sources divulged to NBC that Michael Flynn's son, Michael G. Flynn, could be indicted either separately or together with his father. Flynn Jr. worked closely with his father at his lobbying firm, Flynn Intel Gourp, during the 2016 campaign.
@NBCNews @MSNBC https://t.co/qI82ziA0OA

— Seamus Scanlan (@Seamus Scanlan) 1509895224.0
The NBC report highlighted Flynn's past foreign affairs that raised red flags:
The elder Flynn was paid $530,000 last year for work the Justice Department says benefited the government of Turkey. The elder Flynn did not register as a foreign lobbyist at the time, but did so retroactively this year. The issue has been part of Mueller's probe.
Flynn's Intel Group was hired to gather intel and create a short film on information on Gulen.
Federal officials were concerned about Flynn, accompanied by his son, taking a trip to Moscow in 2015 in which Flynn senior was paid $35,000 by Russian state tv for a speech. The seating assignment at the event had Flynn rubbing elbows with his neighbor, Vladimir Putin.
@LookswellStudio @NBCNews @MSNBC Lmbo 😂🤣 soooo freakin glad I bagged these 👇👇👇https://t.co/XSGWdPMHDd

— (((Beth))) (@(((Beth)))) 1509896275.0
@CongressmanRaja Flynn will go down in history as one of the greatest traitors. Flynn's lawyer told transition tea… https://t.co/Z27rPpzWev

— Sokeman91 (@Sokeman91) 1509913982.0
The outcome and penalty is negotiable according to NBC's report.
If the elder Flynn is willing to cooperate with investigators in order to help his son, two of the sources said, it could also change his own fate, potentially limiting any legal consequences.
Michael Flynn was forced to resign from the Trump administration after serving as National Security Advisor for just 24 days when information about him lying to Mike Pence regarding communications with Russian ambassador to the U.S., Sergey Kislyak, surfaced.
Flynn became one of the first suspects in the Russia investigation headed by Robert Mueller.
With the investigation tightening and closing in on the White House, who will be the next to fall?
@NBCNews Maybe by the time Trump comes back from Asia most of his campaign capos will be indicted...lol.

— WGW (@WGW) 1509895385.0
@World_Gone_Wild @NBCNews Maybe trump won't come back....

— Jane (@Jane) 1509895481.0
Please SHARE this with your friends and family.