The "Queen of Pop" and one of the most influential celebrities of our time, Madonna, has some serious beef with rapper and actor 50 Cent over some remarks he made about her body.

Madonna, 63, posted photos on Instagram from a recent risqué lingerie photoshoot.
The photos show the "Like A Virgin" singer wearing leather and fishnets as she posed with bare breasts as well as posing in bed, wearing fishnets and red Louboutin heels while partially obscured by the sheets.
The photos have since been removed by Instagram for violating their terms and conditions.
The photos, originally captioned "Angel watching over me," received tons of wholesome attention from Madonna fans, who praised the icon for her beauty and confidence.
Not everyone viewed the photos with awe, however. Some Madonna fans criticized the 63 year-old for her nudity, commenting posting these risqué photos as a mother displayed she had "no self respect."
Among the critical commentary was popular rapper 50 Cent.
The "In Da Club" rapper saw Madonna's suggestive photos and began mocking the pop icon on Twitter, calling her photos "funniest s**t I've seen" because she was "trying to do like a virgin at 63."
He also posted a photoshopped version of Madonna's photos and likened her to the Wicked Witch from the movie The Wizard of Oz.
In response to 50 Cent's insults, Madonna snapped back at him on Instagram for "talking smack" and "pretending to be my friend."
She wrote:
"I guess your new career is getting attention by trying to humiliate others on social media."
"The least elevated choice you could make as an artist and an adult."
She continued:
"[You're] just jealous you won't look as good as me or have as much fun when you are my age! Too bad there are no sour grape emogees."
Attached to the post was a photo of her and 50 Cent posing together in 2003.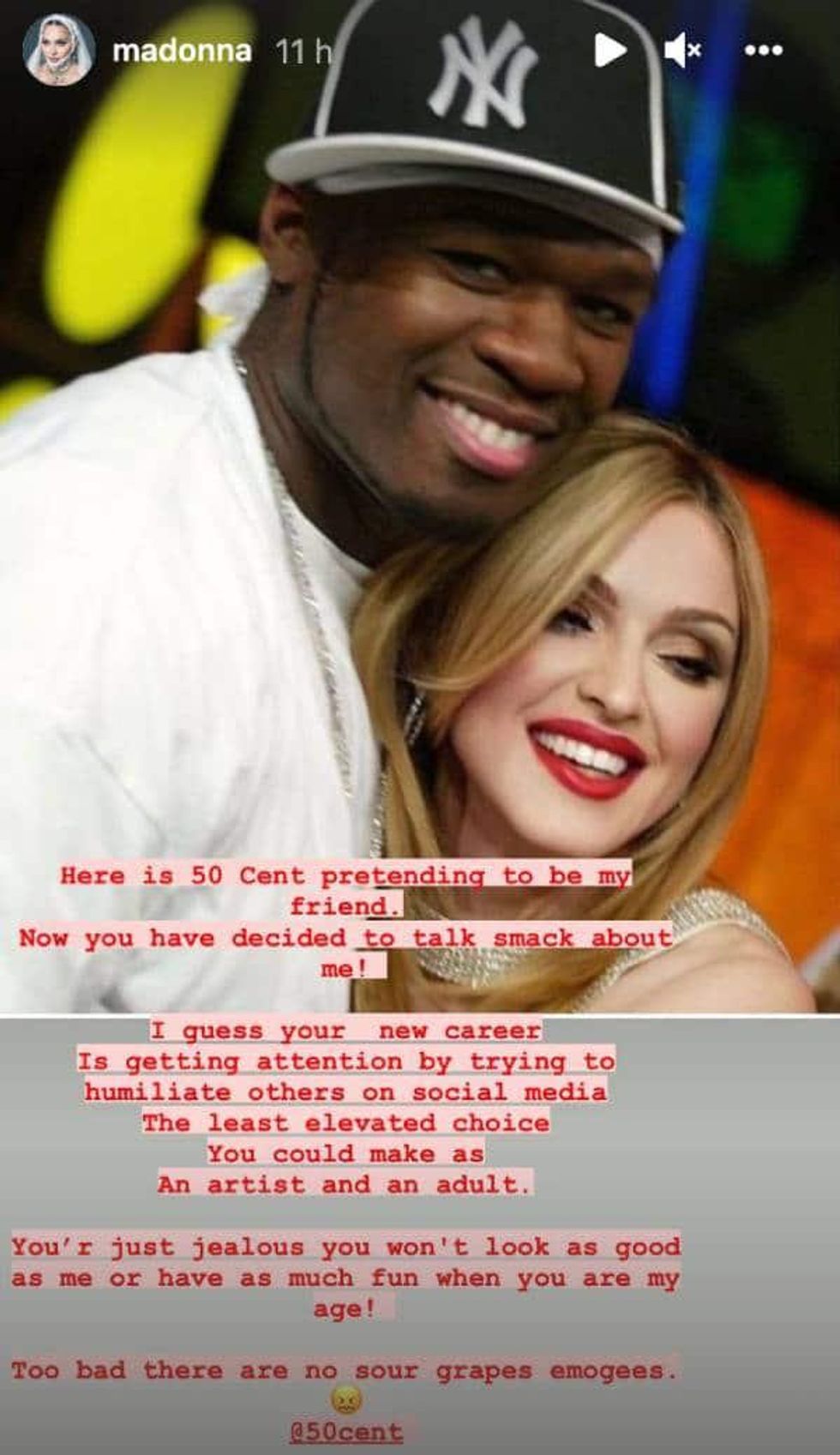 @madonna/Instagram
50 Cent then quickly changed his tune.

He subsequently apologized to the music and fashion icon on Twitter, saying he "hurt her feelings" after she "dug up" the old photo.
He wrote:
"Ok Im sorry i did not intend to hurt your feelings."
"I don't benefit from this in anyway i sad what i thought when i saw the picture because of where i had seen it before i hope you accept my apology."
Madonna has been fighting patriarchal beauty standards for over 30 years.
Even as arguably one of the most famous pop icons in history, the industry began phasing Madonna out of the spotlight in the 1980s, when she was just 34.
She argued the industry didn't "care about older women" and was hyper-fixated on selling youth for sex appeal.
In an interview with BBC One's Jonathan Ross on the program Jonathan Ross Presents, Madonna was asked about her fight against ageism.
She said:
"I mean a lot of people have said: 'Oh, that's so pathetic, I hope she's not still doing that in 10 years.'"
"I mean, who cares? What if I am? I mean, Is there a rule?
"What are you just supposed to die when you're 40? That's basically what everybody wants people to do."
The Twitter community is strongly supporting Madonna and throwing shade at 50 Cent.
Along with calling 50 Cent out over his misogynistic comments, Madonna also posted photos to her Instagram story, attached with a message of self-love.

She proudly stated she was "happy with the way I look."
She wrote:
"There are those that find it hard to appreciate people and things that are different."
"And they try to shame me or humiliate me or make me feel less than because I am not like everyone else.
"But in fact, I cherish my uniqueness, and I've grown stronger because to be unique is to be rare."