On Sunday, Louisiana State (LSU) took on Iowa in the most-viewed NCAA women's basketball final in television history, drawing a whopping 9.9 million viewers.
All eyes were on the teams' stars, LSU's Angel Reese and Iowa's Caitlin Clark, not only to witness their impressive handling and drive skills but also to catch some of both players' stellar competitiveness... and maybe a little of their infamous trash-talk.
Clark caused a bit of a stir prior to the finals game in the tournament due to some gestures made towards her defenders.
For example, during Iowa's game agains South Carolina, Clark deliberately left a guard wide open in the three range and even visibly brushed off the notion that the undefended player was a threat.
Clark also responded to Louisville's Hailey Van Lith with John Cena's WWE taunt, "You can't see me."
Social media, as well as sports media outlets, had a field day with Clark's "competitive spirit" and "passionate energy."
Cut to Sunday night's game when LSU shut down Clark and defeated Iowa 102-85.
Reese decided to have a little fun of her own using Clark's tactics.
She pointed to her ring finger—where her championship bling would rest—and then also used Cena's "You can't see me" gesture directed at her opponent.
However, in contrast to her White rival, Reese's "passion" wasn't well received.
While many made derogatory comments on Reese's "unsportsmanlike conduct," journalist and commentator Keith Olbermann shared his thoughts on Twitter, calling the champion a "f**king idiot."
You read that right.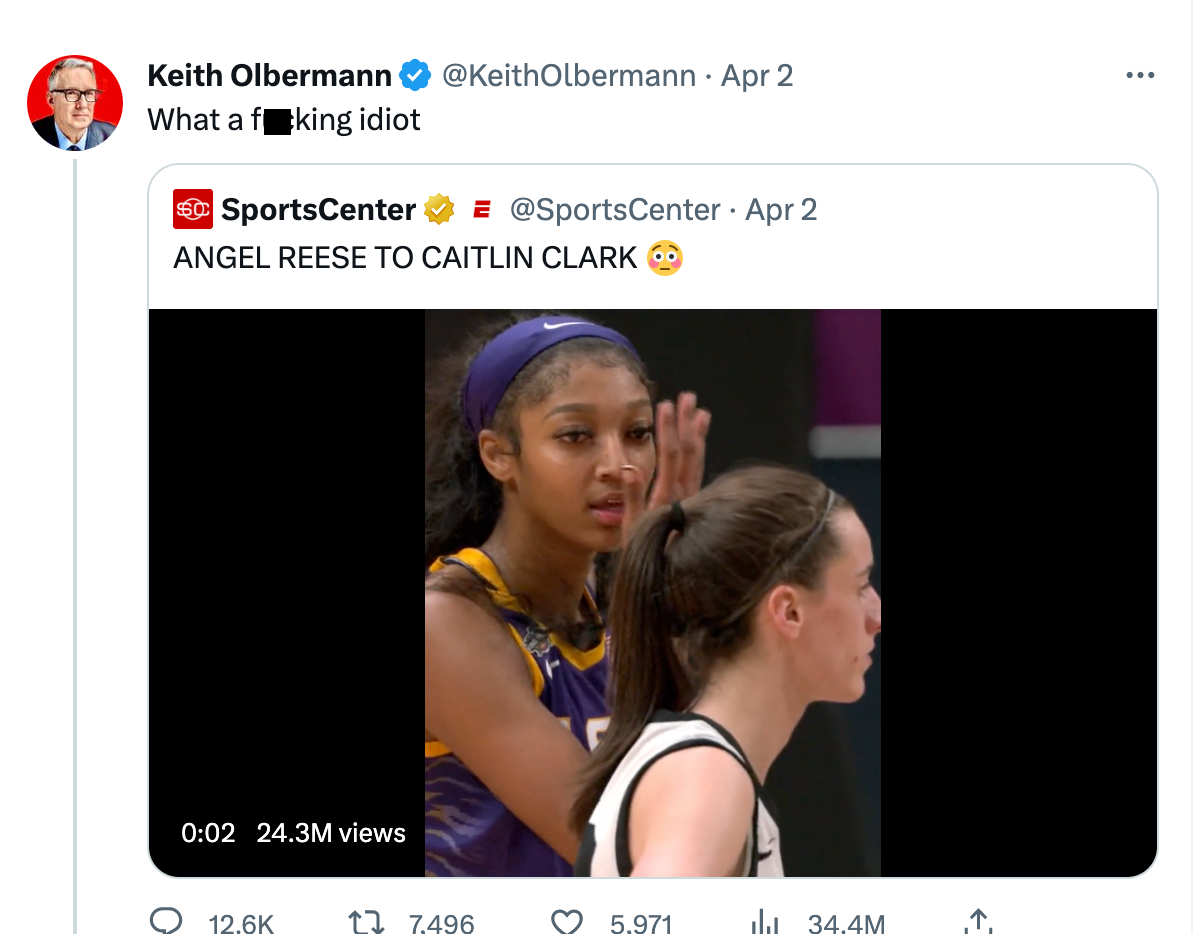 @KeithOlbermann/Twitter
But he wasn't finished.
Olbermann continued, additionally calling Reese "mindless" and "classless":
"Doesn't matter the gender, the sport, the background - you're seconds away from a championship and you do something like this and overshadow all the good."
"Mindless, classless, and what kind of coach does this team have?"
Immediately, people called out Olbermann.
Basketball legend Shaquille O'Neal for one had some sage advice, telling Obermann:
"Shut your dumb a** up leave Angel Reese alone."

@SHAQ/Twitter
Even Samuel L. Jackson wonderfully analyzed Obermann's tweet, writing:
"Thanks for reminding us what Lil D*ck Energy actually, is Keith!!!"

@SamuelLJackson/Twitter
Others criticized Olbermann and others making similar statements, exposing their double standards in regards to race.
Olbermann attempted to clarify in a follow-up tweet, possibly an attempt at an apology, but it certainly fell short.
He tweeted:
"I apologize for being uninformed last night about the back story on this."
"I don't follow hoops, college or pro, men or women."
"I had no idea about Clark. Both were wrong."
No apology for calling Reese a "f**king idiot?"
"Mindless?"
"Classless?"
While the apology is at best half-hearted, Olbermann still didn't acknowledge the root of the issue—what social media was calling him out for in the first place.

@tonyposnanski/Twitter
On his podcast, Olbermann once again attempted to assuage the impact of his initial comments.
"Reese was named MVP of the tournament, and nobody will remember that, nor the LSU crown."
"Just the fact that women's hoops has now achieved parity with the men; its stars can be classless winners who are willing to overshadow their own team's victories."
Keep digging...