Age.
If you're lucky, it will catch up with you.
If you're really lucky—like Justin Timberlake is—it will catch up with you and turn you into a viral video sensation.
It all started when the former boy band heartthrob appeared at the Something in the Water music festival, which is put on by Pharrell every year.
He came out as part of the former Neptunes' mastermind's solo set...and that's when things went horribly, and hilariously, wrong.
Oh, how the mighty have fallen.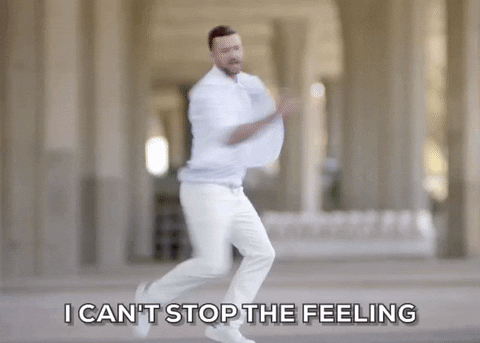 Giphy
And, as you might expect, it took no time at all for Twitter to leap into action with a world-class roasting for the former N*SYNC frontman.
Not the hackey sack scene!
Yeah.
The comments were brutal.
It didn't take long before Timberlake, himself, got wind of the social roasting.
JT took to Instagram Stories to make an apology of his own.
In his response to the justified roasting, Timberlake first claimed the reason his dance moves weren't on point was because of his sneakers...which have clearly seen better days.
"I had a long talk with both of them, individually, and I said 'don't you ever do that to me again!'"
He then went on to blame his khaki pants before promising to "make it up" to his fans at the next live performance.
And that's all good and fine.
If anyone understands the effects that age has on the human body, it's anyone—literally, anyone—born before 1980.
So, the whole of Gen X, in other words.
We've been there, Justin, and we feel your pain.
And the younger generation has been making fun of the older generation since humans evolved on this planet.
But we couldn't resist including this edit of the video, complete with squeaking noises.
Take it away, Justin!