This weekend, major news outlets projected that President-elect Joe Biden would win the crucial swing state of Pennsylvania, bringing Biden to more than 270 electoral votes, cinching the White House, and eliminating President Donald Trump's chances of victory.
As the election was called, the President's personal lawyer and accidental Borat sequel star Rudy Giuliani appeared with other Trump campaign officials to baselessly decry the legitimacy of the election in a press briefing.
The lies and unfounded claims, however, weren't what took center stage.
The President initially announced the presser would be held at the Four Seasons Philadelphia.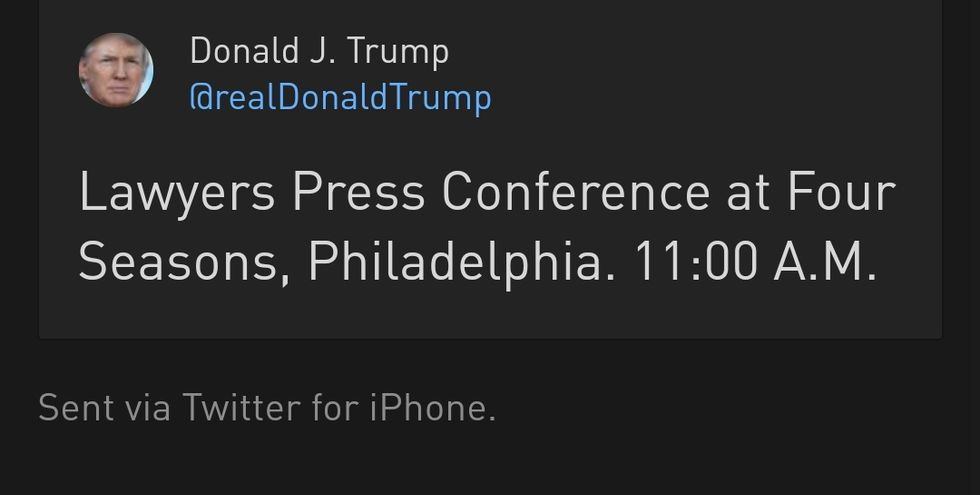 @realdonaldtrump/Twitter
He later deleted the tweet and instead announced that the event would take place at the Four Seasons Total Landscaping Company.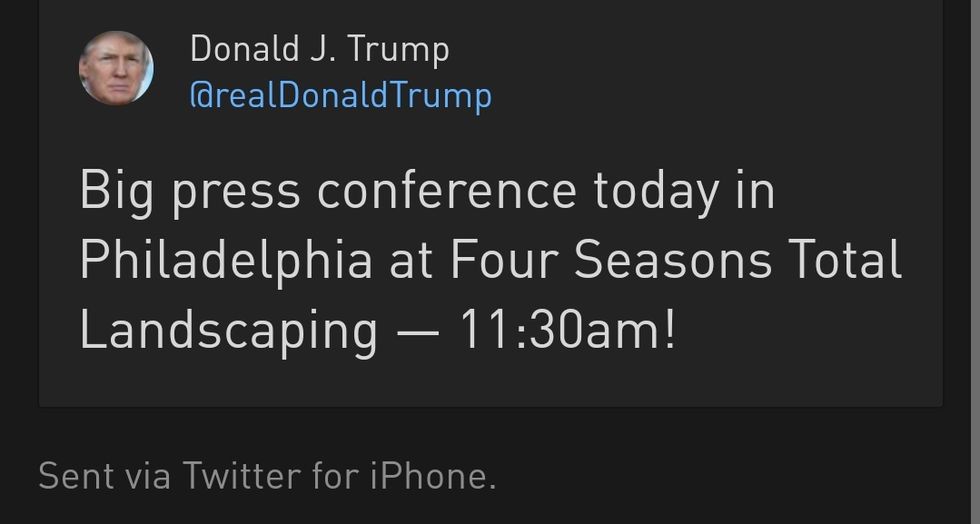 @realdonaldtrump/Twitter
Sure enough, Giuliani and other Trump campaign officials gathered at the landscaping company, nestled between an adult bookstore and a cremation facility.
Many people assumed the Trump campaign had intended to book the presser at the luxury hotel, but mistakenly booked a landscaping company with the same name but no ties to the posh chain.
As Giuliani tried to make the questionable case for Trump not conceding the 2020 election, the backdrop took center stage.
The appearance was the subject of widespread mockery.
People compared it to the satirical HBO series Veep, which features the hijinks of a bumbling campaign staff.
The Four Seasons Total Landscaping Company is already capitalizing off of the blunder, with merch featuring the slogan "Make America Rake Again."