A high-flying banker whose world came crashing down after a rare hormonal disorder left him "at death's door" has been given a new lease of life—thanks to a giant, medically trained black dog that looks "like a fluffy bear."
---
At the top of his game working as an investment banker, Jon Sheldon, 42, was suddenly plagued by fatigue and fainting fits, leading to a diagnosis of Addison's disease in October 2015—a rare disorder where the adrenal glands underproduce the steroid hormones aldosterone and cortisol, which regulate the metabolism.
Frequently bedridden, Jon, of Billericay, Essex, who has two children—Harrison, eight, and Holland, six—with his full-time carer wife Nicola, 43, feared he would slip into an Addisonian crisis, which, according to the NHS, is a medical emergency where symptoms suddenly worsen and can lead to coma and death.
Jon had gone from being "the man who had everything "—a wonderful home life, a great job and good health—to being terrified that he would go to sleep and never wake up.
He said:
"I'd grafted my way to the top of my career and was extremely active—doing martial arts, mountaineering and even spending my weekends on survival trips."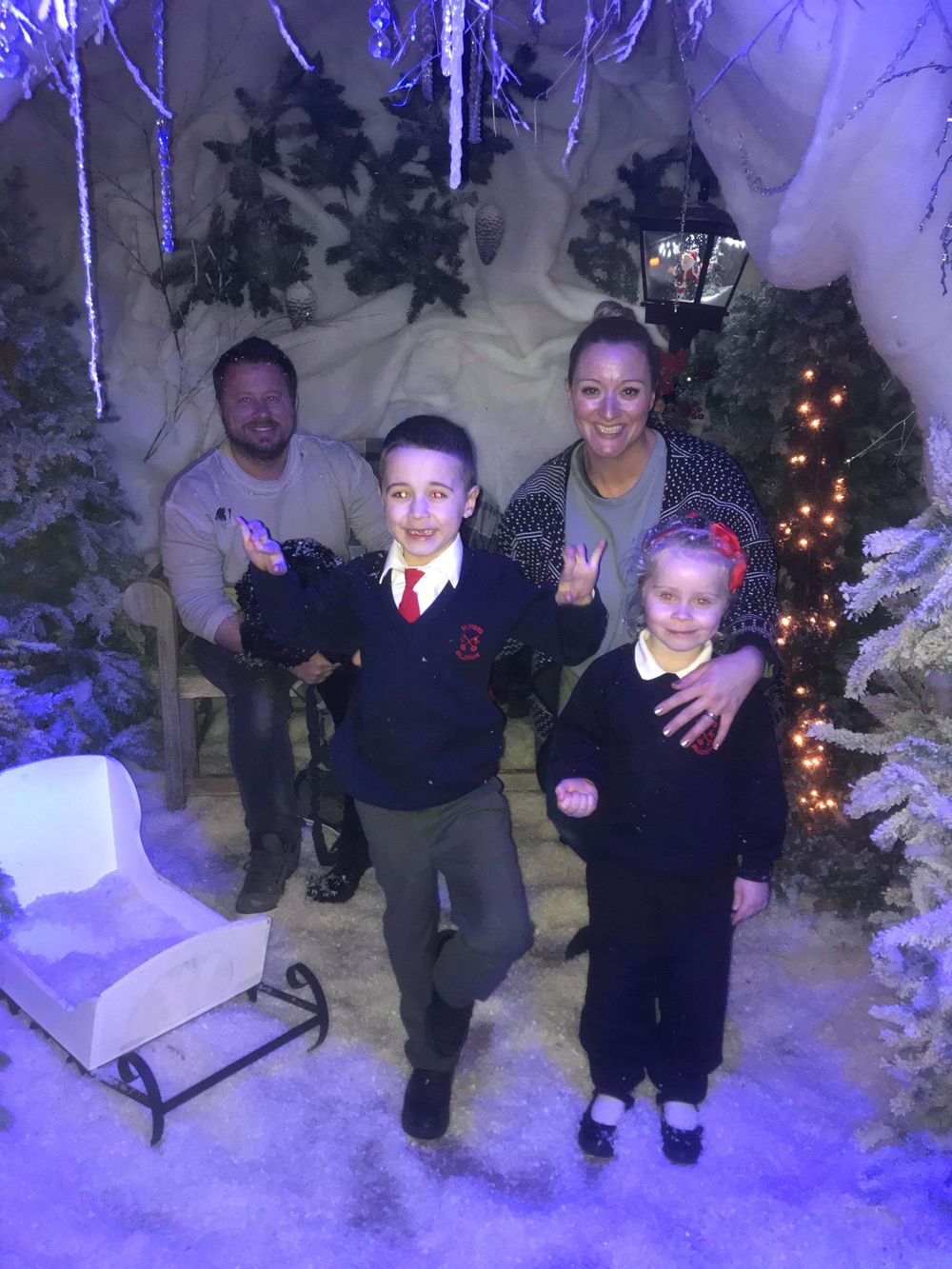 Jon, Harrison, Nicola and Holland (PA Real Life/Collect)
"Then, all of a sudden, I was completely burnt out and feeling incredibly weak."
But his hope was restored after his devoted family raised over £15,000 through a GoFundMe page to adopt Teddy, a black Russian terrier trained as an Addison's detection dog—able to alert sufferers to low cortisol levels and, potentially, save lives.
Jon said:
"Thinking about my old life, when I was at the top of my game—both physically and professionally—can be heartbreaking."
"I can feel trapped by this disease and the threat of slipping into an Addisonian crisis is always on my shoulders."
"But, at least now I have Teddy I can start the day with a smile, as he will try and keep me alive."
"He might not be a magic dog, but I know I wouldn't be here at all without him."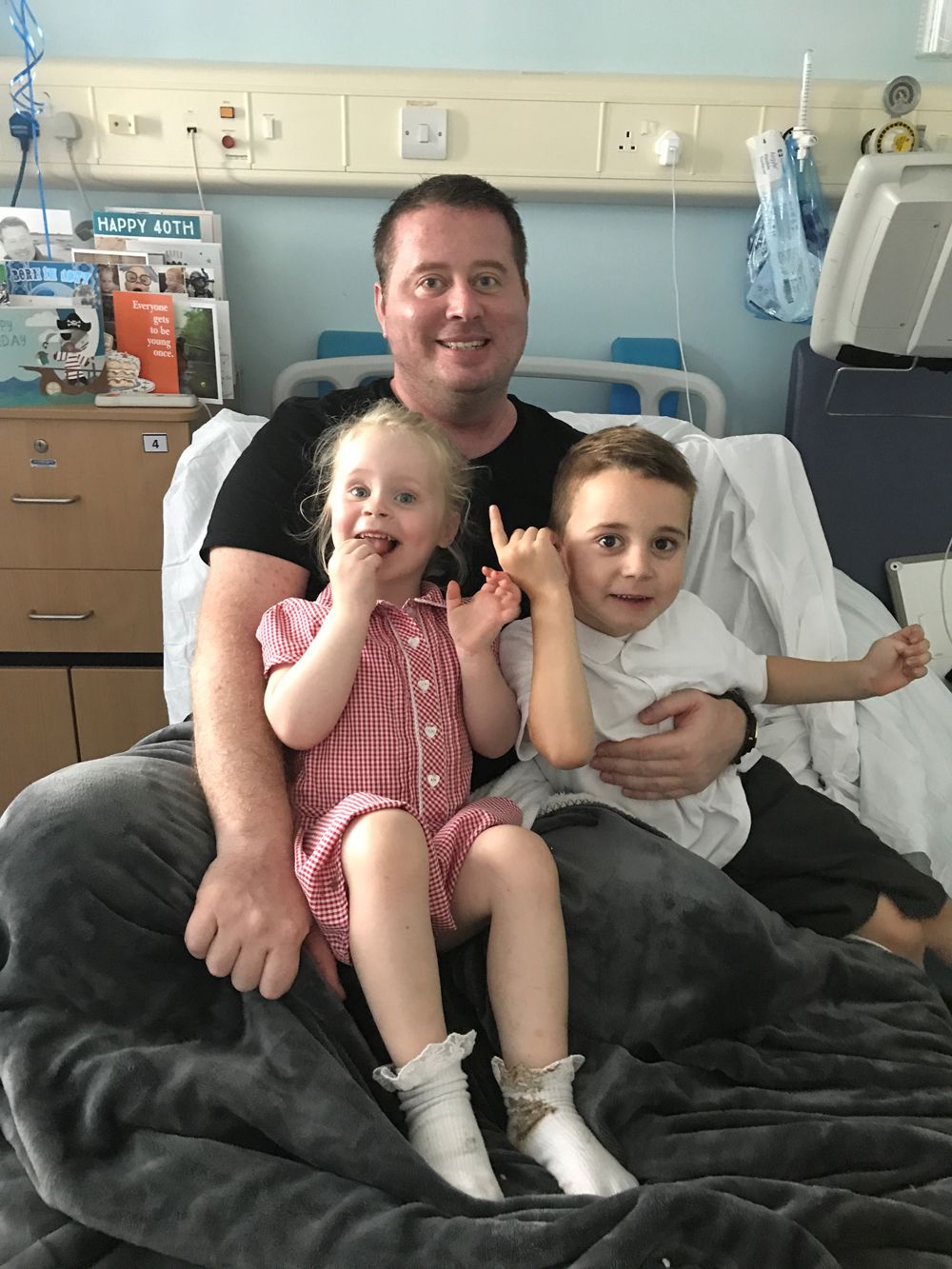 Jon with his two children, Holland and Harrison (PA Real Life/Collect)
Leading a charmed life, Jon said he was "on top of the world" when he was first struck down by symptoms of Addison's in May 2015.
Collapsing on his way home from work in the City of London, Nicola insisted he saw his GP, who ran a handful of tests, the results of which revealed low cortisol levels—a tell-tale sign of Addison's disease.
Referred to Essex's Basildon University Hospital that October, hormone specialists discovered Jon's adrenal glands were "not producing any cortisol whatsoever."
Given cortisol tablets to be taken daily, while he was told the medication should stop him from slipping into an Addisonian crisis, the medics said there were no guarantees.
"When I'm ill with just a cold, my body needs more cortisol than the medication provides, so that's when my health can be thrown into a crisis."
To his horror, the unimaginable happened in April 2016, when Jon slipped into a coma in the middle of the night.
Thankfully, Nicola realised he was not responding and called 999, taking instructions over the phone on how to perform CPR, as paramedics rushed to the scene.
"I'd gone to bed on the correct amount of cortisol, or so we believed, and I woke up completely deaf and with a massive team of paramedics around me with terrified looks on their faces."
Taken to Basildon University Hospital, Jon was treated with emergency cortisol and a steroid injection, and was monitored for five days, before being discharged.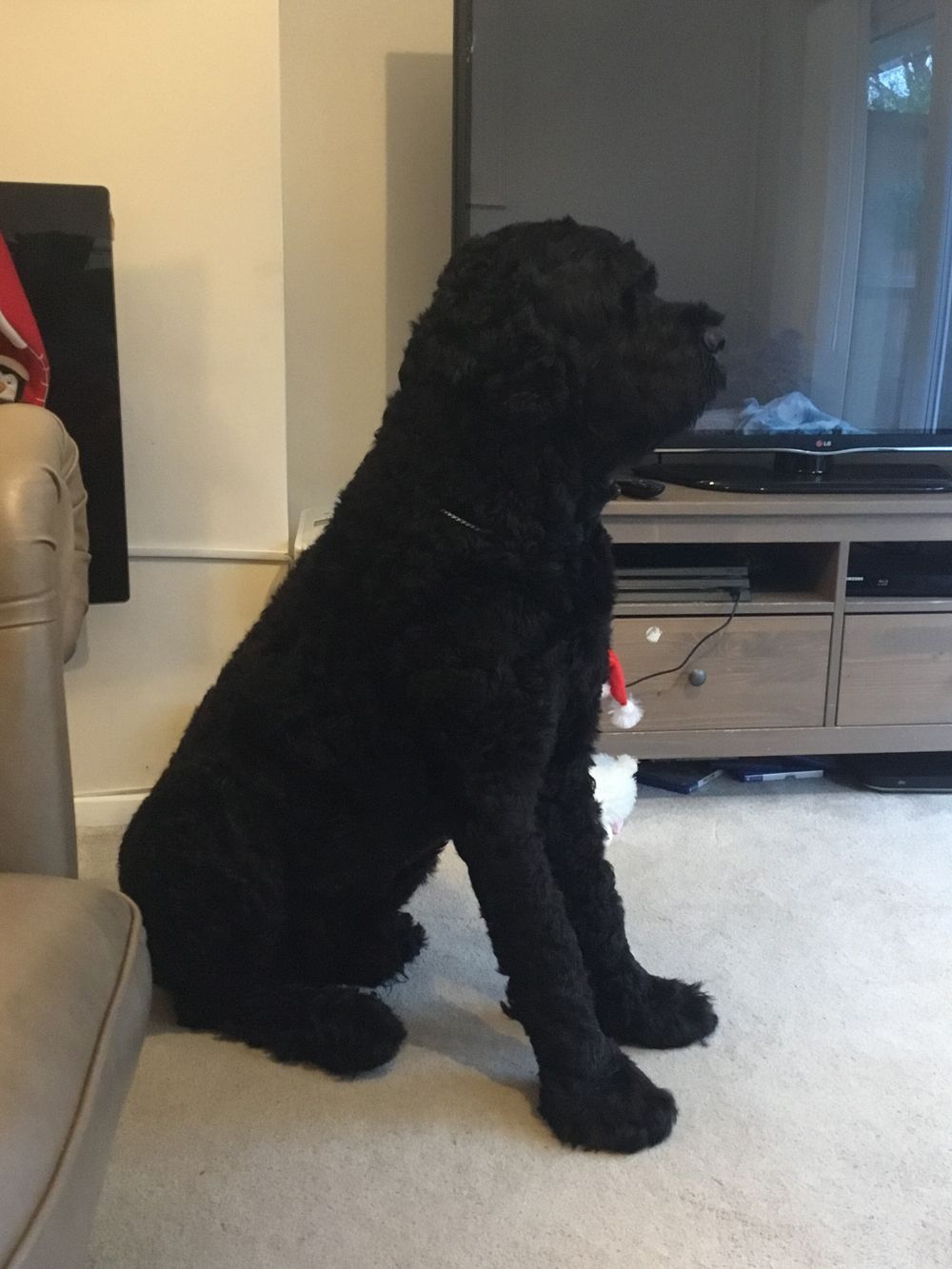 Teddy was trained specially in Hungary (PA Real Life/Collect)
"Doctors knew straight away I was in an Addisonian crisis, but told me there was nothing else they could do to prevent another one from happening."
"It was basically a waiting game. I was waiting for a crisis to kill me."
Jon's salvation came during a check-up, not long after with his GP, who recommended he look into getting a medical assistance dog, trained to detect low cortisol levels and alert Addison's sufferers to the need for an emergency hormone injection.
"I'd actually heard about cortisol detection dogs before, but after doing some research we realized it wasn't going to be easy to get one."
"We were told there was only one dog in the whole of the UK and we'd have to look abroad for a pup."
"Three charities offered to foot the bill, but we didn't think we could wait long enough for all the paperwork to be done, so we started fundraising ourselves."
Raising a whopping £15,000 through GoFundMe by the summer of 2017 Jon found Teddy, a black Russian terrier trained by experts at specialist kennels in Hungary. He was brought to the UK when he was five months old to continue his training.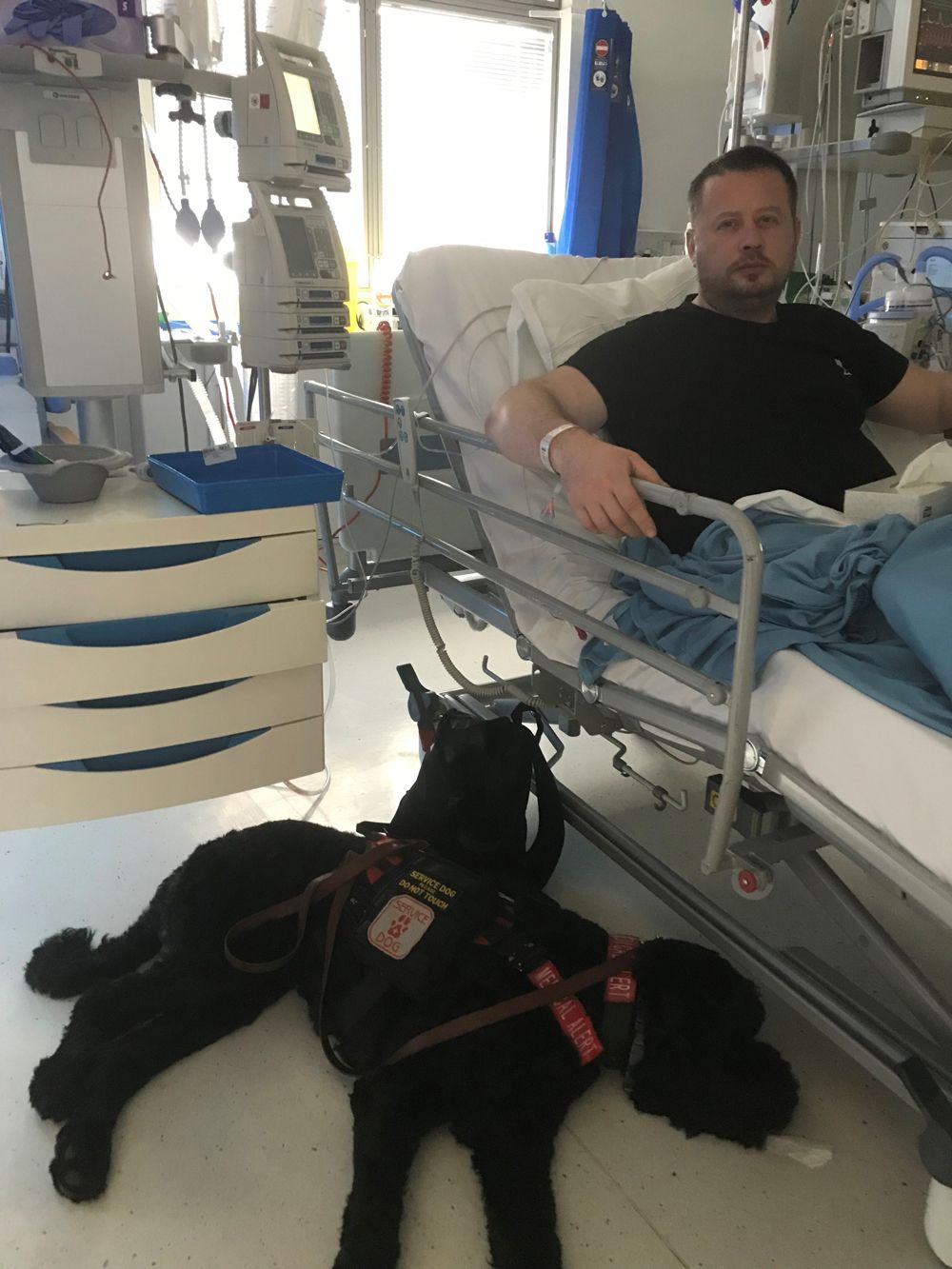 Teddy by Jon's side in hospital (PA Real Life/Collect)
"Within a few months of being trained, he was alerting me when my cortisol levels were low."
"The alert is very similar to when a dog is begging for food. Teddy will look at me very intensely, giving me 'the eyes' and paw at me – it's just amazing."
"When I'm at my worst he will alert me on a daily basis. If he wasn't there, I dread to think what would happen."
He added:
"Each alert is a day when Teddy has potentially saved my life. He's literally kept me breathing."
Since joining the family, Teddy—a massive curly-haired hound, the size of a Great Dane—has given Jon back his quality of life.
"Now, on a good day, I can go to the theatre—Teddy in tow—and know that, if anything does go wrong, he'll be there to keep me in check."
"I can't do back flips or climb mountains, but at least I'm here with my family—that wouldn't be the case if Teddy wasn't beside me."
With the massive pooch by his side every hour of every day, Jon attracts plenty of attention from passersby.
"Teddy goes everywhere with me, from the supermarket to the cinema."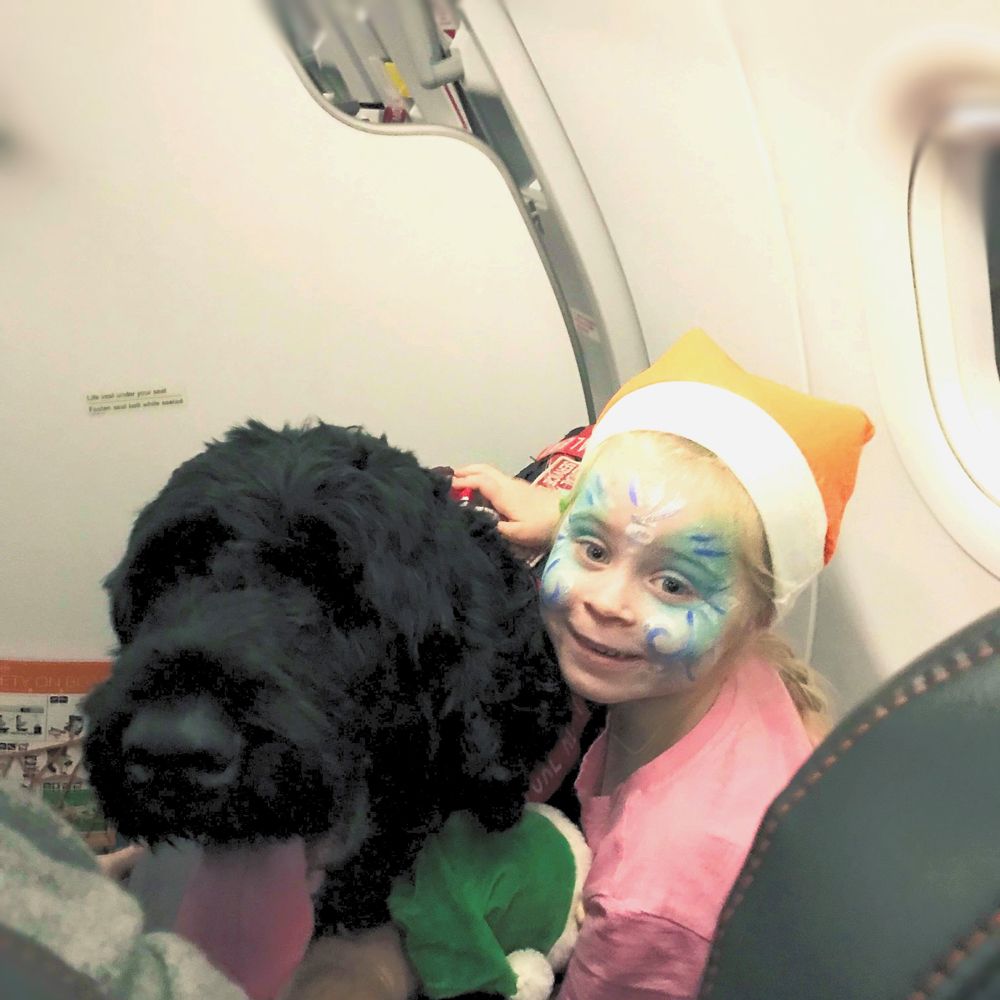 Teddy and Holland (PA Real Life/Collect)
He continued:
"Lots of people want to stroke him and I understand why. He weighs as much as a small man, is as tall as a Great Dane and looks like a fluffy bear. It's easy to see how he makes such an impression on people."
"But there's a sign making it clear he's a medical assistance dog. He even carries emergency medication around with him in a pouch for me."
Jon, who has not been able to work since April 2016, is also eternally grateful to dog food manufacturer Natures Menu, who saw his fundraising page and, keen to help, have been footing the bill for Teddy's raw food diet for the past six months.
"Natures Menu heard about the terrific work Teddy has done and offered to provide his food free of charge. They even deliver it to our home."
"It's really good food and has increased his energy levels, meaning he's more alert than ever and can spot when my cortisol levels are low."
"It's a raw diet, which makes him stronger and is crucial, as I sometimes need him to open doors for me and protect me if I fall."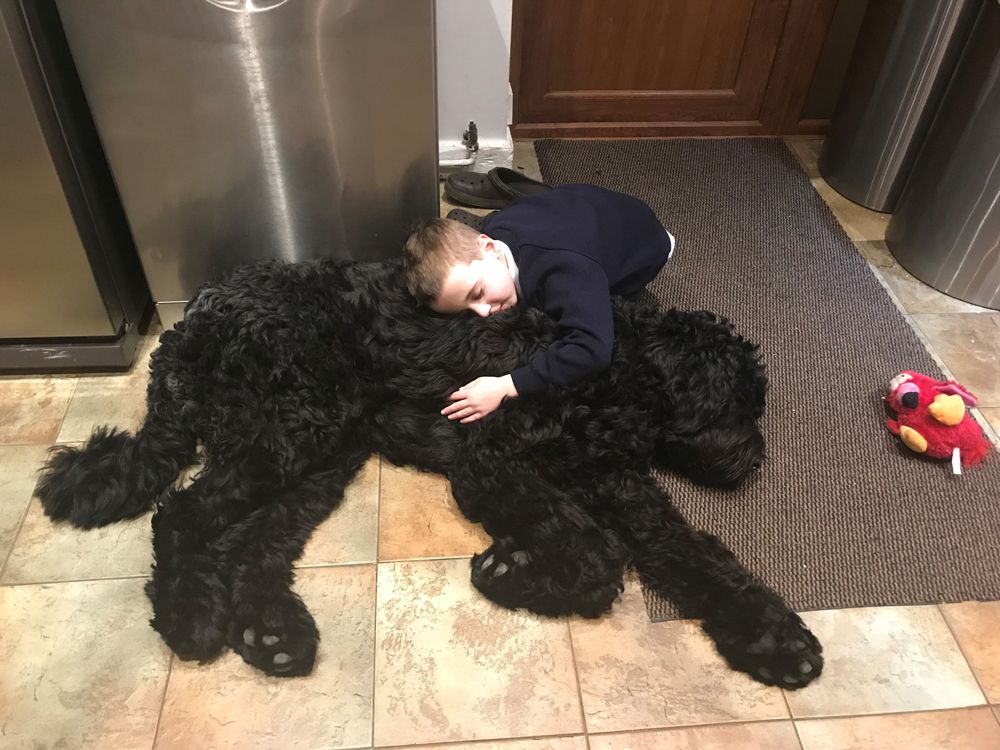 Teddy and Harrison sharing a hug (PA Real Life/Collect)
He concluded:
"Teddy has been a real life saver to me and my family. He really is man's best friend."