Tag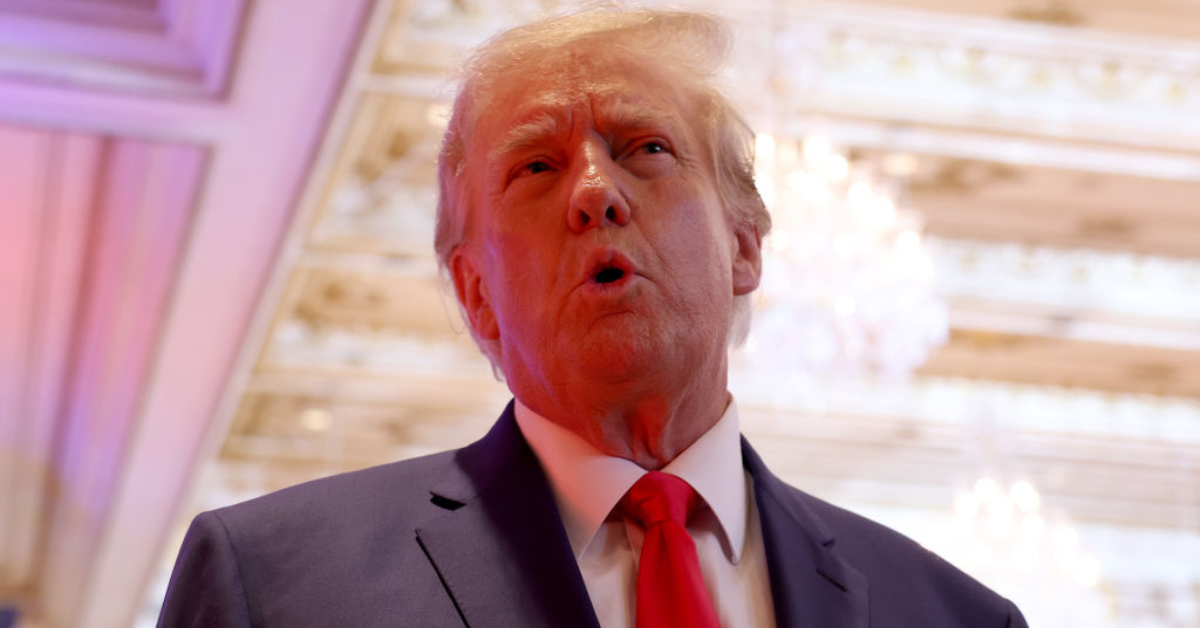 Joe Raedle/Getty Images
Former Republican President Donald Trump praised himself as "brilliant" and "clairvoyant" in a Christmas message on his troubled social media platform Truth Social, a sign he spent much of the holiday thinking about and attacking all of his critics.
Trump—who once declared himself a "very stable genius"—wished his followers a Merry Christmas but specifically directed his message at "the Radical Left Marxists that are trying to destroy our Country" and federal agents he believes have wronged him.
He also criticized Democratic President Joe Biden by sharing more conspiracies about Biden's mental fitness, referring to him as a "mentally disabled Democrat."
Trump wrote:

"Merry Christmas to EVERYONE, including the Radical Left Marxists that are trying to destroy our Country, the Federal Bureau of Investigation that is illegally coercing [and] paying Social and LameStream Media to push for a mentally disabled Democrat over the Brilliant, Clairvoyant, and USA LOVING Donald J. Trump, and, of course, the Department of Injustice, which appointed a special "Prosecutor" who, together with his wife and family, HATES "Trump" more than any other person on earth."
"LOVE TO ALL!"
You can see Trump's post below.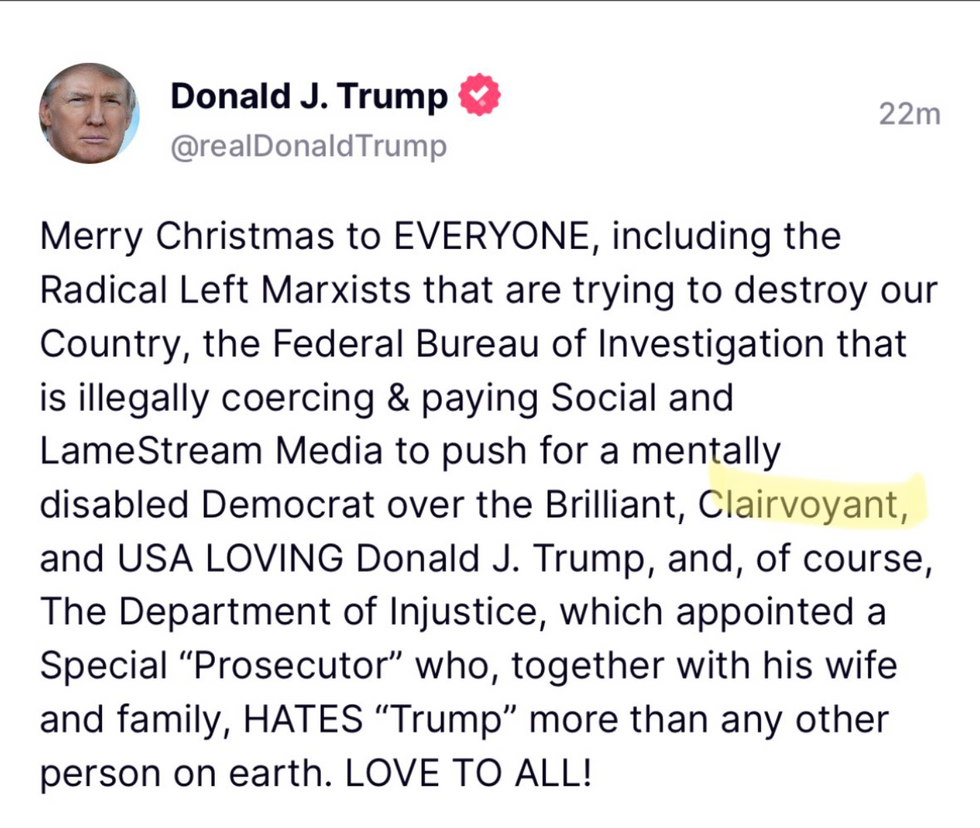 @realDonaldTrump/Truth Social
Trump is anything but "brilliant" or "clairvoyant."
Trump once predicted that the COVID-19 pandemic—which his administration chose to downplay on the premise that it would devastate states led by Democrats—would "miraculously disappear." More than 1.1 million Americans died after he made that bogus prediction.
He also once wrongly predicted he would win the 2020 general election and has continued to promote false claims of electoral fraud despite losing decisively to President Biden, claimed Republicans would take the House of Representatives in 2020, and his endorsed candidates would come out ahead in the recent midterm elections.
In fact, Trump's behavior has all but exhausted Republicans who have urged senior leadership to ditch Trump, particularly after the midterms did not result in the "red wave" GOP legislators and pollsters had predicted and the majority of Trump-backed candidates were rejected by voters nationwide.
And in recent weeks, Trump has faced significant legal setbacks that would not have happened were he as "brilliant" or "clairvoyant" as he claims.
There is, of course, the ongoing investigation into Trump's theft of classified documents from the White House, and earlier this month The Washington Postreported that an investigative team Trump himself hired found two new items marked as classified in a storage container used by him in Florida.
In the last week, the House Select Committee tasked with investigating the January 6 insurrection released its final report, which held him responsible for the attack to subvert the 2020 election results and backed criminal charges against him.
Additionally, the House Ways and Means Committee release voted to make Trump's tax returns public, a step which The Los Angeles Timesnoted is "an unprecedented move that marks the culmination of a years-long legal battle to disclose his financial records."
That development came not long after Trump referred to the Supreme Court—whose right-wing majority he installed—as "nothing more than a political body" after the Court refused to block his tax returns from Congress.
The order—which noted no dissents—is the final say on a multiyear legal battle between Trump and the House Ways and Means Committee, which first sought Trump's tax returns in 2019 as part of a wider investigation into how the Internal Revenue Service (IRS) conducts its routine presidential audits.
Many have mocked Trump following his Christmas message, pointing out all the things that have gone wrong for him.

Trump spent the last few days attacking his critics and most recently assailed Senate Minority Leader Mitch McConnell over Congress' recent passage of a spending bill that will keep the federal government running until September 2023.
Trump insisted the "Marxist Democrats must have something really big on" McConnell for him to support the bill and proceeded to once again direct a xenophobic slur toward McConnell's wife Elaine Chao, who previously served as Trump's Secretary of Transportation.
He later followed up his rant with another post saying that had "Old Crow" McConnell "waited just 10 days, the Republican Majority in the House could have made the 'Ominous' Bill MUCH, MUCH, MUCH BETTER."