Tag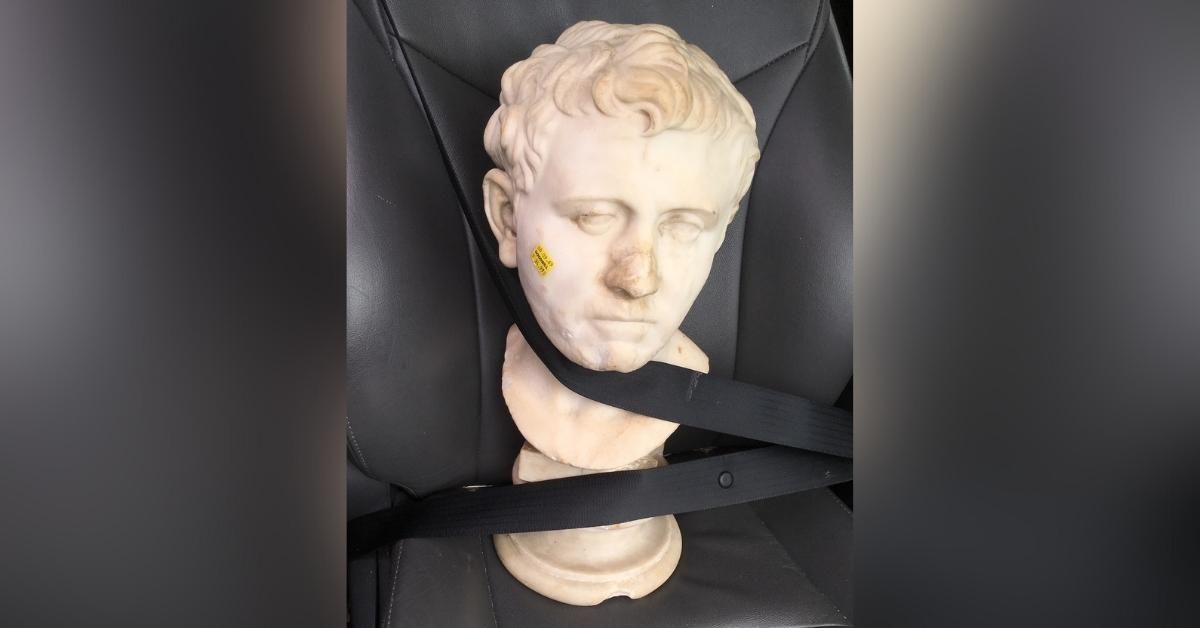 @mattlargey/Twitter
A woman's purchase of a marble head bust that she found at a thrift store led her on a whirlwind adventure as she tried to return it to the proper authorities.
Laura Young's story was chronicled by Matt Largey for the local NPR station in Austin, Texas.
Young, who works as an antique dealer, discovered the bust during a trip to a goodwill in Austin in 2018. She often looked through thrift stores, hoping to find overlooked treasures.
However, this seemed like a much bigger deal. When she found the bust, she noted that it was whit, made of marble and weighed about 50 pounds.
She described the bust, saying:
"Clearly antique—clearly old."
On top of that, it was only being sold for $34.99, so she bought the statue and took it home.
Her research led her to discover the bust wasn't just old, it was ancient, dating back to the first century. It depicted a man named Drusus Germanicus and was last seen in a German museum in the 1930s.
Now came the difficult part—giving the statue back.
It's not uncommon for German-owned art to show up randomly around the world. World War II saw people looting some of these art pieces from museums during and after much of the fighting.
Likely the bust was passed around, before someone donated it to Goodwill, who had no clue the true value of the statue.
This is all well and good, but how do you return such a treasure? Young went through this exact problem.
She hired an attorney who specializes in international law, Leila Amineddoleh. From there, they negotiated with a German museum, which is difficult under ideal circumstances. However, the pandemic made the whole process far more complicated.
While this was going on, Young grew a little attached to the bust, who she named Dennis after the character from It's Always Sunny in Philadelphia.
She said of the name choice:
"He was attractive, he was cold, he was aloof. I couldn't really have him. He was difficult."
"So, yeah, my nickname for him was Dennis."
Finally, an agreement was reached. Terms of the deal are confidential, but it is known the bust will be on display in a museum in Texas for one year prior to returning to Germany.
All this for a bit of marble and history.
'Dennis' will be on display at the San Antonio Museum of Art in their extensive Roman antiquities collection until May 21, 2023.
While he's set to return to Germany after that, Young decided to keep a small reminder of her time with the bust. She had a small model 3D printed that she keeps as a token of the time she had a 2000-year-old statue in her living room.