scott pruitt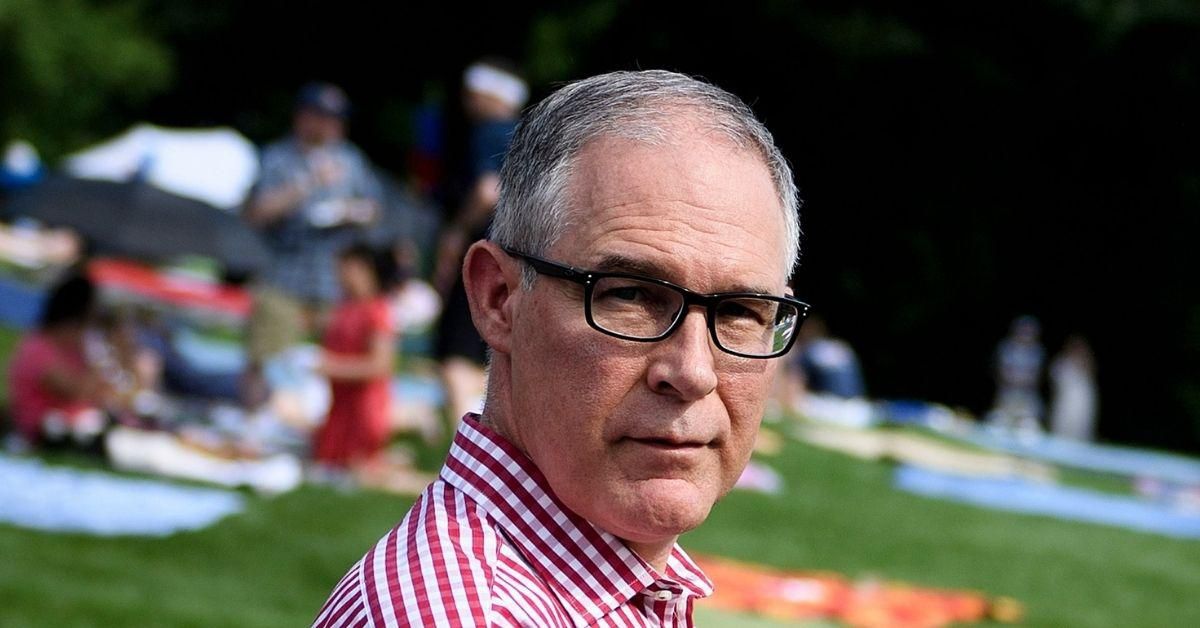 BRENDAN SMIALOWSKI/AFP via Getty Images
A new federal report gives damning details into Republican Oklahoma Senate candidate Scott Pruitt's tenure as EPA Chief in the Runo, during which he routinely endangered his security detail and abused their credentials for petty tasks.
The report, which was compiled in 2018 following a whistleblower report but only released last week by after being obtained by The New York Times.
It details several incidents in which Pruitt "endangered public safety" made his security detail speed and use the sirens on their vehicles to get him through traffic.
In one particularly harrowing incident, Pruitt also made his security detail drive into oncoming traffic so that he could get his dry cleaning before a meeting he was late for.
\u201cScott Pruitt is one of several Republicans running for Oklahoma's soon-to-be vacant Senate seat. https://t.co/y7jMCiDf3V\u201d

— HuffPost (@HuffPost) 1653638559
The report details occasions on which Pruitt asked his security detail:
"Can you guys use that magic button to get us through traffic?"
The security officers in question told investigators that they knew using sirens and lights for non-emergency situations is against federal law, but that they found Pruitt "hard to disobey" because he was routinely late for meetings.
Pruitt's way of speaking to his agents is also detailed in the report, and it paints a picture of Pruitt as an unpleasant person to work for. Security agents reported him routinely telling them to "speed it up" and that "we need to get there quicker."
One aide put a finer point on it, describing Pruitt as "overly obnoxious, excessive and more dangerous to everyone" because of his constant demands to use sirens and lights to get through traffic.
Another said the requests got so out of hand that the agents went so far as to tell each other to disable the sirens and lights in the cars, "because the administrator will still instruct they be used, but the agent can say they don't work."
The allegations in the report come on the heels of a raft of scandals that plagued Pruitt's tenure as head of the EPA and misappropriations of federal money on private jets and the construction of a sound-proof booth in his home that ultimately led to his resignation in 2018.
On Twitter, people were disgusted by the new revelations about Pruitt.

We already knew former Trump EPA head Scott Pruitt had serious ethics issues. But misusing sirens and pushing his security to drive at dangerous speeds because he was late, endangering public safety, is a new egregious layer of abuse of public trust.https://t.co/Uip1Qn0UJL
— Noah Bookbinder (@NoahBookbinder) May 27, 2022
TFG's EPA head Scott Pruitt endangered the lives of people in traffic and millions more by gutting EPA programs already in place to protect the America. https://t.co/J3uUibLqv1
— Positively 4Th Street (@vbgunlt4th) May 27, 2022
Our client, Kevin Chmielewski, blew the whistle against Scott Pruitt and is still suing the EPA for retaliating against him despite his claims being substantiated. Despite this report, Mr. Pruitt has paid no price other than harm to his reputation. https://t.co/NVHHd268qr
— Government Accountability Project (@GovAcctProj) May 27, 2022
Scott Pruitt is the worst of the worst. Almost as bad as Ryan Zinke.
Trump pumped the MAGA Cesspool into Washington and polluted the swamp beyond comprehension. https://t.co/GlypMTNQVR
— Walter Appling (@WalterAppling) May 27, 2022
This 🧵is worth a read:

TL;DR As a member of the previous cabinet, Scott Pruitt fostered a culture of corruption and absolute disrespect for the law, taxpayers, and public safety.

He is now running for Senate. We as Oklahomans would be foolish to send him back to Washington. https://t.co/WAR5qhGnMO
— Ben Meaders (@QuesoCaliente) May 27, 2022
Scott Pruitt is like a five-tool baseball player, but for corruption and lawlessness. Generational talent. https://t.co/tnxAkgaXoC
— Benjamin Hart (@realaxelfoley) May 27, 2022
This man was grifting garbage way before he was in the Trump administration. That was a feature. Not a bug.

Scott Pruitt Ordered Agents to Use Siren, Drive Into Oncoming Traffic - Rolling Stone https://t.co/pJZlMKlBY7
— Steve FU RU Rogers 🇺🇦🇺🇦🇺🇦 (@umanoid) May 27, 2022
Scott Pruitt should never ever be allowed to hold a public office again. He abused his position when he was EPA director. We don't need more corrupt people holding office. Disgusted to read he is running for the Senate in OK. Do better #Oklahoma https://t.co/NXFN13zmAe
— Darla B. (@Darla_B) May 26, 2022
This likely won't be the last we hear about Pruitt's tenure at the EPA as he vies for the hotly contested seat of longtime Republican Senator Jim Inhofe, who is retiring.

Keep reading...Show less