Tag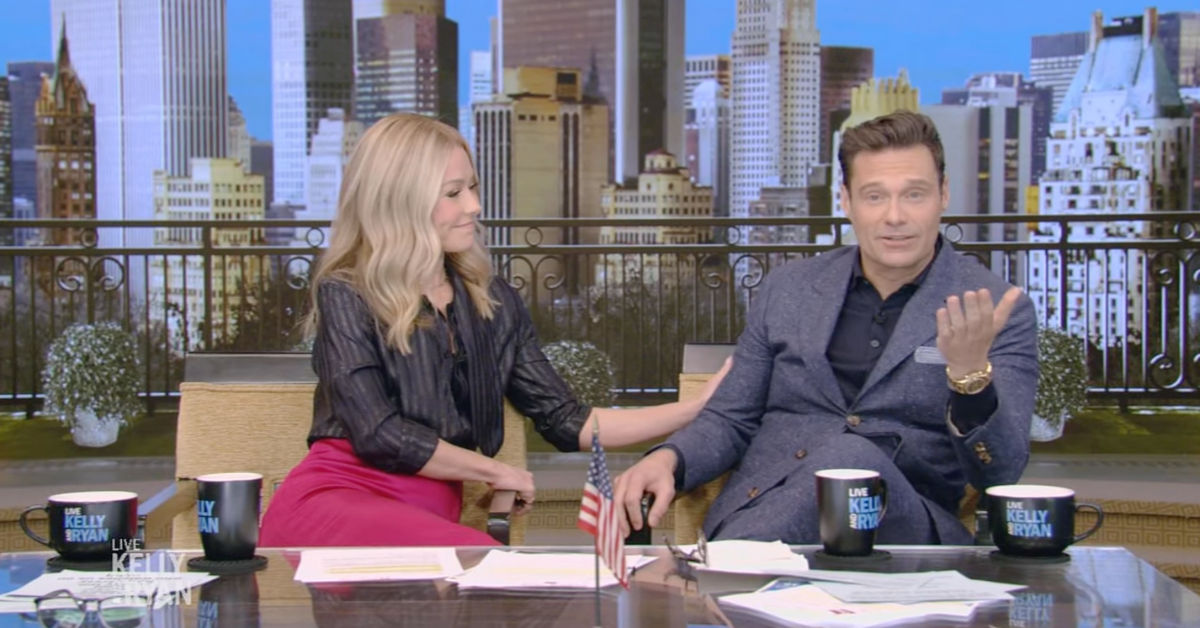 LIVEKellyandRyan/YouTube
It's the end of an era for Live with Kelly and Ryan.
After six seasons with Kelly Ripa on the morning talk show, Ryan Seacrest announced he is bidding adieu. Seacrest revealed the news on Thursday's broadcast along with some very kind words about both the show and Ripa.
The media personality was only slated to co-host the show for three seasons, but he enjoyed himself and the company too much to leave. After doubling his planned stay, however, Seacrest is heading back to Hollywood's warmer weather.
After Seacrest made his announcement, Ripa gushed:
"You are a gem. You are one of my best friends."
"The greatest part of this experience has been that you've gone from being a friend to a family member. You are family."
"We love you. We are so proud of you."
"I know how much of a sacrifice it's been. I know how exhausting it's been going back and forth [from New York to L.A.]."
The duo lovingly and emotionally embraced and Seacrest joked they were going to a commercial break so the two could cry, something he promised Ripa he wouldn't do.
You can watch the "bittersweet" announcement below.
During the segment, the pair also announced who would be replacing Seacrest.
We don't think Ripa will have any trouble getting along with her new co-host... her husband of nearly 27 years, Mark Consuelos.
Consuelos himself posted the news on his Instagram with the caption:
"Congrats on your next chapter [Ryan Seacrest]."
"I love you like a brother. I know I have some big shoes to fill … well actually they're only a size 9, but you know what I mean."
"[Kelly Ripa] my ride or die. This is going to be amazing! I can't believe after all these years of listening to you talk for free, I found a way to get paid for it. Is this a great country or what?"
Those learning of the news shared their excitement.
They congratulated Consuelos on the new gig.
@instasuelos/Instagram
@instasuelos/Instagram
@instasuelos/Instagram
@instasuelos/Instagram
@instasuelos/Instagram

@instasuelos/Instagram
@instasuelos/Instagram
@instasuelos/Instagram
After the on-air news was shared, Ripa joked co-hosting with Consuelos will be "the nation's weirdest social experiment."
She did admit:
"[Consuelos is] the only person who I can think of that is capable of holding [Seacrest's] torch the way [he] held it."
Seacrest will be leaving in April ahead of the American Idol live shows in LA.
The husband and wife team will then take over the aptly named Live with Kelly and Mark.
We wish all three the very best in their future endeavors.