randy rainbow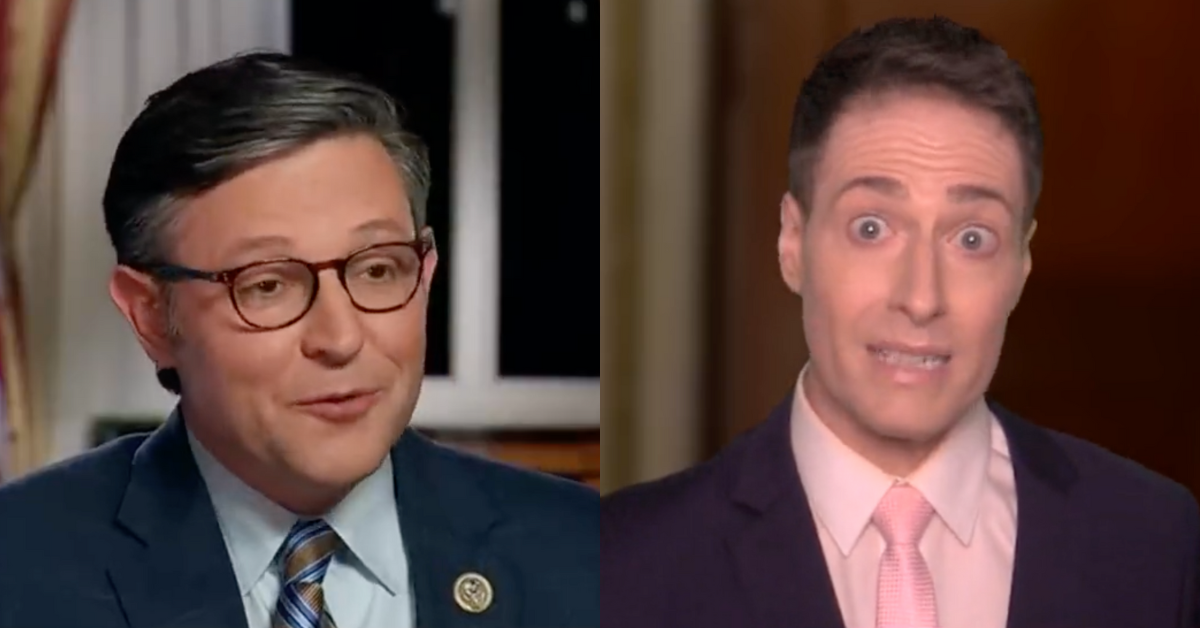 @RandyRainbow/X
Randy Rainbow, the master of political satire through song, has once again released a parody video—this one presented as an "interview" with House Speaker Mike Johnson to lampoon his anti-LGBTQ+ views.
In the video, Rainbow occasionally blanks on Johnson's first name, referring to him as "Melvin" and "Mike" interchangeably. He brings up Johnson's past comments that supported criminalizing gay sex, leading to a witty exchange.
At one point he says:

"You have been very vocal about your disdain for homosexuality through the years, Melvin. And some of your past comments are making the rounds, particularly the ones in favor of criminalizing gay sex."
When "Johnson" responds that he doesn't "even remember some of" these views, Rainbow's retort is swift and witty:
"Oh honey, I totally get it. I almost never remember gay sex either."
The best part: Rainbow used the video to announce his upcoming live comedy tour:
You can see it below.
Randy Rainbow Interviews Mike Johnson (2024 Tour Announcement!)youtu.be
Cutting from Johnson's remarks about being "a Bible-believing Christian," Rainbow announced his comedy tour in spectacular fashion that mocked former President Donald Trump's preoccupation with crowd sizes:
"Speaking of, let's talk about the most important news of the day: my comedy tour. The 'Randy Rainbow for President' comedy tour has been such a hit. I mean, nobody's seen crowd sizes like this before."
"We have just added 26 new dates through spring 2024."
Although Rainbow's candidacy is purely satirical, it underscores the need to protect the American people from bigoted extremists, a fact that did not escape the comedian.
He humorously suggests to Johnson that someone might need to protect democracy "as long as you're around," and from what has been observed, that could be "up to several weeks."
Rainbow's video ends with a humorous call to action in which he presents himself as the "right candidate" to challenge President Joe Biden and Trump in 2024.
The comedian also shared the video to his personal page on X, formerly Twitter, along with the following message:
"I don't know her… AMERICA! WE DID IT! My musical campaign tour has been such a YUUUGE hit, we're adding 26 more stops! Check out my just-announced 2024 dates and cities!"
You can see his post below.

And people loved every bit of it.
Of course, Rainbow is no stranger to mocking politicians—or elections for that matter.
The comedian had his fans cackling with his last video over the summer, in which he lampooned Trump's indictment and subsequent arraignment in Georgia related to his attempts to overturn the 2020 election results.
Rainbow brilliantly parodies Barbra Streisand's iconic song "Don't Rain on My Parade" from the classic musical Funny Girl.
The result? A song titled "Don't Arraign On His Parade." It was sharp and it was clever—and it's no wonder Rainbow has so many fans who love his brand of political satire.
Keep reading...Show less