proud boys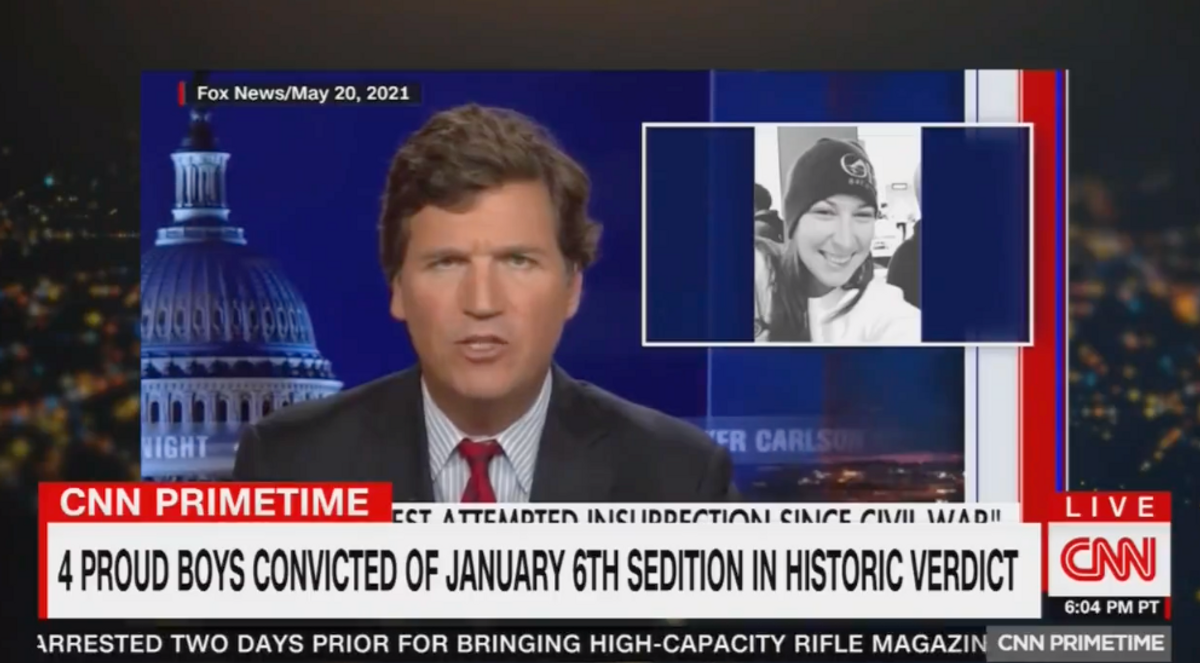 CNN
The recent conviction of four members of the Trump-supporting white nationalist group the Proud Boys for seditious conspiracy has brought renewed attention to the downplaying and rewriting of history by some of the biggest names on Fox News regarding the Jan. 6, 2021 attack on the U.S. Capitol.
Despite the overwhelming evidence to the contrary, Fox News hosts have attempted to paint the attack as a peaceful gathering of law-abiding citizens. The recently ousted Tucker Carlson, for instance, claimed that the attackers were not insurrectionists but merely "sightseers," a statement that defies belief and common sense.
One of the common lines of defense used by Fox News hosts was that no one had been charged with sedition or insurrection in relation to the attack. This claim has since been proven to be completely false and CNN couldn't resist eviscerating that common refrain.
The network clipped together damning video of Fox hosts claiming the attack—which left at least five people dead and resulted in over 100 injuries to law enforcement as well as millions of dollars in damages—was not an insurrection because no one had been convicted.
It includes clips of Carlson saying the insurrectionists were "orderly and meek," Greg Gutfeld saying that no one had "been charged with sedition or insurrection," and Mark Levin declaring that "Nobody!" had been charged with such a crime, in an effort to render concerns about the attack moot.
You can see the video below.

People loved every minute of it and proceeded to mock Fox profusely.
In a win for the Department of Justice (DOJ), a federal jury convicted four members of the far-right Proud Boys militia group, including its former leader, Enrique Tarrio, of seditious conspiracy in an attempt to prevent Congress from certifying President Joe Biden's election victory.

The convictions of Tarrio, Ethan Nordean, Joseph Biggs, and Zachary Rehl were for seditious conspiracy, which is a Civil War-era law that carries up to 20 years in prison. Only Dominic Pezzola, the one defendant who did not play a leadership role in the Proud Boys' Jan 6 plot, was acquitted of the charge.
The 12-member jury also found all five defendants guilty of other felonies, including obstructing an official proceeding and conspiring to impede Congress from performing its duties. U.S. District Court Judge Timothy Kelly declared a mistrial on a few outstanding counts after jurors said they could not reach a consensus.
Nevertheless, Attorney General Merrick Garland hailed the verdicts as a triumph of justice, stating that the convicted men played a central role in orchestrating "a heinous attack that sought to disrupt a cornerstone of our democracy - the peaceful transfer of power to a newly elected government."
Keep reading...Show less