Tag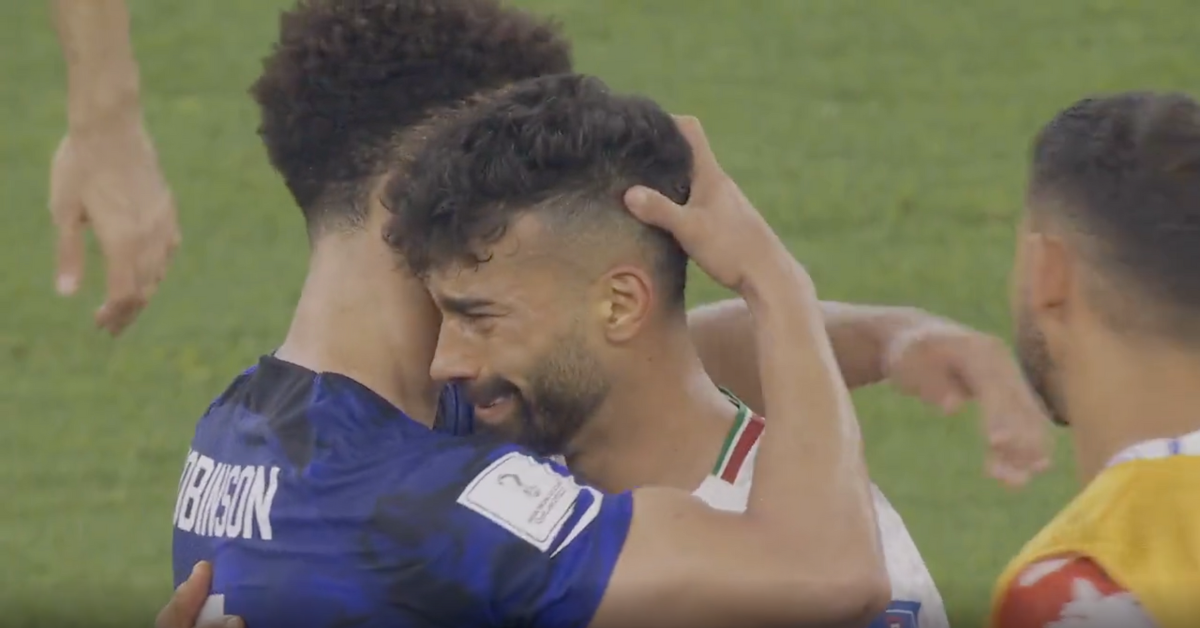 FOX Sports/Twitter
On Tuesday night, the U.S. men's soccer team (USMNT) edged Iran for a 1-0 win to advance to round 16 of the 2022 World Cup.
While the match itself was certainly intense with all eyes on the world-wide stage, the true raw emotions were displayed after the clock ran out.
Immediately after the final whistle, American players consoled their opponents, embracing them and offering support.
\u201c\u2764\ufe0f\u26bd\ufe0f\n\n@USMNT's @Antonee_Jedi shares an emotional moment with Iran's Ramin Rezaeian after yesterday's match\u201d

— FOX Soccer (@FOX Soccer) 1669818766
Though the loss was undoubtedly heartbreaking, the Iranian team was enduring turbulent circumstances in their home country as well as pressure from their government.
The team shared its support for the Iranian people who have been protesting the treatment of women in their country, especially after the death of Mahsa Amini who was arrested for not wearing her hijab in accordance with Iranian government standards. Amini was severely beaten during her arrest and later died in a hospital.
They also refused to sing their national anthem before their match with England. A source told CNN the families of the players were threatened with "violence and torture" if the team didn't "behave' against the U.S. team and didn't sing the national anthem.
The U.S. team showed their support before the match by altering an Iranian flag in solidarity with the protests.
However, they wanted to show their support on the field, as well.
Tim Weah told Fox Sports' Martin Rogers:
"I think it's more than just football."
"I think the United States and Iran have had so many issues politically and I just wanted to show that we are all human beings and we all love each other."
Weah joined Josh Sargent and DeAndre Yedlin who both consoled Iranian player Saeid Ezatolahi, pictured below.
\u201cLove this. USA beat #Iran but Josh Sargent & DeAndre Yedlin console Saeid Ezatolahi. \nTim Weah, who also came over, sums it up: \u201cwe grew up differently. He is still my family, he is still my brother and I love him the same way as the guys I grew up with."\u00a0#IranvsUSA\u201d

— Omid Djalili (@Omid Djalili) 1669797554
Weah continued:
"I just wanted to spread peace and love and show him we come from different backgrounds, we grew up differently."
"He is still my family, he is still my brother, and I love him the same way as the guys I grew up with."
Sargent also told Fox Sports:
"I just really feel for any team."
"...Everybody is human, obviously. We've all been working our *sses off to get to this important point of our lives."
"This is the pinnacle of everybody's career. I know it is not an easy situation when you lose."
Many took to Twitter to support both teams and acknowledge that soccer—especially at the World Cup—is so much more than a game.
@davidmweissman Things like this are why people should watch the World Cup even if they're not soccer fans. It's about so much more than just soccer.
— Josh Spencer (@cosmotexan) November 30, 2022
We ( #USA ) as a nation must embrace world ⚽️ as a powerful force spreading goodwill, grace & peace; which ought to be celebrated more than "We are better than you, .etc." agenda gaslighted by these ultra #USMNT keyboard warriors (you know who you are). #WorldCup
— Anjoe Anthonysamy (@KCSocWiz) November 30, 2022
It's more than just the soccer. You lost the game but you won the hearts of many. ❤️⚽️
— Saab (@amadeo_isabella) November 30, 2022
I love this young team of amazing and compassionate athletes!
— Ally_Baba3 (@ally_baba3) November 30, 2022
This is pure class. Futbol is the only sport that is nationalistic but at the same time reminds us we are all just human.
— Tony Ruiz (@imtheblackrider) November 30, 2022
Beautiful to see. Our players are really sportsmen. Bravo gents.
— Brently+ (@kopopoulous) November 30, 2022
American player Brenden Aaronson told Rogers of embracing Iranian player Ezatolahi:
"I could feel the emotion from him on the ground. It's tough, it's a tough moment for a lot of things."
"You put your heart and soul and I think he had a great game too, and a great tournament from Iran."
"It's hard to see that from a player. All you want to do is go and console them and tell them that everything is going to be OK."
"It's just a human thing."
It was truly a beautiful moment to witness.