Tag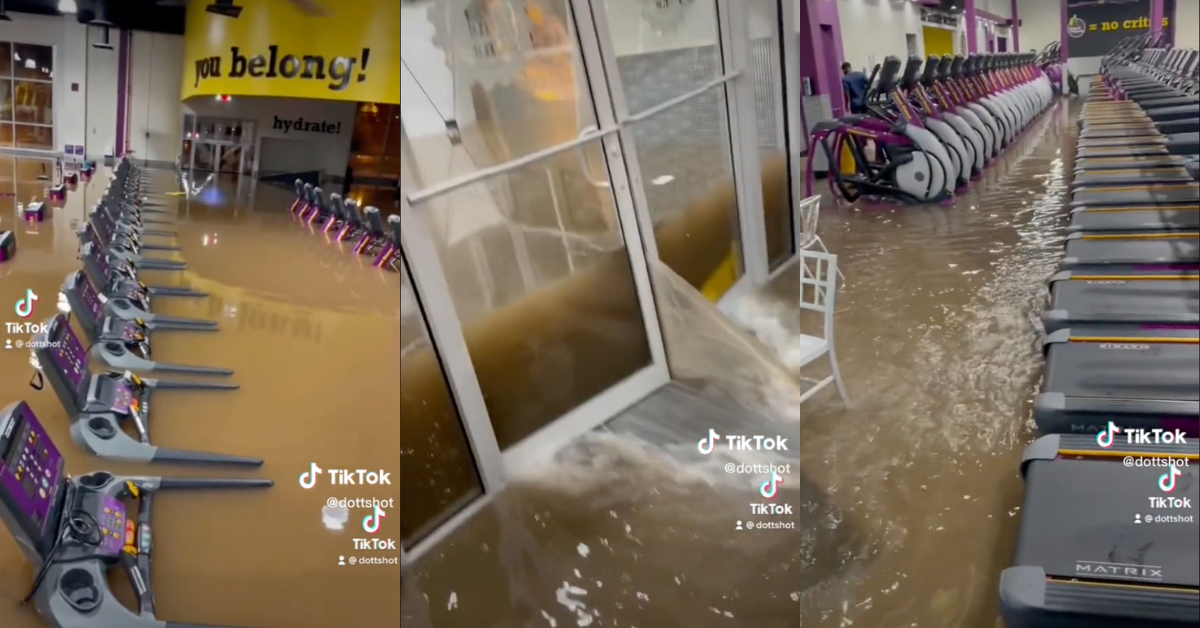 @dottshot/TikTok
Well this is absolutely terrifying.
TikToker @Dottshot found himself trapped inside a Planet Fitness after flash floodwater rushed into the gym and quickly rose, submerging equipment and forcing patrons to remain on elevated machines.
@Dottshot documented the event on TikTok in a now-viral video captioned:
"Story time: the flood in Planet Fitness"
You can check out the video below.
He began with the question:

"So how did I end up on a stairs machine in a flooded Planet Fitness?"
He revealed:
"Well, let me tell you. It all started when I looked up from my phone to find that half of the parking lot I was sitting in was already under water."
"We were only expecting 5-6 inches of rain, so when I saw this, I kind of went into shock."
He continued:
"I went into Planet Fitness, took a shower, and when I got out, the water was already rushing in."
"I opened the door momentarily and that did not let the water in. I'm pretty sure the water let itself in because you can't stop that much water."
"Also, my car went under right in front of me. I watched the whole thing. That hurt a lot."
@Dottshot shared his PayPal and CashApp info is in his bio, in case anyone was interested in helping him with his damaged vehicle.
He finished:
"After all that, we just stood around. We were waiting for rescue personnel for hours."
"They wouldn't answer us, so I decided to pick up my phone and start filming TikToks and the rest is history."
Many viewers chimed in with their advice.


@dottshot/TikTok

@dottshot/TikTok

@dottshot/TikTok

@dottshot/TikTok

@dottshot/TikTok
In follow-up videos, the creator responded he tried to open the door to get to the parking lot but was unable due to the force of the water.
In response to those who said to "just swim," he sarcastically responded:
"10/10 great advice."
Other viewers were seemingly more terrified of the ordeal than @dottshot himself.

@dottshot/TikTok

@dottshot/TikTok

@dottshot/TikTok

@dottshot/TikTok
@Dottshot posted a video of the aftermath with the words "POV: You respawn into the walking dead" across the screen.
As if we needed another reason to avoid the gym!
In all seriousness though, we are thankful everyone got out ok.