pineapple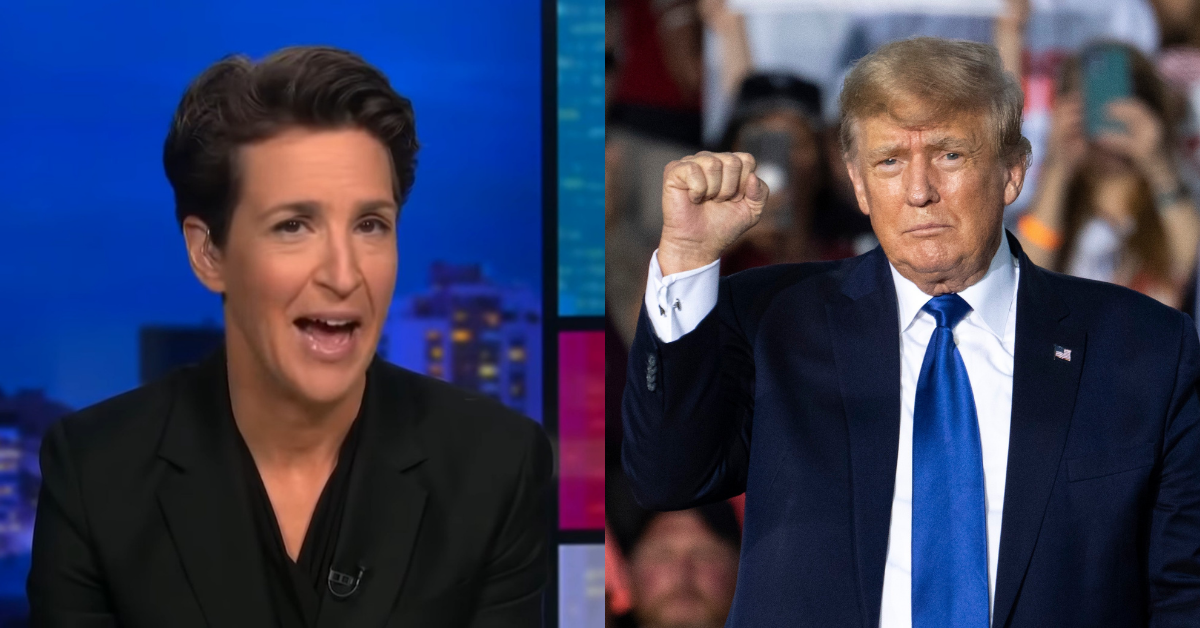 MSNBC; Drew Angerer/Getty Images
A 2021 deposition by former Republican President Donald Trump was made public via court filings Tuesday.
Like most Trump depositions, many things he said were a bit bizarre.
So much so they left even MSNBC's notoriously verbose Rachel Maddow utterly speechless.
Maddow gave a reading of certain passages of the deposition on Wednesday's edition of The Rachel Maddow Show. She was rendered gobsmacked by the moment Trump said he fears he will "get killed" by flying fruit—yes you read that right.
See the moment below.
The deposition stems from a 2015 civil suit filed by five activists who claim they were violently attacked by Trump's security guards outside Trump Tower.
Part of Trump's defense seems to be the claim that violence against protestors was necessary because they were trying to kill him with thrown tomatoes.
If your head is spinning, you're not alone—it made little more sense to Maddow and she's presumably read the entire deposition. She began her segment with an utterly bewildered intro that itself is comedy gold.
Maddow said:
"I'm going to jump right in here tonight.
"I do not think there is any way to ease into this.
"I don't think there is any setup I can give you that would make this any more normal."
"No context I can provide you that would make this less weird."
She then hit us with the news about Trump's apparent deepest fear—produce.
"With the release of this deposition in this past day, we now know a whole new thing we didn't know before about former President Trump, which is that he is apparently desperately afraid of a flying tomato."
And lest you think this is just a case of liberal sour grapes (sorry), here's what Trump actually said:
"Well, a tomato, a pineapple, a lot of other things they throw..."
"Yeah, I think that they have to be aggressive in stopping that from happening. Because if that happens, you can be killed if that happens..."
The questioning attorney asked Trump to clarify by "be aggressive" he meant he thought physical force was required to deal with the constantly looming mortal threat of protesters throwing pineapples.
Trump replied:

"To stop somebody from throwing pineapples, bananas, tomatoes, stuff like that, yeah, it's dangerous stuff."
Maddow, speaking for all of us, could do nothing but simple stare blankly into the camera and stammer:
"I am not smart enough to make something like this up."
Naturally, Twitter has had a field day about this supposed epidemic of murderous, tomato, pineapple or banana throwing liberals.
For many people a moment from Monty Pythons Flying Circus came to mind where John Cleese taught the other members how to defend against dangerous fruit attacks.
Monty Python founding member Eric Idle even retweeted the reference.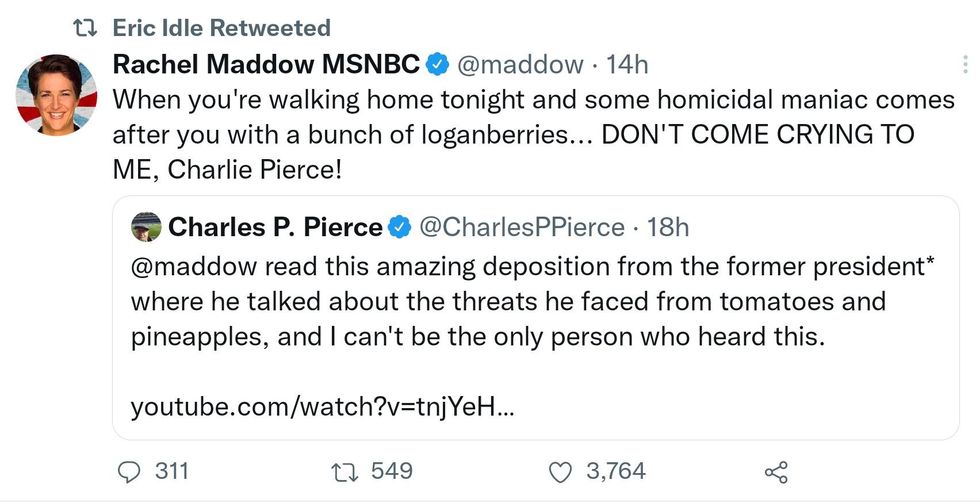 @EricIdle/Twitter
Others found humor in other aspects of the absurd deposition.
Deadly produce is not Trump's only food-based fear.
In 2020, he told Fox News' Laura Ingraham that Antifa protesters had been hurling "big bags of soup" at law enforcement.
Keep reading...Show less