Tag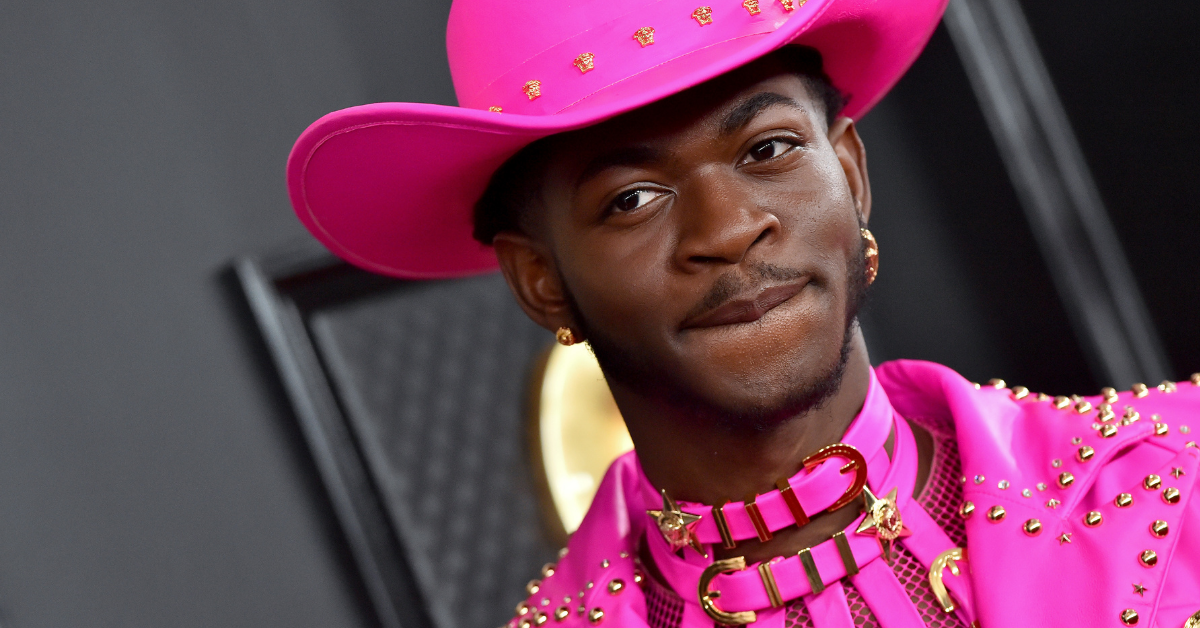 Axelle/Bauer-Griffin/FilmMagic via Getty Images
Lil Nas X's "Montero (Call Me By Your Name)" has simply taken the world by storm over the past week.
Alongside the video, Lil Nas X released a shoe line that has been dubbed the "Satan Shoes," which sports a pentagram on each foot and is alleged to be made with a real drop of human blood.
And though his production studio is being sued by Nike because the shoes contain the Nike symbol and are not official Nike products, the Church Of Satan have given their stamp of approval.
RT for Satan shoes / like for Jesus shoes https://t.co/3G160fi8mm

— The Church Of Satan (@The Church Of Satan) 1616949445.0
Satan is infamously featured in Lil Nas X's video as getting a lap dance from the rapper.
The Church of Satan, however, don't actually worship Satan. They don't even believe in Satan.
It is in fact completely secular; Satanism was only named as such because of Satan's story in the bible. In Hebrew, Satan means "adversary," "opposer," "accuser," or "inquisitor."
Satanism adopted his name as a model of their behavior, as the congregation was founded to directly oppose the bigoted views and oppression of Christianity.
@XXL Obviously.

— The Church Of Satan (@The Church Of Satan) 1617031988.0
@TheRealRobV921 the church of satan are literally atheists

— Mickey 18 (@Mickey 18) 1616963119.0
This app is hilarious https://t.co/OfuZCnJ6vD

— Casey (@Casey) 1617039176.0
A fun thing to do during this whole event is watch people out themselves as being either too dumb or too lazy to un… https://t.co/aXf2SpguVm

— The Church Of Satan (@The Church Of Satan) 1617031414.0
👀 https://t.co/83TH5B5RTG

— The Church Of Satan (@The Church Of Satan) 1617027492.0
David Harris, the magister of the Church Of Satan, said the Church were such big fans of the shoes because they promoted the very model of Satanism itself.
According to TMZ, Harris and other Satanists alike are "digging the way Lil Nas X is turning against religion to market his customized Nike Air Max 97 shoes."
@LilNasX The video is a visceral and powerful work clearly celebrating freedom, individualality, and man's carnal n… https://t.co/YIwHHzts5n

— The Church Of Satan (@The Church Of Satan) 1616858315.0
Gods I wish they were making more than 666 pairs of these. https://t.co/qjZnAlVUdB

— 🤫 I'm hunting saxons (@🤫 I'm hunting saxons) 1616985186.0
Which one gonna help me play better basketball at the Y???? Jesus could walk on water so I feel like that's bette… https://t.co/LuahQGGGfc

— TwistNHook (@TwistNHook) 1616979497.0
I want the satan ones 🥺 https://t.co/LeSawSEHSz

— Bebecita 🍁 (@Bebecita 🍁) 1616966586.0
I'm sorry but this just made me giggle a little bit 😭😭 https://t.co/BmGCqRFYk2

— Kai, MSW (@Kai, MSW) 1616958238.0
Giving a blatant middle finger to people who condemned Lil Nas X to hell for his sexuality is perfectly in line with the values of the Church of Satan, according to Harris.
And anyway, people linking the literal Satan to either entity are missing the point, according to Alicia T. Crosby, a queer minister from Durham, North Carolina.
"What Lil Nas X did was so significant, because not only do queer kids get to say, 'Hey, there's someone who looks like me out there.' Black queer kids, and specifically Black queer boys and young men get to say 'There is someone who looks like me,."
demons and angles are about to be DRIPPING during the apocalypse https://t.co/ClRyq0RFB6

— 💬 (@💬) 1616992179.0
hehehe... WTF IS THIS NOW💀💀 https://t.co/gyTyJnNAG2

— Pheneas (@Pheneas) 1616957772.0
🤣 https://t.co/UOxfvID1Es

— Harry Belafundme (@Harry Belafundme) 1616956065.0
LOL!!! https://t.co/SilXMWhpfL

— Audrey Rose (@Audrey Rose) 1616953093.0
Nas' comment on the opposition he's faced to the video was simple:
"I spent my entire teenage years hating myself because of the sh*t y'all preached would happen to me because i was gay,...so i hope u are mad, stay mad, feel the same anger you teach us to have towards ourselves."
And that's all he needs to match The Church Of Satan's point.