Tag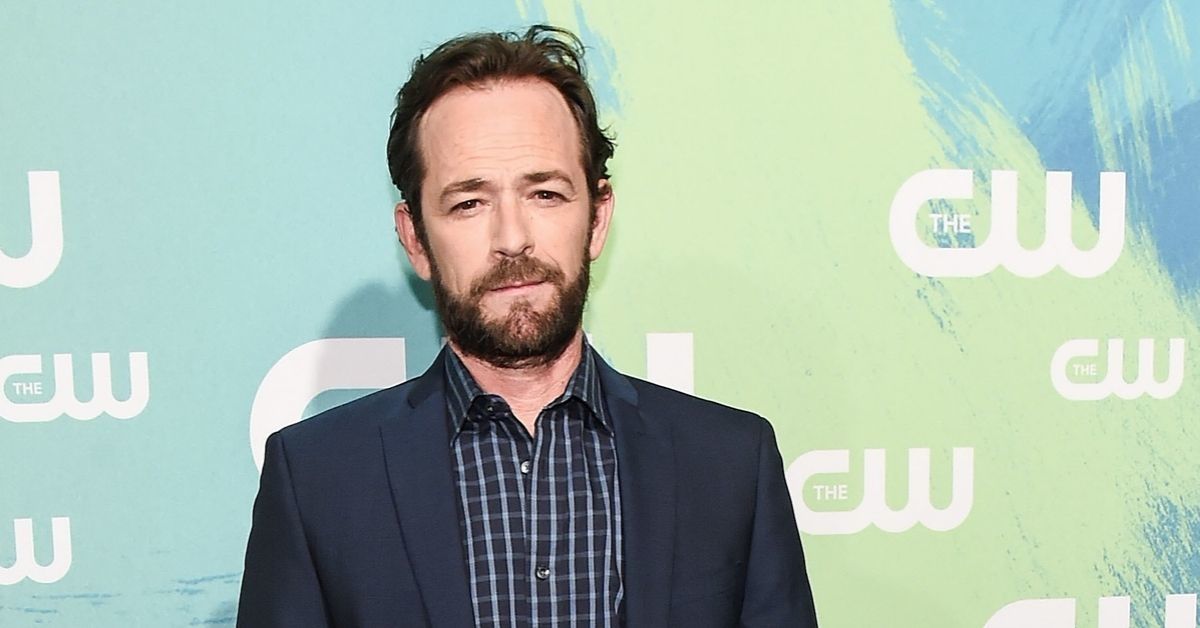 Warning: There are spoilers ahead for those who haven't watched the fourth season premiere of Riverdale.
It's been seven months since Riverdale actor Luke Perry's untimely death on March 4. He was 52.
But he is far from forgotten.
The popular CW show in which Perry starred as Fred Andrews, Archie's father, honored him with a special memorialized tribute for the show's fourth season premiere.
Riverdale Season 1, Season 2 and Season 3 are now available on DVD.
Perry died of a fatal stroke in February while the show was in the midst of its third season.
But instead of expediting a hastily-written script change, Archie Comics' chief creative officer, Roberto Aguirre-Sacasa told Vanity Fair that the writers decided to:
"let the season play out and then really do it justice and honor both Luke and Fred at the beginning of Season 4."
The new episode opens with Archie and the gang having breakfast at Pop's. Their casual meeting is short-lived when Archie receives the tragic news about his father.

F. P. Jones, Jughead's father played by Skeet Ulrich, regrettably informs Archie and his mother Mary that Fred was killed by a hit-and-run driver after pulling over to help someone on the side of the road.
The characters mourned the loss of Fred – a compassionate fatherly figure to everyone in town.
But their raw emotion is genuinely played out by the actors portraying them because they are simultaneously grieving the loss of a friend.
Fans took notice of the authentically grieving actors and shed tears watching them.

The cast memorialized the deceased actor on social media ahead of the fourth season premiere.

Madelaine Petsch, who plays Cheryl Blossom, shared a photo of her at the upfronts with Perry that perfectly reflected his warmth and kindness.
"Luke walked me through the entire experience as he did with most of the new experiences I encountered after booking this show. I didn't even know this photo existed but it explains our relationship to a T."
"He was always so generous and supportive and patient with my learning and growing through some of the most formative years of my life."
"I am so lucky to have known you Luke. You were one of a kind and impacted everyone's lives in such a meaningful way."
Lili Reinhart (Betty Cooper) dedicated the season opener and "all episodes for the rest of our run," to Perry on Instagram.
Reinhart also shared her favorite picture of Perry taken by Cole Sprouse, who plays Jughead Jones.
Camila Mendes (Veronica Lodge) recalled on her Instagram Story that filming the episode was "as hard to watch as it was to make it" and conceded that "making it was harder."

She added that "the result is a beautiful tribute to our friend. Luke deserves that and so much more."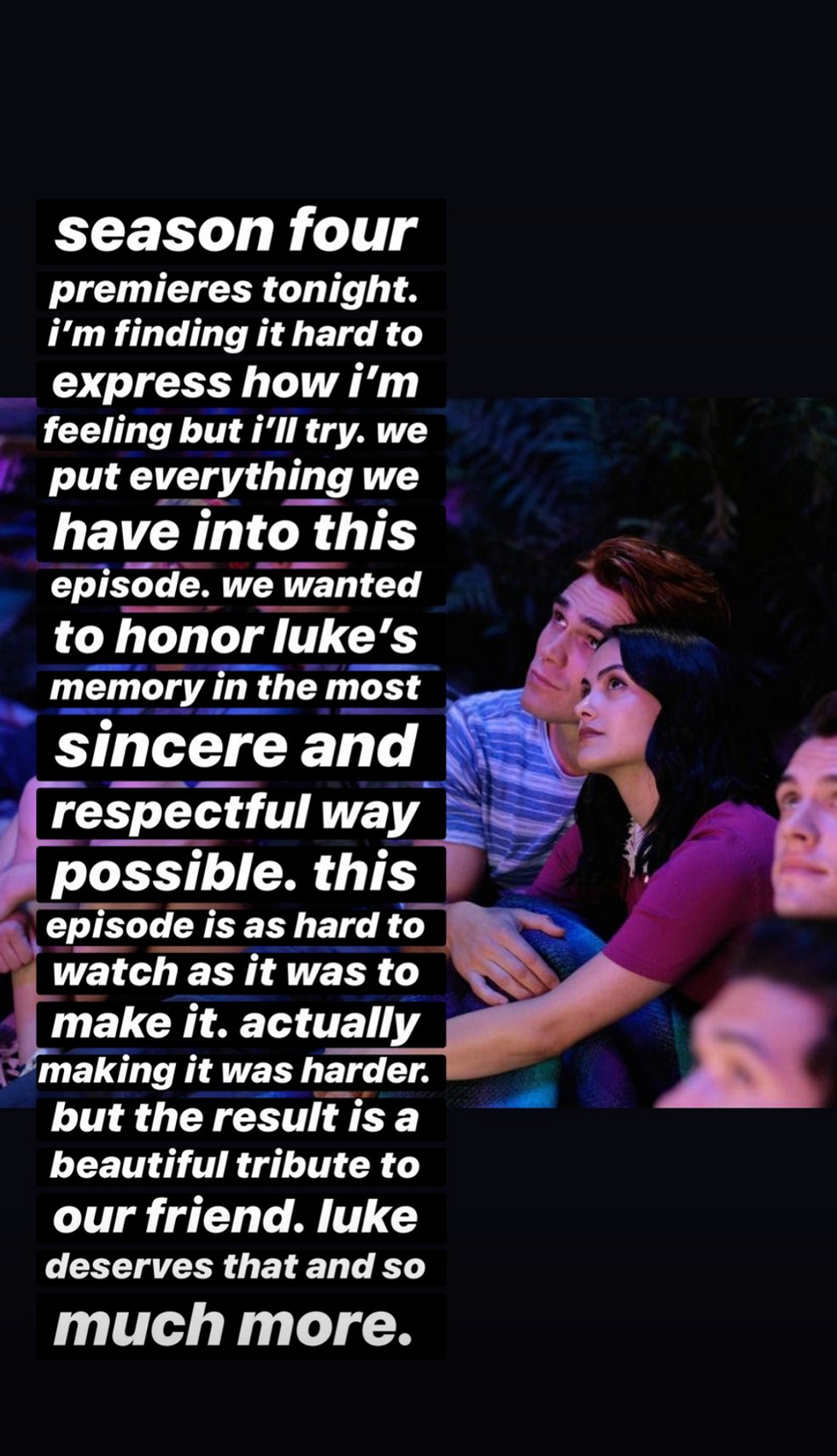 @camimendes/Instagram
Mädchen Amick (Alice Cooper, Betty's mother) recalled spending time with Perry in the writer's room after the series got picked up.

Their bond was instant from the beginning.

"He had such a big heart. We bonded immediately. He became such a dear friend to me. We always talked about how we felt we would be friends for life. I think we'll be friends through the afterlife as well. We love you Luke. Tonight's episode is dedicated to you."
Marisol Nichols (Hermione Lodge) dedicated the episode to her friend.

Ulrich shared a photo of something Perry left behind a week prior to his death.
"This was Luke's favorite hat...he left it on my kitchen counter a week before he passed."
"We talked several times that week about getting it back to him. Luke, you left WAY more than a hat!"
"We miss you and keep you in our hearts every single day. Thank you for all you gave the world, tonight is for you."
Mark Consuelos (Hiram Lodge) prefers to remember Perry from a special day spent together.
Casey Cott (Kevin Keller) found the perfect picture many fans will always remember Perry by: as Dylan McKay from Beverly Hills 90210.
Martin Cummins (Sheriff Tom Keller) posted a group photo taken from the set of the Andrews' living room.

Cast members were not the only ones who shared tributes.
Show developer Aguirre-Sacasa described the premiere episode as one "that's bursting with sadness, but even more so with love."
"I'm humbled by the outstanding, heroic work everyone did on it. I hope you like it, Luke. As Archie says about his dad, 'You will always be a part of Riverdale.'"
Riverdale writer Tessa Leigh Williams tweeted her description of the show's special episode.
In the poignant episode, we learn that the character Fred attempted to help on the side of the road was played by none other than actress Shannen Doherty – Perry's former co-star and on-screen sweetheart from Beverly Hills 90210.
In a heartbreaking scene, through tears, her character tells Archie about his father's last moments helping her fix one of her tires.

"Nobody would stop, but your dad did... He talked about you the entire time. He couldn't believe that a man like him was blessed with such a thoughtful, kind boy."
"We were working on the tire and a car just came out of nowhere, speeding, and I froze in its path and your dad, he pushed me out of the way. He saved my life."
Luke Perry was also a hero in many ways, and he will never be forgotten.
******
Have you listened to the first season of George Takei's podcast, 'Oh Myyy Pod!'?
In season one we explored the racially charged videos that have taken the internet by storm.
We're hard at work on season two so be sure to subscribe here so you don't miss it when it goes live.
Here's one of our favorite episodes from season one. Enjoy!
Keep reading... Show less