Tag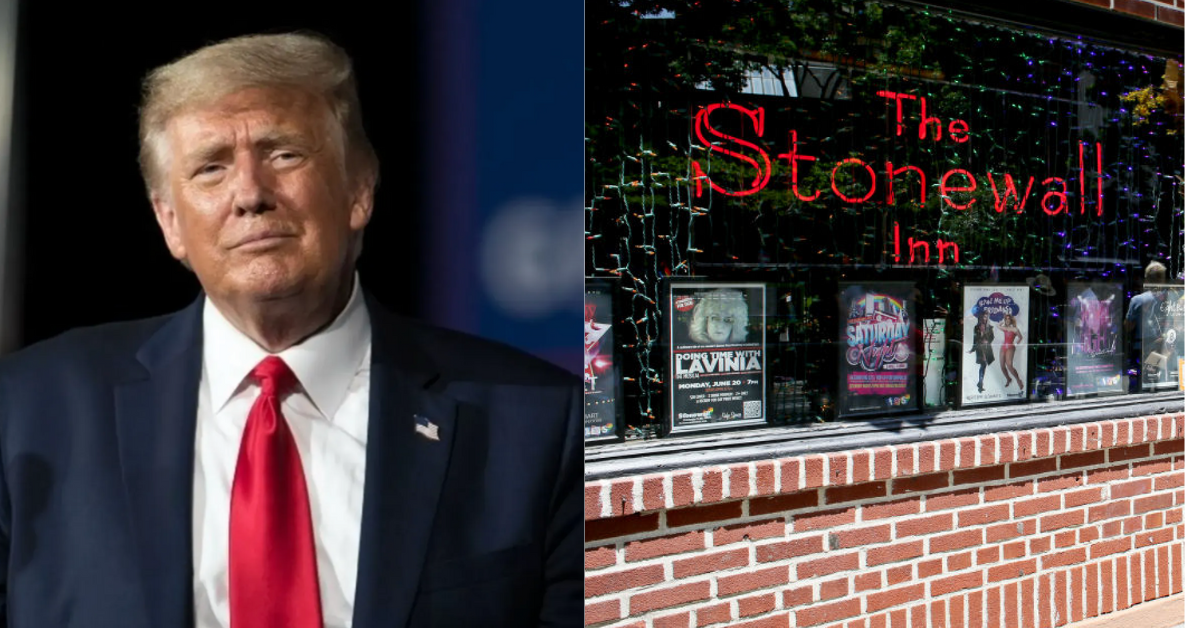 Sean Rayford/Getty Images; John Smith/VIEWpress/Getty Images
The Log Cabin Republicans—an organization in the GOP of conservative LGBTQ+ voters—was criticized after it attempted to compare the raid of former Republican President Donald Trump's Mar-a-Lago estate to the Stonewall riots, the moment that kicked off the modern LGBTQ+ rights movement.
The organization's absurd claim came shortly after Trump announced the Federal Bureau of Investigation (FBI) served a search warrant for his Mar-a-Lago estate and "even broke into my safe!"
Writing on Twitter, the organization claimed "just as the patrons of Stonewall were not intimidated by police, we will not be intimidated by the weaponization" of the FBI and the Department of Justice (DOJ) "against President Trump or his home, Mar-A-Lago."
The organization added they "will be holding our annual gala later this year."
The Stonewall riots were a series of spontaneous protests by members of the gay community in response to a police raid that began in the early morning hours of June 28, 1969, at the Stonewall Inn in the Greenwich Village neighborhood of New York City.
Patrons of the Stonewall, other Village lesbian and gay bars, and neighborhood street people fought back when the police became violent. The riots are widely considered the watershed event that transformed the gay liberation movement and the twentieth-century fight for LGBTQ+ rights in the United States.
The organization was widely mocked for making the comparison, particularly for defending a party largely considered an enemy to LGBTQ+ equality.
Why the FBI raided Trump's home is still murky, though The New York Times reported the search was related to classified documents Trump brought with him to Mar-a-Lago after leaving the White House.
Late last month, Texas Log Cabin Republicans admitted "we failed" to shift the party's views regarding the LGBTQ+ community.

Paul von Wupperfeld, now a 56-year-old Democrat who has not voted Republican since 2000, told The Texas Tribune that Log Cabin Republicans have "failed to moderate" the Republican Party, noting that while he is "glad we tried, and I think we did the right thing by trying," former Log Cabin Republicans are shifting to the left "faster and faster."
First formed in the 1970s, Log Cabin Republicans are no stranger to attacks from their own party.
For example, in 1990, when von Wupperfeld served as the first president of the Log Cabin Republicans of Texas, the official Republican Party platform called homosexuality "biologically and morally unsound" and referred to same-sex relationships as akin to "necrophilia, pedophilia, bestiality, or incest."
Not much has changed.
Last month, Log Cabin Republicans were dealt an especially harsh blow after the Texas GOP adopted a new platform calling homosexuality an "abnormal lifestyle choice" after 5,100 delegates and alternates voted on it.