Tag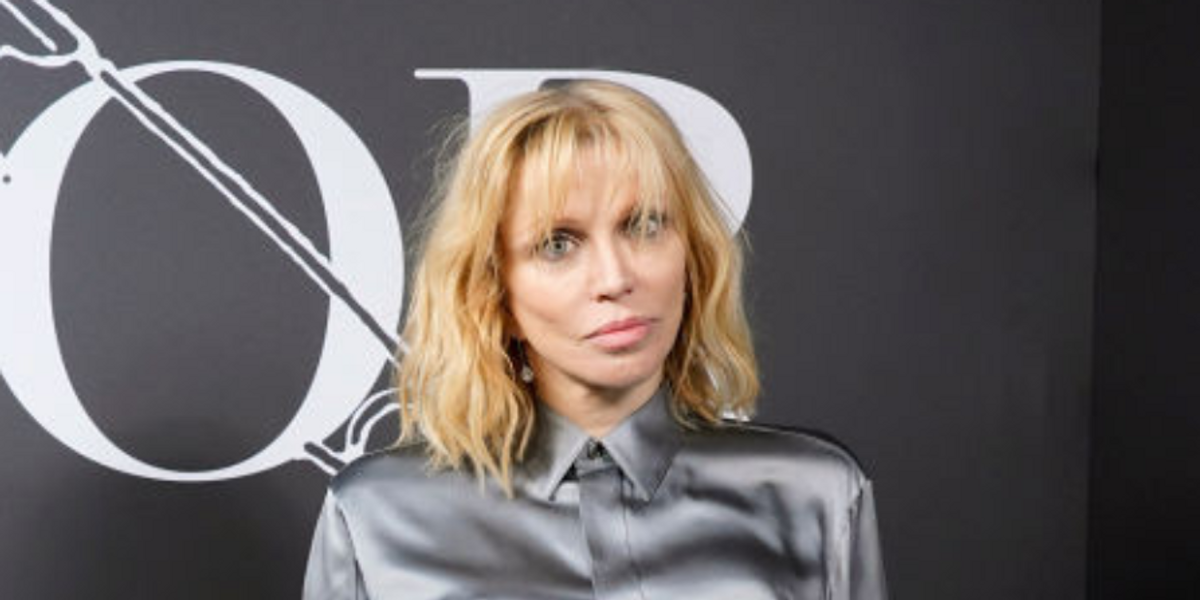 Francois Durand for Dior/Getty Images
Last week, Courtney Love sat down with Marc Maron on his WTF Podcast and revealed who she believes are "the only two true musical geniuses."
The singer first named her late husband and Nirvana frontman Kurt Cobain.
Love also gushed about her "actual true, great friend" and second "genius" Lana Del Rey, whom Love claims shares similar work ethic and music as Cobain.
\u201cOn the WTF Podcast, Courtney Love says she was fired as Marla in 'Fight Club' because she wouldn't let Brad Pitt play Kurt Cobain in a movie.\n\nShe also says Lana Del Rey and Kurt Cobain are "the only two true musical geniuses" she\u2019s ever known.\n\nhttps://t.co/McqS4zUAfM\u201d

— Stereogum (@Stereogum) 1672175956
She professed:
"Lana and Kurt are the only two true musical geniuses I've ever known, and by that, I mean they can Spielberg anything."
Of Del Rey, Love said:
"She's a genius, too. She's got the integrity that Kurt had."
"The only two people I know that I can say [that about]."
The Hole frontwoman continued:
"By the way, [R.E.M.'s Michael] Stipe? Bono? Yes, these are people that I know and love."
"Billie Joe [Armstrong], sure. But Lana?"
"She's got a magic thing. And she's not even f**ked up!"
Love elaborated on the similarities between Del Rey and Cobain, noting that Del Rey's performance of "Howl" reminded her of Nirvana's 1993 MTV Unplugged performance of Meat Puppet's "Plateau," "Oh, Me," and "Lake of Fire."
\u201cToday is @Courtney day on https://t.co/KBRiPQurrw! Living in London, the overculture, Kurt, Kanye, Lana Del Ray, her new record! Wild talk! Do it up!\n\nEpisode - https://t.co/Jgwxv8NkhG\n\nOn @ApplePodcasts - https://t.co/rbvmos16On\u201d

— WTF with Marc Maron (@WTF with Marc Maron) 1672073385
She also shared how she opened Del Rey up to the world of Joni Mitchell.
"[Del Rey] described a record she wanted to make to me, and I'm like, 'Oh, you mean 'Hissing of Summer Lawns,'' which, I don't even like that record."
"She's like, 'What's that?' I'm like, 'It's a Joni Mitchell record.' She's like, 'Who's that?'"
Love, as a result, bought all of Joni Mitchell's albums for Del Rey, which love claimed had a role in changing the "Summertime Sadness" singer's sound.
Some listeners of Love's interview agreed with her, on at least one if not both "musical geniuses."
lana & taylor legend best artists of ALL TIME
— ؘ (@folkloretrack13) December 28, 2022
she told the truth and shouldnt be silenced for it
— ᴊᴜʟɪᴇ 🧞♀️ (@stargirlscum) December 28, 2022
The only right thing Courtney love said in her entire life
— wap (@SlywLwy) December 28, 2022
no cuz this is such a real statement. lana's is a rare gem in our turn
— m ❀ (@ariaonika) December 28, 2022
Some, however, disagreed completely.
She did not work with frank ocean, bjork rosalia and Arca I guess?
— maximus.loser (@gh029mdz) December 28, 2022
"A genius" I have to laugh💀
— Lily_Shades_Tzuyu's Bitch (@Lilygirl103) December 29, 2022
These are great artists but true musical geniuses are the likes of Prince, Kate Bush, Kendrick Lamar and Björk.
— Condescending Fanboy (@tsukkifanboi) December 29, 2022
On the podcast, Love also revealed that she is working on a new album - her first in 12 years.
Love released the song "Mother" in 2019 for The Turning soundtrack. Her last album Nobody's Daughter, however, was released in 2010.