Tag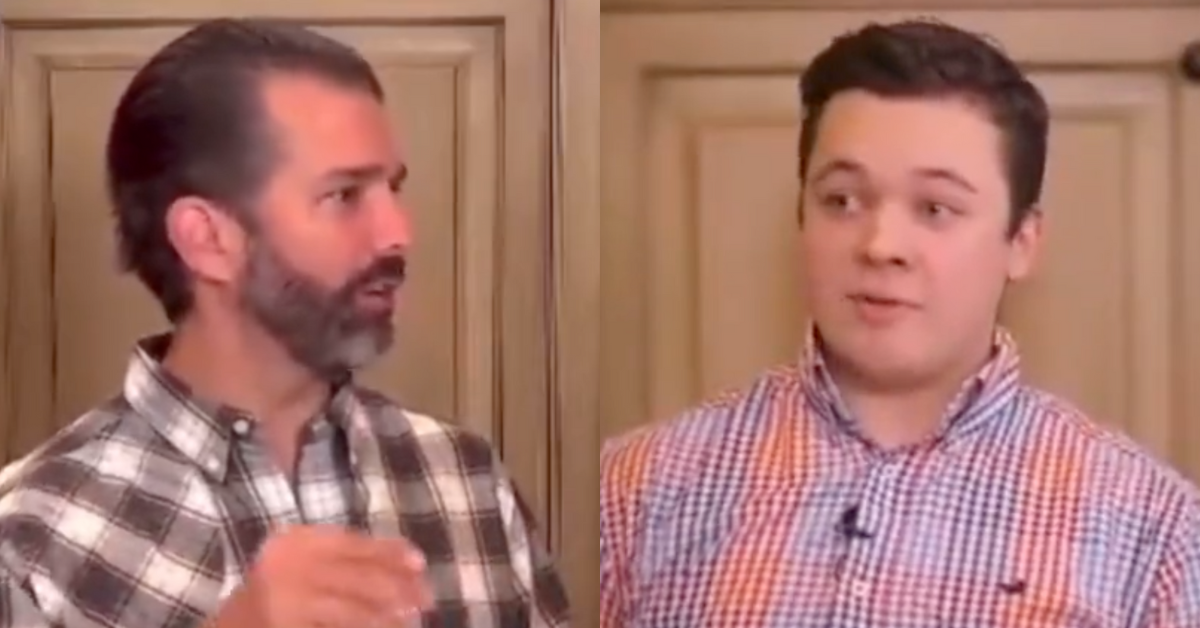 Triggered with Donald Trump Jr.
Kenosha shooter Kyle Rittenhouse was criticized after he said during an interview with Donald Trump Jr. he'd been "up against these George Soros-funded prosecutors" during a trial that ultimately ended in his acquittal of murdering two people and injuring a third.
Soros—a billionaire philanthropist who has been the subject of countless conservative and antisemitic conspiracy theories for his support of progressive and liberal political causes—was not at all involved in Rittenhouse's trial.
But Rittenhouse nonetheless told Trump Jr. he could "guarantee" Trump Jr.'s suggestion prosecutors were "getting some sort of backhanded donations."
However, he did ultimately backtrack, saying:
"I don't know for sure, I don't know for 100 percent fact. But I guaran— I'm sure of it."
You can hear what Rittenhouse said in the video below.

Rittenhouse has remained a darling among the right since he was acquitted for the fatal shootings of Joseph Rosenbaum and Anthony Huber and injuring Gaige Grosskreutz during the Kenosha unrest, which took place after police officers shot in the back and partially paralyzed Jacob Blake, a Black man.

Rittenhouse was charged with first-degree crimes which legal pundits cite as the only reason he was acquitted as the evidence left reasonable doubt on the requirements for a first-degree conviction. Had Rittenhouse been charged with 2nd degree homicide or manslaughter, they surmise he would have been found guilty.
Since his acquittal, he has attended several events hosted by conservative organizations and individuals, including a meeting with former Republican President Donald Trump and Fox News personality Tucker Carlson, using his newfound notoriety to mock his detractors and raise funds.
His latest comments have been criticized as another example of his shameless grifting.
Rittenhouse has continued to capitalize on the Kenosha shooting, displaying no interest in penance or remorse.

Last year, he released a video game that gives players the option to shoot "fake news turkeys" that he is selling on his official website for $9.99.
Rittenhouse collaborated with game developer Mint Studios to create the game, titledTurkey Shoot, and plans to use the proceeds from it to fund his lawsuits against media outlets he's accused of defamation.
A few months ago, Rittenhouse announced the creation of a "Media Accountability Project" aimed at suing everyone who called him a murderer, a move celebrated by Tucker Carlson, on whose show Rittenhouse had appeared.
He has since garnered significant criticism for comparing himself to Jesus Christ and suggesting he has similarly "experienced the hatred of the world" since the deadly shootings.