Tag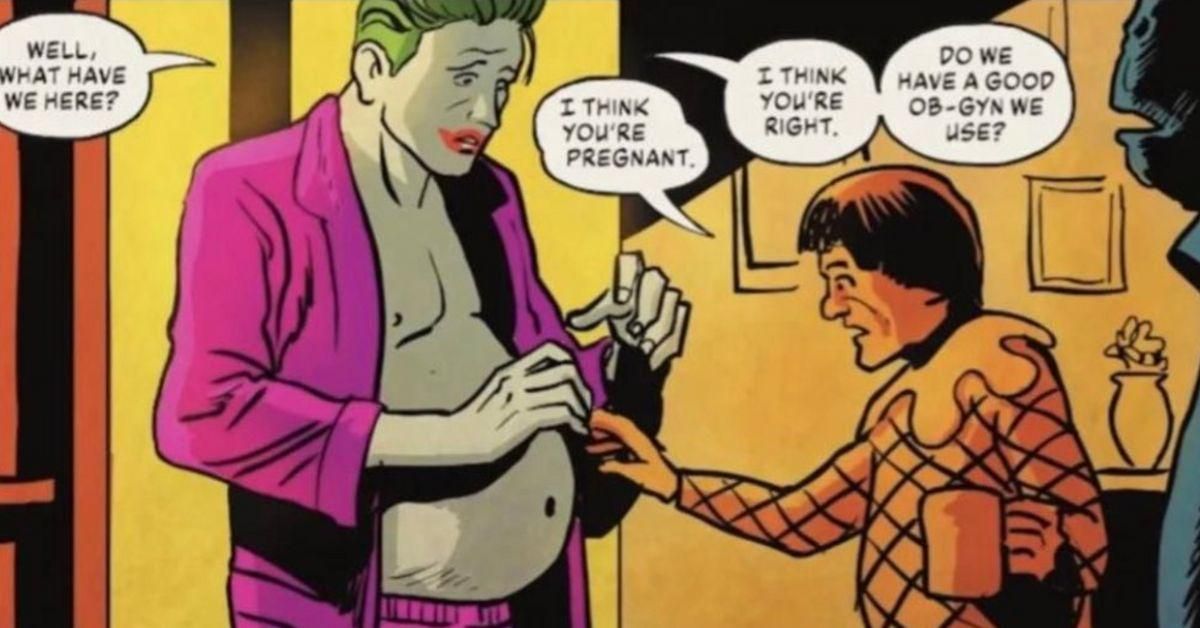 DC Comics
A new DC Comic featuring the Joker getting a pregnancy curse from a magician is causing an uproar among conservatives who think the supervillain is now a transgender man.
If the riled conservatives bothered to read the short comic, which was created by Matthew Rosenberg and Carmine Di Giandomenico and is found in the latest issue of Joker: The Man Who Stopped Laughing, they would learn that Batman's archnemesis is not at all trans.
Fox News, which reported on the backlash from rightwingers, noted:
"Readers may be tempted to think this is part of DC's attempt to do some woke, LGBTQ-inclusive storytelling with The Joker being a transgender man undergoing a typical pregnancy, though it's not quite that simple."
In the controversial volume that DC described as its "most bizarre caper yet," the Joker endeavored to have a male heir succeed him in wreaking violent havoc on the masses.
But after the Joker tried to woo Zatanna into starting a family with him, the powerful magician and former member of the Justice League cursed him by speaking in reverse and exclaimed that "no one else will ever have [the Joker's] baby!"
He subsequently became pregnant with his own child.
The poetic justice of his newfound situation was even more apropos given his history of misogynistic abuse of former romantic partners in the comics.
The curse, however, backfired, and the growing fetus inside of him turned out to be supervillain Clayface–a shape-shifter that was expelled from the Joker's mouth and transformed into a mini-me of himself.
Conservatives were up in arms over the plotline they saw as having political implications.
Fox News featured a tweet from former Republican Congressional candidate Robby Starbuck of Tennessee, who incorrectly bemoaned:

"In the new Joker comic he gets pregnant and gives birth. Yep, the Joker is trans now."
"At least the character is the joker because a pregnant woman thinking they're a pregnant man is the definition of a joker."
"Who else is sick of this lunacy?"
The rightwing news site also cited an angry tweet from conservative influencer Nick Adams–an author who was backed by former Republican President Donald Trump.

Adams, a self-described "Alpha Male," called for a total boycott of the graphic novel company, tweeting:
"The latest issue of 'The Joker: The Man Who Stopped Laughing' comic book features a scene where The Joker—a MAN—becomes pregnant."
"That's NOT how it works! I am calling for a Complete & Total BOYCOTT of The Joker until further notice."
"What's next, a fully-electric Batmobile?!"
"Political Dissident" YouTube talk show host Steven Steele also joined in voicing his outrage and fumed:
"JUST IN: DC Comics has made The Joker pregnant in it's latest issue because of course they did."
Another exasperated YouTuber and comic book commentator, Ethan Van Sciver, wrote:
"DC Comics is getting weirder and weirder, allowing more perverts and fetishists to make grotesque filth out of their classic characters."
"Fellows, BATMAN is your last sellable comics franchise. Normal readers might not enjoy Atomic Skull giving Joker a prenatal pelvic exam."
Other conservatives shared their displeasure over the "woke" direction they thought DC was taking.
Twitter users weighed in over the hullaballoo.
You can find the latest issue of Joker: The Man Who Stopped Laughing in comic book stores now, as well as on Amazon and Apple.