Tag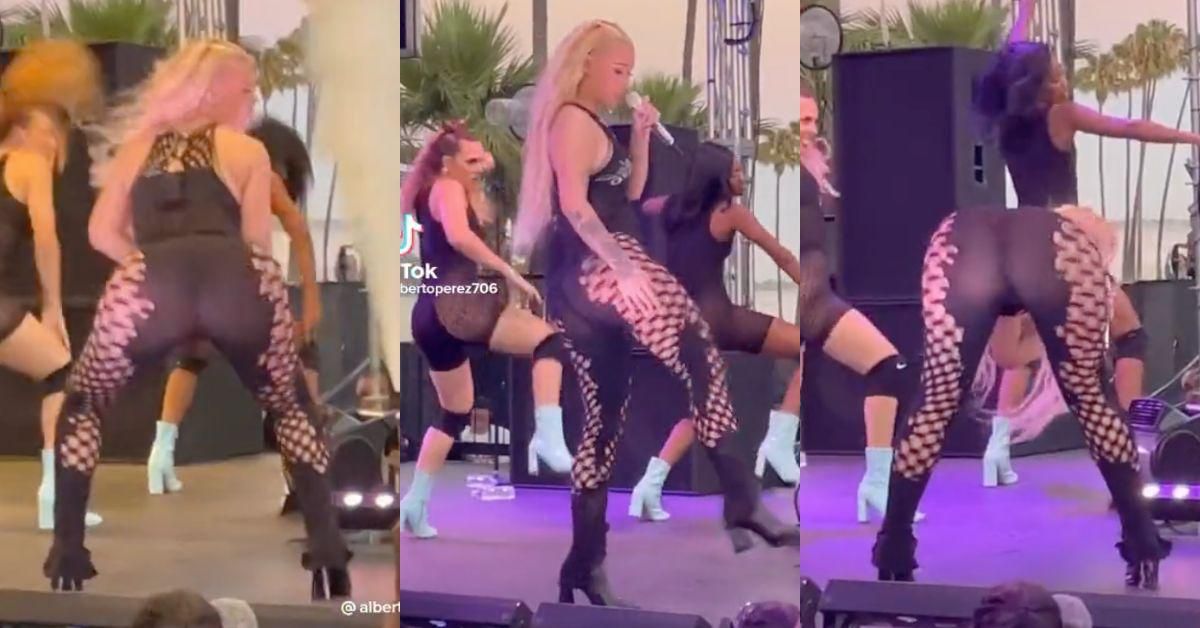 @LUXURYORNOTHING/Twitter
Iggy Azalea responded to haters by embracing body positivity and simultaneously throwing major shade in a viral tweet.

A Twitter user shared a video that focused on the Australian rapper twerking during a performance at the Long Beach Pride festival in Long Beach, California on July 22.
The tweet was captioned with, "Iggy really be tossing that big MF."
The comments that followed the complimentary parent tweet were not as kind.
"She needs to toss that mf in the dumpster along with them weak a** raps," wrote one user, while another commented, "Oh this looks atrocious."
\u201coh this looks atrocious\u201d

— lover girl tej \ud83d\udc98 (@lover girl tej \ud83d\udc98) 1658514226
The rapper came back hard in the comments after all the vile body-shaming tweets, saying:

"It's a good thing I genuinely feel happy about myself & my body cause y'all stay in every comment section talking the most sh*t about me & it's very mean spirited & ugly."
She finished her tweet with one final message for the haters:
"Ps. your man 100% wants to f'k me."

@IGGYAZAEA/Twitter
Azalea later confirmed that her comment was not in direct response to the original "tossin" tweet but more towards all the negative comments in the thread.
This is! I'm talking about the comment section. 💗
— IGGY AZALEA (@IGGYAZALEA) July 23, 2022
Fans were here for her fierce response and they also complimented her impressive twerking skillz.
They just mad and bitter🤣 now send a sugar daddy my way if you know one so I can pay of my debt and then buy a ticket to come see you live
— 🍃GANJABITTY🍃 (@GanjaBitty) July 23, 2022
Literally iggy! I stay blocking those hateful people cause I don't wanna see them anywhere again
— Carson Minaj ᴺᴹ (@CarsonMinaj) July 22, 2022
This truly is mesmerising, My girl is dual heritage and has the big bunda with skinny waist and I wish she would dance like this for me. It's a beautiful thing and don't let anyone tell you otherwise just as I say to her😉
— Lee Holloway (@leeholloway1) July 24, 2022
You're one of the sexiest women on the planet. You keep twerking as long as you want with your fine looking self.
— john Phillips (@oraiders0420) July 26, 2022
Azalea became the first non-American female rapper to hit number one on the Billboard Top R&B/Hip-Hop Albums chart with her debut studio album, 2014's The New Classic.
Her accolades include two American Music Awards, three Billboard Music Awards, an MTV Video Music Award, a People's Choice Award, four Teen Choice Awards, and four Grammy Award nominations.

Unfortunately, her successes have been marred by accusations of culturally appropriating Black music and her constantly having to defend herself against body-shaming.
After a slew of personal conflicts, as well as conflicts with her former record label, Azalea became an independent artist through her own label, Bad Dreams.
Despite her new low-profile image, trolls still target the rapper's body, personality, and music.
Her body was the subject of yet another online attack in 2018 when she bared it all for an Instagram post in which she held her breasts while standing nude on the tennis court and wrote, "Haters can't stand me but they love me at the bank."
Haters gonna hate, but that's not gonna stop this Aussie from flaunting her assets.
You go, girl.