Tag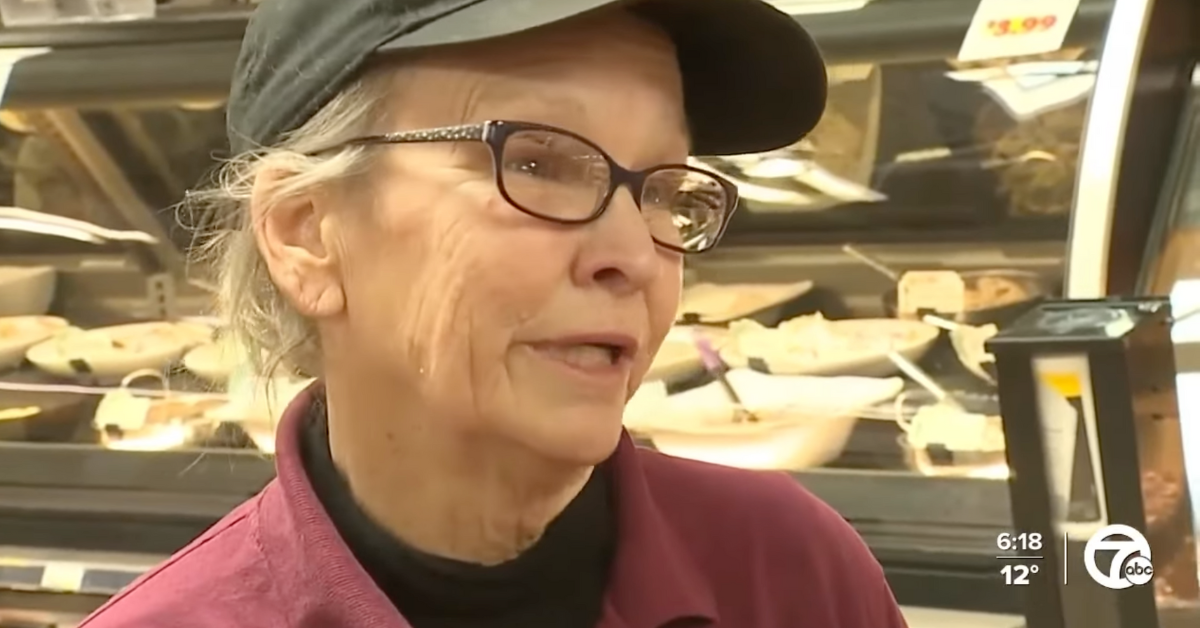 WXYZ-TV Detroit | Channel 7

A Michigan grandmother saw her luck significantly turn around after coming to the rescue of a newly married couple.
ABC affiliate WXYZ-TV Detroit reported on the story:
Community surprises woman who found and turned in bag filled with almost $15,000youtu.be
After Diane Gordon's car broke down roughly a year ago, she found herself forced to walk to her job at a supermarket deli counter, sometimes in the bitter cold along Michigan's M59 highway.
On a recent trip home, however, Diane made a rather startling discovery on the floor of a gas station mini-market where she had stopped for a snack.
"On the ground in front of me, in front of the door, there was a bag, and it had some money in it."
Not just "some money", as the bag contained nearly $15 thousand in cash.
While most people who find an abandoned, large sum of money on the ground might very well just keep it for themselves, Gordon knew that the money was not hers, so she did the right thing, and walked up to cashier Hailey Nickolopoulos and told her they needed to call the police.
Tempting as walking away with the cash might have been to many others, there was no doubt in Gordon's mind about what to do.
"I was taught if it doesn't belong to you, you don't keep it."
After Nickolopoulos noticed some wedding cards in the bag, she recalled seeing a couple earlier who appeared to have come from a wedding.
Using the cards as a reference, the White Lake Township Police Department was thankfully able to track down the newlyweds, with the money returned to them soon afterward.
Police Chief Dan Keller was in awe of Gordon's honesty, telling The Washington Post:
"She didn't hesitate; she didn't question it."
"This doesn't happen very often, that someone finds a large sum of money and turns it in."
Gordon's selfless deed also caught the attention of Stacy Connell, the wife of a Lake Township police officer, who later set up a GoFundMe page in hopes of raising enough to buy Gordon a new vehicle.
After going viral, thanks to some heavy promotions from the Lake Township Police Department, the page managed to far exceed its $25 thousand goal, having raised over $80 thousand as of February 8.
Gordon was deeply moved when presented with her new wheels, a green Jeep Compass, telling WXYZ-TV Detroit that she not only looked forward to driving to work in the heated seats and avoiding walking through the notoriously cold Michigan winters, but she was also elated to be able to spend time with people whom she wasn't getting to see nearly enough of.
"My grandson is 13 and he plays hockey, and my granddaughter is 11 and she does gymnastics, and I have not seen her play or do gymnastics yet."
"So that's going to be very important that I get to see her do that."
"It means the world to me, I miss them so much".
In addition, and showing her endless generous nature, Gordon told The Washington Post that she also intended to offer rides to and from work to any of her colleagues who might need them.
Viewers of WXYZ-TV Detroit were also deeply moved by Gordon's honesty and well earned reward, sharing their delight on YouTube:
"She turned the money in and got repaid in ways that she never in a million years would have expected." Good for her. People like that deserve to have good happen for them."- @rodentcafeteria/YouTube
"I'm in tears. Such a beautiful story. A new car just in time because it's too cold out for her to walk to work. She also gets to watch her grandchildren's activities. So awesome!"- @nikitalazenby3788/YouTube
"SAD TO SAY BUT THAT KIND OF HONESTY IS EXTREMELY RARE THESE DAYS!!!!!!!"- @jamessimmons7480/YouTube
"If only everyone was like this."- @glennjohnso310/YouTube
"God bless you grandma!!! You're the example of what a real human should be!!!"- @hassanwalukonde4230/YouTube
"Maybe there's some hope for humanity yet. This lady deserves every good thing she gets."- @tehbakinblack/YouTube
"That is awesome thanks to everyone that donated and the person that started the go fund me page."- @elainecoyle2704/YouTube
"Congratulations! I'm happy for her."- @windnsunn6631/YouTube
"She deserves the world."- @user-lx9kh7ow1d/YouTube
"What an awesome story. Awesome people also."- @johnt6673
Gordon told WXYZ-TV Detroit that she was "floored" by this whole experience.
A valuable lesson that doing the right thing will always pay off in the end.