Tag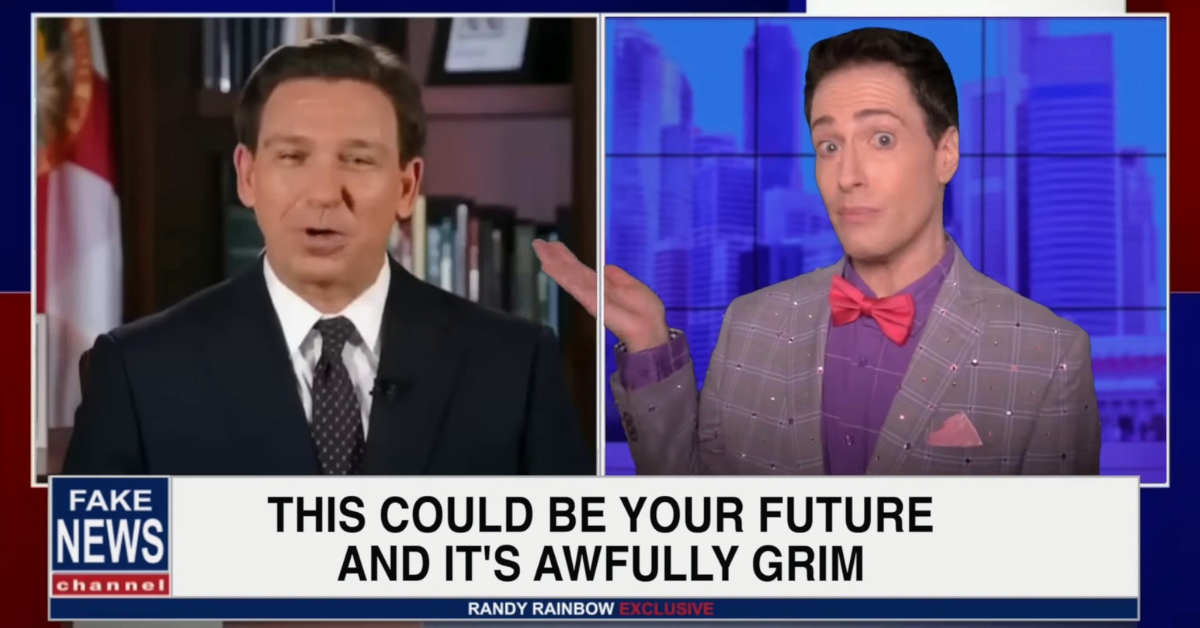 Randy Rainbow/YouTube
In the midst of a heated clash between former Republican President Donald Trump and the embattled GOP governor of Florida, Ron DeSantis, internet sensation Randy Rainbow pegged the unfolding chaos with his usual aplomb.
On this eventful Monday, Rainbow unveiled his latest masterpiece, a parody video titled "Welcome to DeSantis," aimed at the governor as he gears up to announce his highly anticipated 2024 presidential campaign.
Employing his signature style, Rainbow commences with a mock interview, cleverly highlighting DeSantis' contentious policies that have become law, while sarcastically suggesting his suitability for the presidency.
Mocking the governor's disregard for cultural progress, diversity, compassion, and even humorously referencing drag queen Trixie Mattel, Rainbow wittily remarks:
"Our nation is traversing a slow-burning UberX journey back to the dark ages, and my dear, you're the heartless, autocratic aspirant destined to drive us there!"
True to his comedic repertoire, Rainbow seamlessly transitions into song, ingeniously reinventing "Welcome to the 60's" from the musical Hairspray, all while keeping DeSantis' all-but-confirmed presidential aspirations firmly in his crosshairs.
You can watch Randy Rainbow's latest below.
Playfully addressing former Trump supporters, affectionately referred to as "MAGA" in the video, the song mercilessly ridicules DeSantis' policies and offers a satirical glimpse into what a potential presidency under his leadership might entail.
The comedian further exacerbates the satire by warning voters to "shield their loved ones when DeSantis runs, for our lives will be of secondary importance to their beloved firearms."
Wrapping up his exceptional parody, Rainbow takes one final swipe at DeSantis, whose approval ratings are currently plummeting.
With a caustic smile, he quips:
"Let's put an end to those inconvenient human rights because we all know he'll fight for our nation, until it's finally safe for wealthy, white, Christian elites. Ugh, at long last!"
Fans ate it up of course.

This latest video marks the second instance in which Rainbow has specifically targeted DeSantis with his distinctive brand of humor.

Previously, in April 2022, Rainbow dedicated his parody video titled "GAY!" entirely to Florida's controversial "Don't Say Gay" bill, garnering widespread attention and acclaim for his biting wit and clever social commentary.
As the tensions between Trump and DeSantis persist, Randy Rainbow continues to captivate audiences with his razor-sharp satirical skills, using humor to shed light on the political landscape and offer a comical respite amidst the chaos.